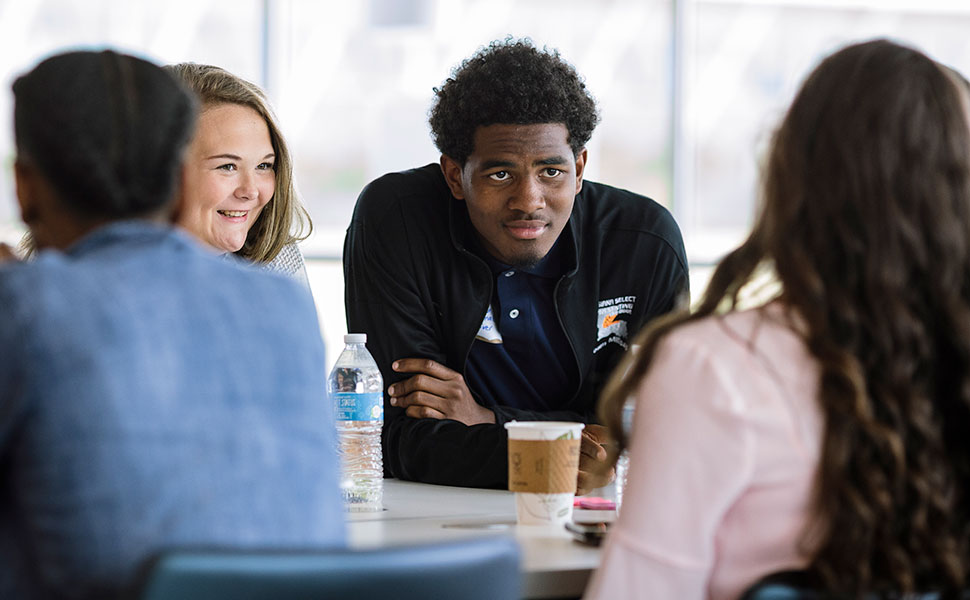 The International Youth Foundation proudly announces a new partnership with McDonald's Corporation to prepare young people to overcome barriers and increase their access to networks, education, training, and employment. Built on a shared goal of preparing young people for and connecting them to jobs, the Youth Opportunity initiative will equip young men and women with skills for success.
The initiative will strengthen youth employability by utilizing IYF's Passport to Success® (PTS) training and curriculum, which, locally adapted, has reached youth and trainers in more than 50 countries with critical life skills such as self-confidence, time management, and responsibility. With this experience and validation from youth, educators, parents, and employers, we know that PTS provides critical real-world skills and opens doors for a first job and career advancement.
For more than two decades, IYF has partnered with the private sector to ensure reach and market alignment. With a sole focus of helping young people succeed, IYF knows the partnership with McDonald's provides an exciting opportunity to remove barriers for even more young people.
"McDonald's investment in youth development stands to make a real impact in the United States and around the world in providing young people with both skills and opportunities for employment," said Susan Reichle, President and COO, IYF.
IYF and McDonald's are piloting the initiative in Chicago with the goal of reducing barriers to employment for 4,000 young people in the city. The Youth Opportunity initiative has been developed and will be deployed in partnership with community-based organizations (CBOs) with long-standing relationships and connections with the youth and the communities we are serving. Trusted CBOs After School Matters, Skills for Chicagoland's Future, Phalanx Family Services, and Central States SER will pair relevant skills training programs with a specialized version of the PTS curriculum.
In addition to being considered for job opportunities at McDonald's and Franchisee restaurants, graduates from the training will have the chance to pursue opportunities with potential employers across a variety of industries like healthcare, supply chain logistics, and IT. IYF knows that preparing young people with life skills sets them up to succeed as confident individuals in various careers. Employers in every sector value life skills such as teamwork and punctuality and want to hire people with these competencies.
"Around the world, and here in Chicago, too many young people are finding that, through no fault of their own, there are barriers to entry into the workplace. We believe this needs to change," said David Fairhurst, McDonald's Executive Vice President and Chief People Officer. "That is why the company and participating franchisees are expanding our existing world-class workplace training and education programs to go beyond those that we hire. Together, we will leverage our scale for good and help these young people to develop the core workplace skills they need to get a job and the opportunities they need to kick-start their career and achieve their true potential—whether at McDonald's or elsewhere."
The Youth Opportunity initiative will be rolled out to additional U.S. cities and global markets starting in 2019. It is part of McDonald's Corporation's global goal to reduce barriers to employment for two-million young people by 2025 through pre-employment job readiness training, employment opportunities, and workplace development programs.
The initiative is the fifth McDonald's commitment, launched between 2017 and 2018, dedicated to using the company's Scale for Good. It follows bold pledges to drive beef sustainability, improve packaging and reduce waste, reduce greenhouse gas emissions, and offer more balanced choices and recommended food groups for Happy Meals.
Every day, IYF works to connect young men and women to the knowledge, people, networks, and services they need to succeed. Learn more about the Youth Opportunity initiative and our partnership with McDonald's. 
Tags
private sector
market-relevant skills
youth employability
skills gap
skills training
chicago
scale for good