From Passion to Action: Young Activists Share Tips for Getting Started
Read All Posts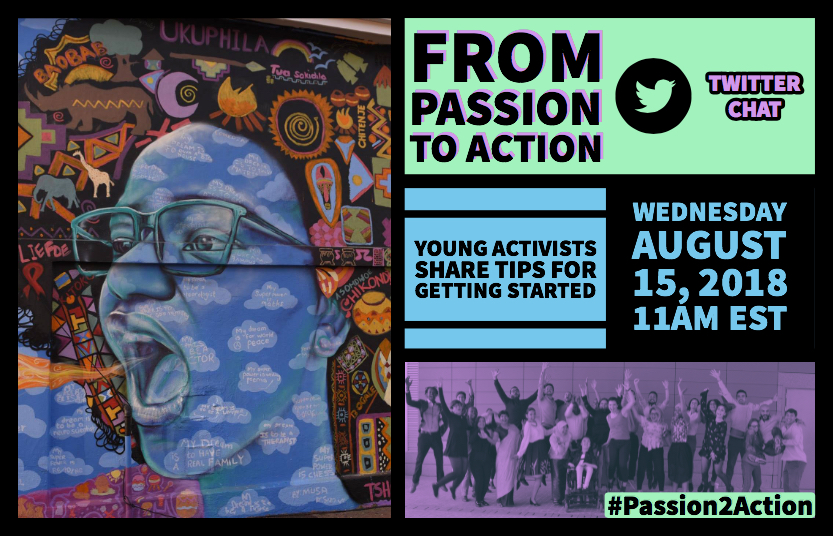 Wednesday, August 15
11am EST
#Passion2Action
How can young people better understand social challenges, make their voices heard, and drive real impact on issues they care deeply about?
YouthActionNet and LeaderStories are co-hosting a Twitter chat featuring the voices and experience of young leaders who have fought for (and achieved!) measurable change in issue areas such as gun violence, racial intolerance, pedestrian safety, disability rights, access to education, and more. They'll share action-oriented advice for other young people who want to get involved in social change but don't know where to begin.
Join us on Wednesday, August 15 at 11am EST on Twitter using the hashtag #Passion2Action.
This discussion builds on the LeaderStories.org interview series featuring YouthActionNet Fellows advocating for disability rights and inclusion in Zambia, youth civic engagement in Kenya, and access to education for girls globally.
Twitter chat made possible by the American Express Foundation.
How it Works
---
@YouthActionNet and @LeaderStories_ will tweet out questions to get the conversation started, our featured youth panelists will share their thoughts, and we hope you will join in with your own responses and questions for panelists. It's easy: just use #Passion2Action in your tweets, and follow that hashtag to keep up with the conversation!
Questions we'll cover (feel free to ask your own!)
---
What first inspired you to embark on your journey of putting your passion for an issue into action toward a solution?

What resources and tools do you recommend for peers interested in taking the first steps to leading change?

How do you make the case for youth activism?

Can you suggest 3 concrete actions a young person could take in the next week or month to get started as a youth advocate for a cause they believe in?
… and more! Tune in on August 15…
Panelists Include
---
Join us!
Click to Tweet: Ever wonder how young activists got their start? Hear from successful young changemakers on how they turned their #Passion2Action during the @YouthActionNet and @LeaderStories_ #TwitterChat Aug 15. https://bit.ly/2vNGJrD
Banner image photo credit: Sophie Kanza Foundation
Tags
SocEnt in the News