In Peru, Leading the Way Toward Sustainable Consumption
Read All Posts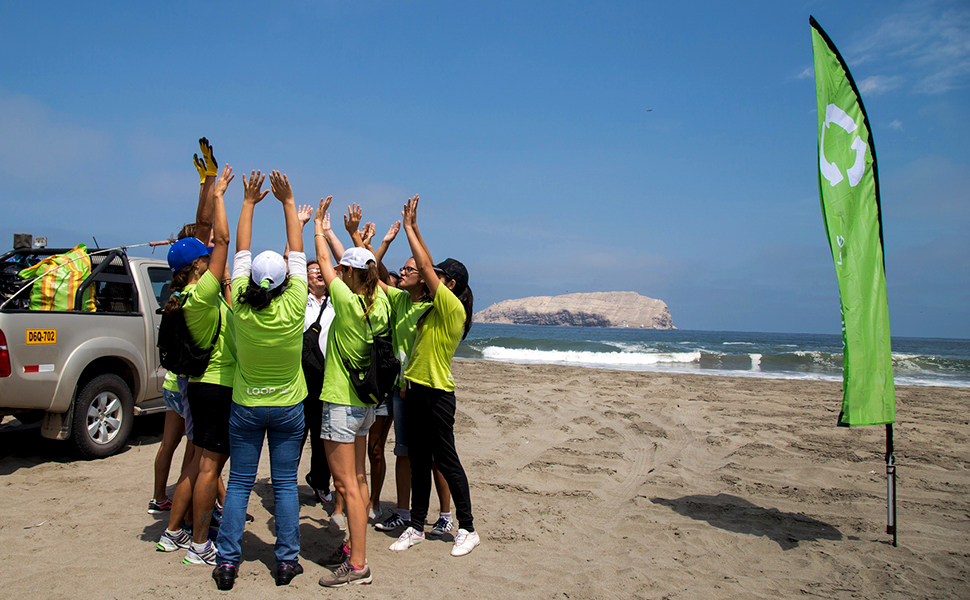 This blog post is part of a series that explores the role of IYF's YouthActionNet® fellows in advancing the UN's Sustainable Development Goals (SDGs).
An estimated 275 million tons of plastic waste is produced globally each year, with scientists calculating that 8 million tons of plastic debris, including plastic bottles, washes into the oceans annually.
Such big numbers and depressing statistics can leave many people feeling defeated. Not Irene Hofmeijer. While conducting research as an undergraduate in the Peruvian Amazon, Hofmeijer decided to take action to combat plastic waste. "I was amazed to find so much trash floating alongside me deep in the Amazon forest, a place we imagine to be pristine," she recalls.
Hofmeijer, a 2016 Laureate Global Fellow, went on to found Life Out Of Plastic (L.O.O.P.), a women-led social enterprise that over six years has mobilized more than 30,000 people through its action campaigns, upcycled over 25,000 plastic bottles, and removed 100 tons of marine debris from the Peruvian coastline.
L.O.O.P. derives its name, in part, from its promotion of closed loop production, a process Hofmeijer, a social entrepreneur with a background in environmental science, describes with ease.
"Traditional production functions on a linear system," she explains. "A primary resource is turned into a good or product that eventually ends up as waste. Closed loop production, on the other hand, rethinks the end use of waste, transforming it into a new primary material that can be used to make a product."
To illustrate her point, Hofmeijer describes how L.O.O.P. collects PET plastic bottle waste, which it delivers to a facility that converts the waste into a fiber, and then a textile. The fabric is the raw material for tote bags that L.O.O.P. sells to sustain its work. Over the years, Hofmeijer and her team have described this process to hundreds of eager students and community members.
L.O.O.P.'s most enduring success, however, has been the way it's engaged thousands of citizens as part of the solution. L.O.O.P.'s cleanup campaigns have contributed to a vibrant movement within Peru—and beyond—of concerned citizens taking action to protect and preserve their marine environment. By leveraging social media and employing creative strategies, like exhibitions of recycled plastic art, L.O.O.P. makes cleaning up the coastline rewarding and fun.
It's this groundswell of support that's required to bring effective strategies to scale, says Hofmeijer, who was thrilled last year at the announcement of UN Sustainable Development Goal #12, with its focus on responsible consumption and production.
"What's needed to achieve SDG #12 is a paradigm shift," she affirms in a new YouthActionNet video, "not only at the consumer level but at the industry leader level and the government policy level in order to promote a new systems-level way of looking at industry and consumption."
Hofmeijer and her team are in the process of analyzing L.O.O.P.'s successes, lessons, and challenges to share with others working on plastic waste issues in the region and globally. The L.O.O.P. website will soon become a clearinghouse of practical information designed to inform and kick-start similar efforts.
Learn more about L.O.O.P.'s work to protect marine environments while promoting sustainable consumption and production by watching Protecting Marine Ecosystems in Peru, below.