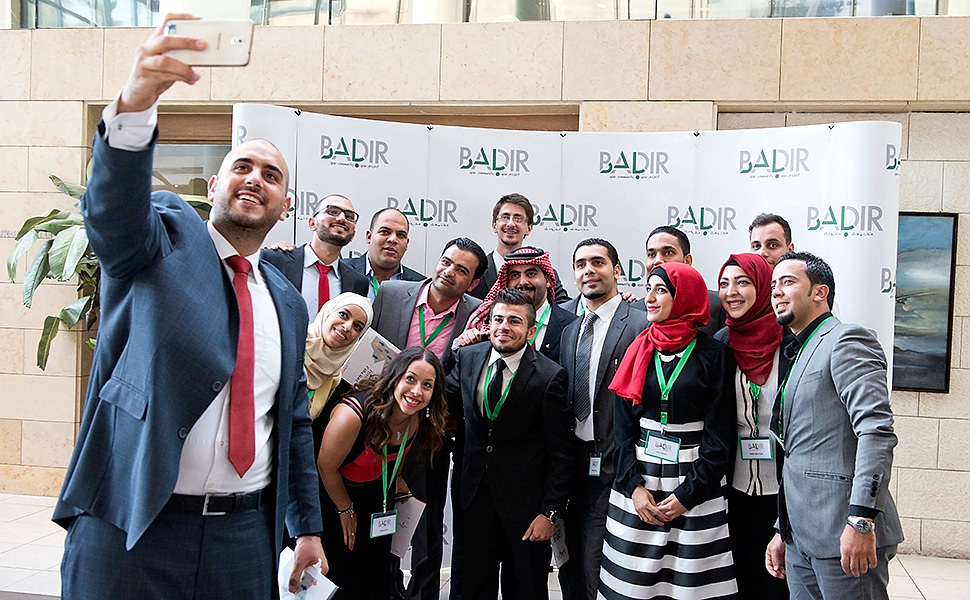 They are creative, determined, and compassionate. Rather than turn the other way, they take action when they see a problem in their community. They are the 2015 BADIR Fellows—20 young Jordanian leaders, who are the latest social entrepreneurs to be selected through a joint initiative of Starbucks, M.H. Alshaya, Co., and the International Youth Foundation (IYF).
Among their innovations, the BADIR Fellows are creating urban green spaces to grow food, beautify neighborhoods, and counteract pollution; reviving age-old culinary traditions to boost incomes and preserve culture; and harnessing the power of technology to strengthen volunteerism and make audio books available to visually-impaired students.
These accomplished young men and women were recently honored at an awards ceremony held under the patronage of HRH Princess Alia Al Taba'a. Present were more than 220 representatives of civic, public, and private sector organizations, including leaders of Friends of BADIR, a network providing support and mentorship to the fellows.
"It is inspiring to witness the effects of development and change in today's youth," said Rana Shaheen, Regional Communications and CSR Manager, Starbucks Coffee MENA. "I would like to congratulate this year's BADIR Fellows on the success of their projects, and I look forward to witnessing the great change they have in store for their communities and the world at large."
The 2015 BADIR Fellows are the newest members of IYF's YouthActionNet® global network, currently comprising more than 1,330 young social entrepreneurs in 90 countries. Now celebrating its 15th anniversary, YouthActionNet identifies and supports accomplished young change-makers through 22 national/regional youth leadership institutes located around the world.
"We couldn't be more excited to welcome the 2015 BADIR Fellows into the global YouthActionNet community," said IYF President and CEO Bill Reese. "We are extremely grateful to Starbucks and M.H. Alshaya Co. for their commitment and leadership in supporting an emerging generation of Jordanian youth who offer not only innovative solutions, but inspiration to their peers."
Over four years, BADIR has created a national network of 65 Jordanian youth leaders—all CEOs and founders of new enterprises—who are impacting 108,000 lives through their ventures. The 2015 BADIR Fellows will develop significant new operational and management skills through training designed to strengthen and expand their ventures. Following the completion of their first training workshop, fellows will have access to monetary support to expand their venture, along with continued mentorship and support from the Friends of BADIR.
Tags
yan global network
badir
social entrepreneurship
youth-led social change
starbucks
alshaya