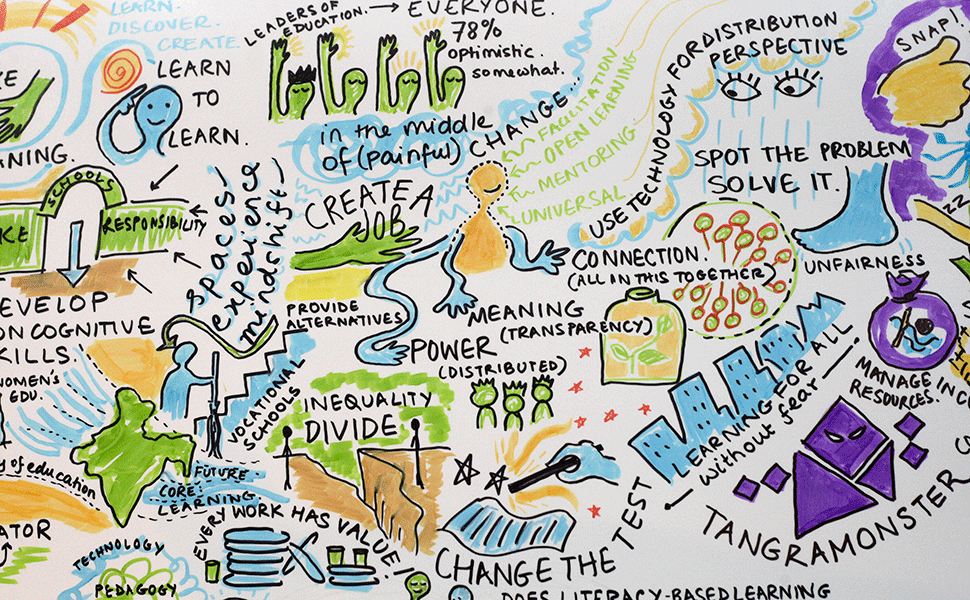 The campus of the Indian Institute of Management in Bangalore was abuzz with activity. Participants from across the learning spectrum had gathered for the annual Quest 2 Learn summit. The two-day event centered on the most pressing issue in skills development: bridging the gap between education and the skills required in today's workforce.
The first day opened with a guitar rendition of "Run and Get It Done," the anthem of our organization, long-time IYF partner QUEST Alliance. In a selfie booth, students and practitioners recorded video testimonials, and one exercise, based on a folk tale, had the audience singing, buzzing like bees, and even playing the role of a snake. Artists from Ladyfingers Co were graphically recording panel discussions and workshops as they unfolded.
These kinds of interactive experiences, which brought together government educational council officials, development consultants, public and private school facilitators, and vocational training students, complemented plenary sessions and hands-on workshops.
Building on questions about how to use technology and nurture educators, a third panel discussed what success really looks like in the 21st century and how it can be measured. Presenters agreed that high performance in cognitive skills is no longer enough for either professional or personal success.
Peter Shiras, Executive Vice President, Business Development, at IYF, discussed how, for employers, finding candidates with the right life skills is a real pain point. He spoke about the need to objectively assess an individual's work readiness competencies and how IYF has been developing such an assessment.
Using a hands-on approach, the workshops explored various tools educators can employ to creatively engage learners. For instance, participants explored using games and films to offer a fun and unintimidating approach to learning and teaching science, technology, engineering and math (STEM). One such activity involved using plastic straws to build towers.
There were also workshops for educators to improve their own skills, including learning how to build an online course, use data analytics to track effectiveness, or employ a mobile phone as a learning platform.
In response to the class on mobile learning, participant Anuradha, a trainer, said, "To my surprise, I realized that mobile learning should only be used as a trigger to other forms of learning and not as a substitute of classroom-based or teacher-led learning."
Going forward, QUEST is looking at developing Quest 2 Learn as a space for incubating new ideas, techniques, and trends in learning. We also want it to serve as a platform for collaborative dialogue across sectors on how to create meaningful, successful learning experiences.
Aakash Sethi is Executive Director, QUEST Alliance.
(Image courtesy of Ladyfingers Co.)
Tags
quest alliance
stem education
technology
digital learning
interactive learning