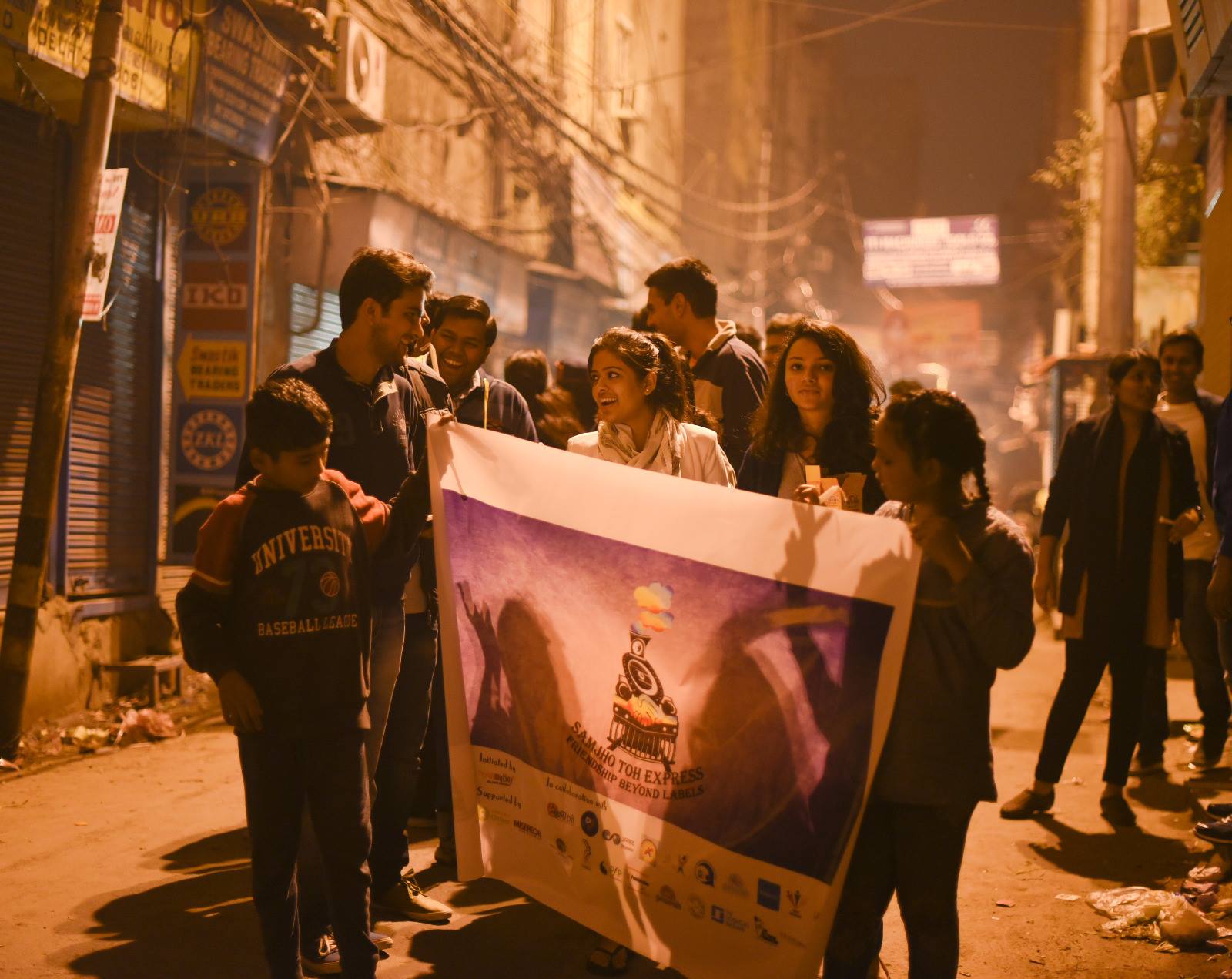 Reflecting on the past year, it's easy to see a bleak picture of where we are when it comes to justice, equality, and bridging social divides. As Director of Social Innovation at the International Youth Foundation, I work daily to promote social progress—yet there have been days when I've grappled unlike ever before with serious concerns over the direction our communities and societies are headed.
Earlier this year, when my young daughter experienced unthinkable threats from a few kindergarten classmates because her family is "brown," I grasped for answers to give to her that I didn't quite have myself.
Yet also during the past year, I have been reminded in many ways how sustained equity and social justice cannot be measured in one year, one president's term, or even one generation. Real, lasting progress can only take place through a positive shift in each of our values and mindsets, and it doesn't happen overnight.
Shifting mindsets is a gradual process
So much of the rhetoric I see in today's most critical social justice movements is angry and divisive. It feels like each person is called to pick a side, and encouraged to look away when the humanity of 'the other' peeks through the stereotypes we've lumped them into.
We should not be surprised when our efforts to push for change don't result in people moving immediately from fear (often externalized as hate) to empathy. It can take generations to traverse this continuum. Yet that does not mean we should sit back and trust that this long-term values shift will take place in time—we need to rethink our approach now.
Social justice movements need to focus both on quick wins and sustaining change long-term. Measurable outputs like legal victories and policy changes are incredibly important—they give a sense to citizenry involved in such efforts that change is possible. However, these milestones stand to be reversed in an instant if they aren't built on a foundation of increased empathy, acceptance of differences, and a deep understanding of inequalities.  
I believe there are two key approaches—and they must work in tandem—to speed up the rate at which individuals and their communities navigate through the value shifts necessary for sustained social progress.
For lasting change, expose and empower
Many of today's most passionate and broadly supported movements for social justice focus on increasing the agency and empowerment of the oppressed. Rightfully so—we absolutely cannot make progress without the voices and contributions of those most affected by exclusion, discrimination, and marginalization.
However, empowering people alone without acknowledging the context and society that their voices exist among results in continued struggles for progress. The critical piece so often missing from efforts to bring about change is exposure to injustice through authentic immersion.
A lasting shift in societal values requires exposing individuals to the daily realities of those they misunderstand, fear, or judge. It requires opening safe spaces and opportunities for people to connect around shared experiences and shape new perceptions of 'the other' by understanding deeply imbedded stereotypes and inequalities.  In other words, opening people's hearts, not just their minds. Learning about injustice and inequality is one thing—truly understanding its impact at the individual level is another. Our efforts must help people believe that sustained social justice is a win-win opportunity, not a zero-sum game. One can increase his or her understanding of injustice, and even build empathy, but if they perceive that increasing "justice" for one group takes it away from another, they will retreat into non-action or worse.
These efforts to increase exposure to injustice must thoughtfully address people along the spectrum of mindsets—the activities needed to shift someone from fear to indifference must be different than tactics aimed at shifting people from tolerance to acceptance. There is not a 'one size fits all' approach. However, one strategy remains the same: building the capacity of people to be critical thinkers and listen without judgment.
Shifting student mindsets in Pakistan
During a recent visit to IYF, Qasim Aslam, founder of The History Project in Pakistan, shared with me: "In most issues of social justice, unless you can get members of the group that is part of the problem to turn toward their own people and start changing the dominant narrative, you're never going to have a meaningful—or sustainable—solution."
Central to his work is exposing students, often from Pakistan's more elite private schools, to situations that help them experience what it feels like to be part of a minority, such as playing a game of soccer with teams of three versus twenty.
"We never give people answers," he says adamantly. "Instead, we build their capacity to ask questions," and, he adds: "the ability to be wrong."
Building bridges to the fringes of society in India
In India's largest red-light district, Gitanjali Babbar has worked for the past five years to empower sex workers and their children to reclaim their identities and shape their community. Her organization Kat-Katha recruits university students to volunteer in schools and workshops within the brothels, shattering their preconceived notions of who sex workers are and the choices they make.
Gitanjali didn't have to ask middle-class university students to respect and rally behind sex workers living on the fringes of Delhi's society—it happened naturally through exposure and person-to-person connections.  
If this synergistic approach works—how do we take it to the next level?
Target youth to move the needle on social justice
I believe we must start by targeting the next generation in every effort for social justice. In each generation, young people question the ideas they've inherited from earlier generations, and many are ready and willing to take the lead on making a difference. This is amplified with today's young generation as they are digitally connected and have immediate access to information. In IYF's 2016 Global Millennial Viewpoints Survey, more than 80% of youth respondents reported believing that they have an obligation to help those who are less fortunate, and 94% reported believing that all people should have equal rights regardless of color, race, gender, age or religion.
In Colombia, 23-year-old Leo Párraga is leading an unprecedented campaign for peace through Letters for Reconciliation, a project which encourages citizens to write letters to ex-Guerilla FARC members. In a recent conversation on bridging divides, I asked Leo why university students were the primary representatives for Colombian society in the campaign.
"It was open to everyone," he answered. "It's the students who showed up. Young people like to ask questions and figure things out for themselves. They're willing to consider the other side of the story and learn about it firsthand."
Today's youth will be the ones leading our governments, corporations, and legal and education systems in the years ahead. Through my experiences as both a son and father, I believe young people also have a unique ability to influence the thinking of their parents and others from earlier generations. How can we position 1.8 billion strong minds to use that power for social progress? 
Invest in people. Leverage systems.
Ford Foundation President Darren Walker recently wrote: "Inequality and injustice persist. But they are no match for the human spirit." He couldn't have phrased it better. The challenge is making investment in the human spirit a priority in our programs. At IYF, one way we do this is by investing directly in youth who are at the forefront of justice and change—young people who have demonstrated the audacity and spirit to challenge the status quo.
For donors and practitioners, investing in the transformational change of individuals requires program models that go deep, not just broad. It requires being intentional about opening spaces for authentic interaction, where participants can be vulnerable, think critically, and practice active listening.
While our programs must be people-focused, it's also important to consider the role of systems in multiplying the impact we can achieve.
It's exciting for me to see leading institutions such as the Ford Foundation announce their intention to challenge inequalities that give rise to social injustices. As practitioners and human citizens, we can—and should—work tirelessly to build systems and policies that promote inclusion, respect, and collaboration across ideological, cultural, religious, and other differences.
At IYF, our solutions meet young people in systems where they already are—sports, the arts, online, and most importantly—school. Through University Connect, we're discovering ways to foster mindsets of civic engagement and innovation in the next generation. We believe that equipping youth with the skills to deeply understand social challenges and develop empathy for others should always be a priority. We want young people to understand the problems in their communities and be passionate about a challenge, not just jump to a solution.
While it's gratifying to reflect on the ways IYF is including a social justice lens in our youth development work, we still have much to learn and ways to grow. As we look to the new year, we must remember:
Sustained social justice takes time – we need to acknowledge and plan for the continuum of mindsets toward 'the other.'
It requires a synergistic approach – we need to increase understanding of injustice and inequalities through exposure and empower the marginalized through building agency.
It's important to celebrate progress – we can maintain momentum by celebrating the "first step" anyone takes in this journey and build on it without judgment
What does this mean for us as individuals?
As we close the chapter on this challenging year and turn toward 2018, I challenge myself and others to seek out at least one opportunity to immerse ourselves in the reality of someone whose culture, beliefs, or circumstances are completely different than our own, despite whatever discomfort may come.
Volunteer at a local community organization. Start a conversation with someone sitting alone at Starbucks. Take time to actively listen when someone is sharing their experience—resist the urge to propose a solution.  We each have a role to play in bridging divides and breaking down barriers in our communities and countries, and there's never been a better time to start.
I would love to hear what you think about the ideas I've proposed in this piece. What are some practical strategies for taking action using this framework? What challenges must we consider? I welcome your thoughts and feedback in the comment section below.
Ashok Regmi is the Director of Social Innovation at the International Youth Foundation. 
Headline photo by Kat-Katha
Tags
SocEnt in the News
gitanjali
Qasim Aslam
Leonardo Párraga