Rise Together: Overcoming Self-Doubt and Other Invisible Barriers
Read All Posts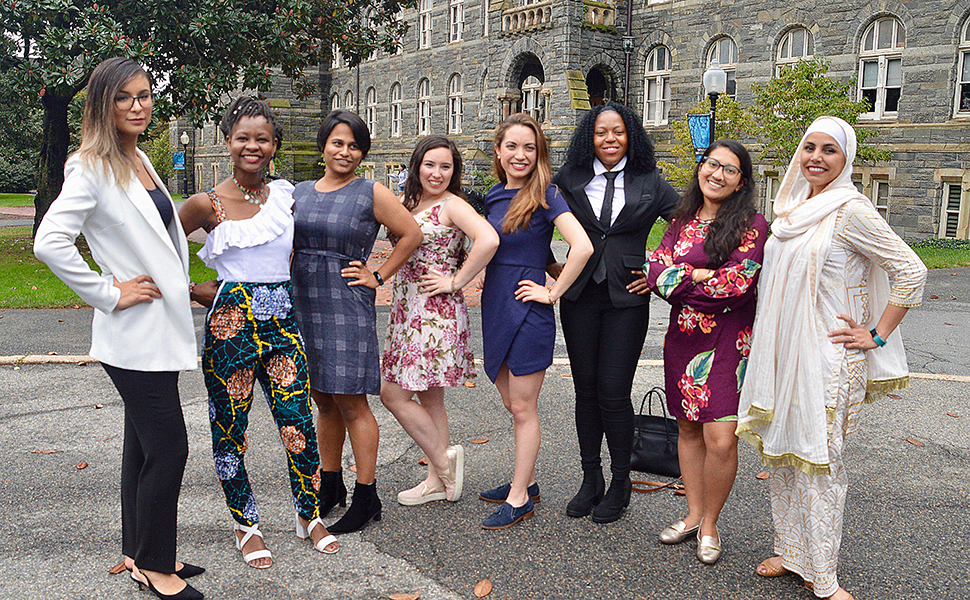 Anika, Maryam, and Jacqueline with other women from the 2018 cohort of Laureate Global Fellows
On International Women's Day, there is progress to celebrate—girls enroll in primary school at nearly equal rates as boys worldwide, and in the US, women outpace men in college and graduate degrees. Yet the #MeToo movement, stalled growth of women in leadership positions, and everyday experiences of discrimination among women leaders tell us we still have a long way to go.
In YouthActionNet's Living Leadership video series, we asked young women in our network about the obstacles they face while pushing for change in their communities. Amid anecdotes of being mistaken for coffee attendants in meetings and needing to work twice as hard as male colleagues to prove their value, their responses reveal that not all barriers are external; some—like self-doubt and self-censorship—originate within.

Anika Manzoor, United States
"As a woman I've been socialized to be less confident in myself, less prepared to face rejection," says 25-year-old Anika Manzoor, co-founder of Youth Activism Project in Washington, DC. "This prevented me from pursuing some opportunities early on, and it's taken a much longer time for me to own my leadership and confidently pursue all the opportunities that I need to pursue in order to build a sustainable organization." Through her work, Anika empowers young women to raise their voices—even when she sometimes questions her own. Today, over 1,000 teens trained by Anika's organization have led campaigns on girls' education, gun violence, sex trafficking, and other issues.

Maryam Mohiuddin, Pakistan
"It's been tough as a woman leader," admits Maryam Mohiuddin, who in 2013, at age 23, co-founded Social Innovation Lab in Pakistan. "Often we're so caught up in our own struggles, we forget to help the other women who are on this journey with us." Through her work with the lab, Maryam has helped launch 86 social enterprises, which have impacted over 3.8 million lives globally. She is now convinced that women are uniquely equipped to be social entrepreneurs. "Over the years," she explains, "it's become part of my role to do everything I can to empower more women who were 'me' five years ago."

Jacqueline Lawrence, Tanzania
"The difficulty we face is that the women don't talk, even when we follow them, even when we want to broadcast their problems," shares Jacqueline Lawrence, founder of Mbeya Highlands FM Radio. As one of the few female-owned media companies in the region, Mbeya works to provide a platform for transparency and accountability on public issues affecting rural communities, reaching an audience of 2.7 million listeners across Tanzania, Zambia, and Malawi. For Jaqueline, it's a daily struggle to help women overcome their fear and aversion to speaking out and advocating for their rights. "Sometimes we have to do investigative journalism—hide their voices, hide their faces—and we have to design special programs, so they feel confident to talk."
As accomplished leaders working across three different continents on education, activism, and media, Anika, Maryam, and Jacqueline all understand the importance of using their leadership position as a platform to empower other women. When women lift one another up, the benefits go both ways: experienced leaders strengthen their resolve and confidence in owning their leadership role, and more women find a seat at decision-making tables where their voices are desperately needed—especially those that intersect race, culture, and gender.
As the high-achieving young women from our network show us, even the most successful leaders experience doubt. By reaching a hand to aspiring young women, experienced leaders can focus on the knowledge and abilities they have, rather than what they perceive as lacking. They can own their role—and use it for good.
Watch YouthActionNet's Living Leadership videos to hear more about the amazing work being done by Anika, Maryam, and Jacqueline in their own words.