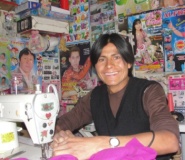 Sabino, now 25, grew up in the Ataquero district of the Peruvian Andes, as one of nine children. His father, like many Peruvian farmers, never went to school, yet has worked hard to support his family by tilling the soil, raising farm animals, manufacturing aluminum pots,  making clothing and repairing electrical goods. Sabino has clearly been inspired by his enterprising father
The best student at his local high school, Sabino was known for his artistic and academic achievements. After his graduation four years ago, he joined his three brothers and migrated to the town of Chincha, located 200 kilometers south of Lima, to work in a cotton processing company. One night, they were assaulted in their room and robbed of all their possessions, their savings, and also their dreams. Without a penny to his name, Sabino had no choice but to return to his hometown, with no certain future.
Last year, he decided to return to school, enrolling in a technical training course in textile manufacturing sponsored by the International Youth Foundation and the Peruvian NGO, CAPLAB, as part of IYF's entra21 program. Every day for four months, he made the 2-hour trip to the training center—on foot. His goal? To be "triumphant" and obtain recognition as a successful businessman, not for the money but for the quality and craftmanship of his products. Even as he worked hard on his new career, Sabino continued to play the guitar in his band, Los Amorosos del Peru.
In the beginning, Sabino found the training very difficult. He did not understand the meaning of many of the words being used in the class, such as marketing, organization chart. and planning. He debated with himself whether or not to continue. However, after he got a dictionary to help him with these unfamiliar words, he started to do well. With his success in the course, his confidence in others—and in himself—increased.
After 300 hours of training, Sabino received support to develop a business plan and he learned about tax and labor laws for micro and small businesses. In December 2010, his business plan was awarded a $500 grant. He was now able to purchase a sewing machine, fabric, and yarn.
 
Sabino's new company, Confecciones Saby Sport, has been operating successfully for six months. He is selling skirts and uniforms to nearby schools and men's and women's apparel shops—all of which is generating revenue for Sabino and his assistant. By the end of the year, he plans to open a branch in Carhuaz City and further expand into other markets. Sabino has survived many challenges on his path to becoming a successful entrepreneur, but at this point in his life, he can surely say he has "triumphed." 
 
Tags
technical skills
employability
job training
success story