She's the First Woman at This Vehicle Repair Company in Palestine
Read All Posts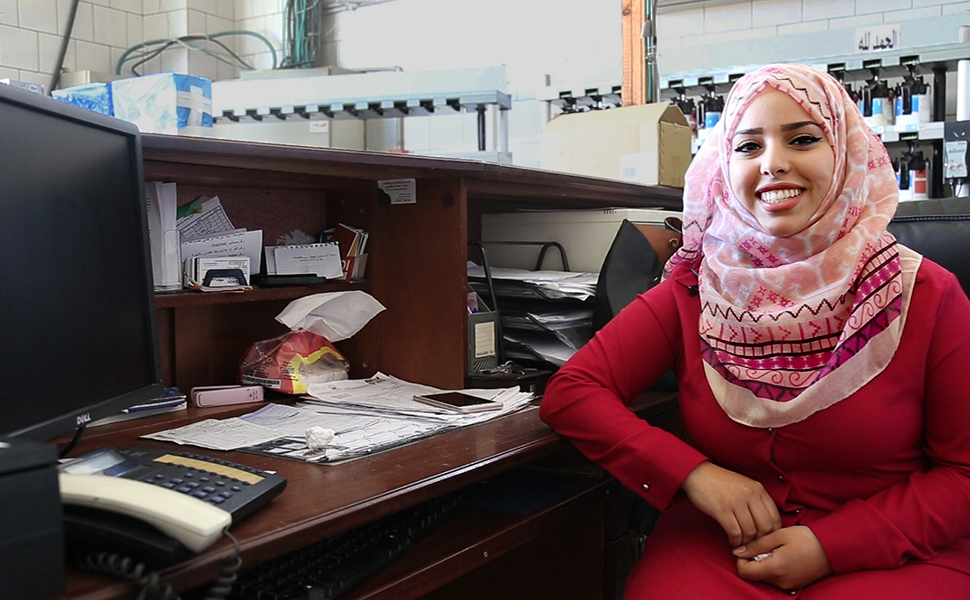 Until this year, Zuhdi Co. Trading & Industrial Company, which deals in car parts and vehicle repair, had only men's restrooms in their Ramallah, Palestine, office. When they hired 21-year-old Nouran, management recognized the need to invest in the practical amenities necessary to bring on women staff members and create a welcoming environment. They built her a women's restroom.
Working as an administrative assistant, Nouran became a full-time employee after successfully completing a paid internship at the company. She secured that short-term position at a job fair organized for Nouran and the other participants of an IYF youth employability project in her city. 
"This project was the changing point in my life," she says. After worrying about being competitive in the labor market, Nouran had decided to pursue vocational training, specializing in office management. Her school offered her the opportunity to enroll in IYF's Passport to Success® life skills training and counseling sessions provided at the local YWCA. As a result, she improved her skills in communication, job interview techniques, time management, problem-solving, and more.
"Now I can communicate with customers better than before and understand their needs faster than before," Nouran says. The company's investment in building new facilities is proof that she's succeeding.
Still, she is a young woman going to work every day in a male-dominated industry. "Many people around me think this is not the appropriate place for a girl to work," Nouran says. "I've heard annoying comments from people while I'm heading to work many times. Still, I love my job and am giving it my full effort. Also, many people have helped me and motivated me to continue in it."
Fortunately, the people she works with are among those supporting her. The owner of Zuhdi Co. praises Nouran's organizational skills and ability to work with minimal supervision. Her male coworkers are happy to have her on board; they don't hesitate to seek her assistance, and they offer help as she learns about their work and the industry.
"My colleagues are very collaborative, and together we make a wonderful team," says Nouran, whose outlook is positive. "I'm very hopeful for the future and confident in my skills."
Narmeen Fayyaleh is an IYF Program Manager in Palestine.
Tags
young woman
job training
gender
auto mechanics