She's Training Women & Youth to Build Climate Resilient Communities
Read All Posts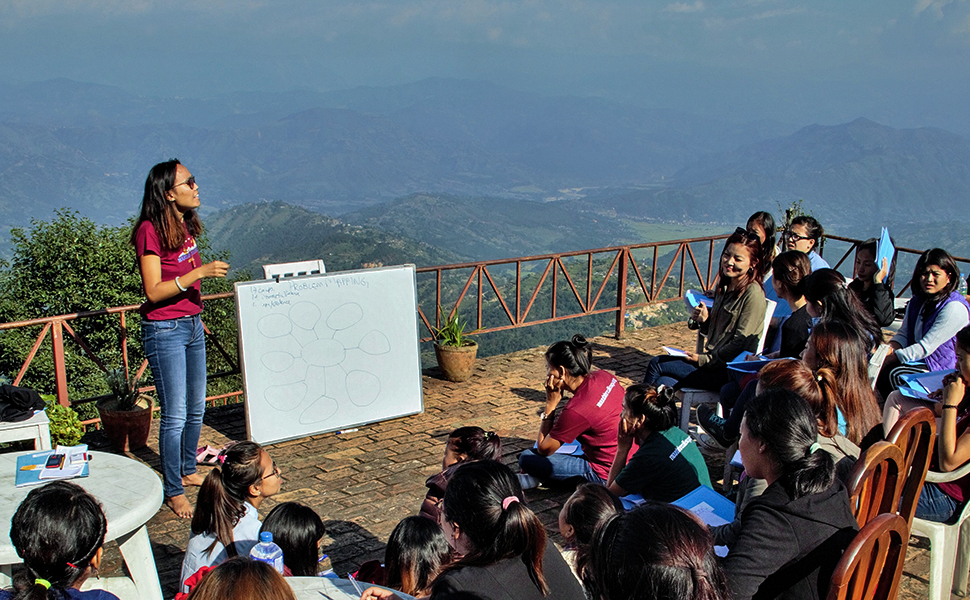 This blog post is part of a series that explores the role of IYF's YouthActionNet® fellows in advancing the UN's Sustainable Development Goals (SDGs).
The Himalayan region of Nepal conjures up images of rugged snow-capped peaks and azure skies. Despite such awe-inspiring vistas, the region's mountain communities have long struggled to survive in the face of physical isolation, poor quality soil, and limited infrastructure. Now, a new challenge threatens the communities where social entrepreneur Tsechu Dolma grew up: climate change. 
As a Tibetan refugee living in northern Nepal, Tsechu, one of IYF's 2016 Laureate Global Fellows, witnessed firsthand the impact of changing weather patterns and rapid deglaciation on high altitude villages. The resulting landslides, flash floods, drought, and erosion have disrupted traditional agricultural practices, increasing food insecurity and forcing entire communities to relocate.
To mitigate the effects of climate change, Tsechu co-founded the Mountain Resiliency Project in 2014. Through the initiative, mountain people, particularly Tibetan refugees, gain valuable knowledge and skills to adapt to their changing environment and develop sustainable livelihoods. Tsechu has received global recognition for her work, including being named among the Forbes 2017 30 under 30 Social Entrepreneurs.
Twenty-four-year-old Tsechu takes seriously UN Sustainable Development Goal #13, to combat climate change, particularly its provisions around risk reduction. She affirms that building community resiliency can mean the difference between "a climate-induced hazard and a full-fledged disaster."
Through one of its programs, Mountain Resiliency collaborates with schools to construct greenhouses, plant orchards, and teach environmental literacy. The greenhouses offer protection against weather-related risks, while sustainability courses train students in micro-entrepreneurship, alternative clean energy, and digital technology skills. Profits from the sale of student-produced mushrooms, vegetables, and honey goes toward subsidizing lunches and school fees.
"While a greenhouse itself may not be a revolutionary idea, when combined with a school curriculum, a business model, and local investment, it can become an incubator for social innovation and financial inclusion," says Tsechu, who received her master's degree in Public Administration from Columbia University's School of International and Public Affairs.
Mountain Resiliency also empowers women from six Tibetan refugee camps with leadership and agribusiness skills. For some of the young women, assuming a greater role in their families and communities means addressing gender-based violence. Tsechu explains that climate disasters have increased GBV in these communities by fueling economic and emotional stress. In response, two of her trainees now run a safe home for women and children. Other young participants focus on economic empowerment; these women micro-entrepreneurs earn income through the production of goods such as dried apple chips and natural candles. They also train other women and youth to learn the associated skills.
To learn more about Tsechu's work, watch Helping Communities Adapt to Climate Change below.
Tags
climate change
2016 laureate global fellows
environmental protection
sdgs
gender-based violence
gender
women's economic empowerment
agribusiness
refugees
tibet
nepal
youthactionnet fellows advancing sdgs