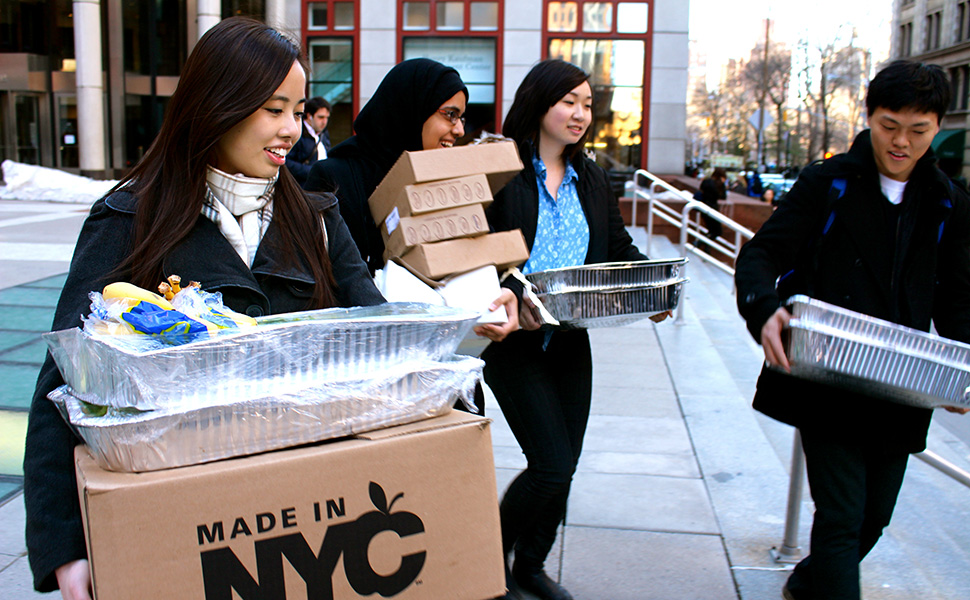 This blog post is part of a series that explores the role of IYF's YouthActionNet® fellows in advancing the UN's Sustainable Development Goals (SDGs).
Every day young people around the world remind us of their power to be a positive force for change. Today, as the global community honors World Food Day, meet one young innovator in the United States who has pioneered a low-cost, scalable solution to urban food waste that's rapidly catching on.
Through Rescuing Leftover Cuisine (RLC), Robert Lee, a 2016 Laureate Global Fellow, uses technology to mobilize and empower citizens to prevent perfectly good food from being thrown away. With roughly a third of the food produced globally either wasted or lost, any effort to achieve SDG 2—zero hunger—must involve reducing the amount of food that is discarded or uneaten.
Beginning his work in New York City, 26-year-old Robert realized the problem didn't result from a lack of will but rather the inability to transport food quickly and efficiently. As RLC has proven, an increasing number of U.S. businesses are willing to donate their leftover food, and volunteers are eager to support their neighbors without enough to eat.
"The central problem we were trying to solve is that transportation was too expensive, too costly, and too logistically complicated," says Robert, a 2015 CNN Hero.
The son of Korean immigrants to the U.S., Robert himself experienced food insecurity while growing up in New York City. In 2013, he left a well-paying finance job to cofound RLC.  Two related challenges drove his decision: up to 40 percent of food in U.S. was being wasted while one in seven Americans didn't have enough to eat. More recently, 15.6 million U.S. households were food insecure at some time during 2016.
Today, RLC volunteers can check a schedule on the organization's website and pick up and deliver leftover food—quickly and efficiently—to the organizations and people who need it most. RLC's flexible approach is especially popular among tech-savvy millennials looking to make a difference while living busy lives. Volunteers commit only the time their schedules allow, whether it means weekly or monthly food deliveries. Most participate in their neighborhoods on weekends or while commuting to and from their places of work.
This model of tapping youth volunteerism makes sense; nearly half of young respondents in the 2017 Global Youth Wellbeing Index reported that they had volunteered with the last month. This figure, 46 percent, places the United States second for this indicator and is more than double the average among Index countries—22 percent.
Restaurants, hotels, and catering companies also appreciate RLC's turnkey solution. Its partner food providers now include chains such as Starbucks, Panera Bread, and Pret a Manger. In addition to transportation services, RLC offers its partners food waste consulting and branding opportunities.
Since 2015, the organization has experienced rapid growth, scaling its approach across 12 U.S. cities and rescuing more than 1.2 million pounds of food. Already this year, its efforts have resulted in more than 257,000 meals being served to individuals at homeless shelters and other social service agencies.
With its success at mobilizing American businesses and volunteers, Robert sees no reason why RLC's approach couldn't be applied to tackle global food insecurity. "We're eliminating hunger community by community," he says. "Wherever there's food waste, I want people to know there's an alternative to throwing it out."
Tags
2016 laureate global fellows
youthactionnet fellows advancing sdgs
video
world food day
food waste
youth-led social change
sdgs
sustainable development goals
global goals
volunteering