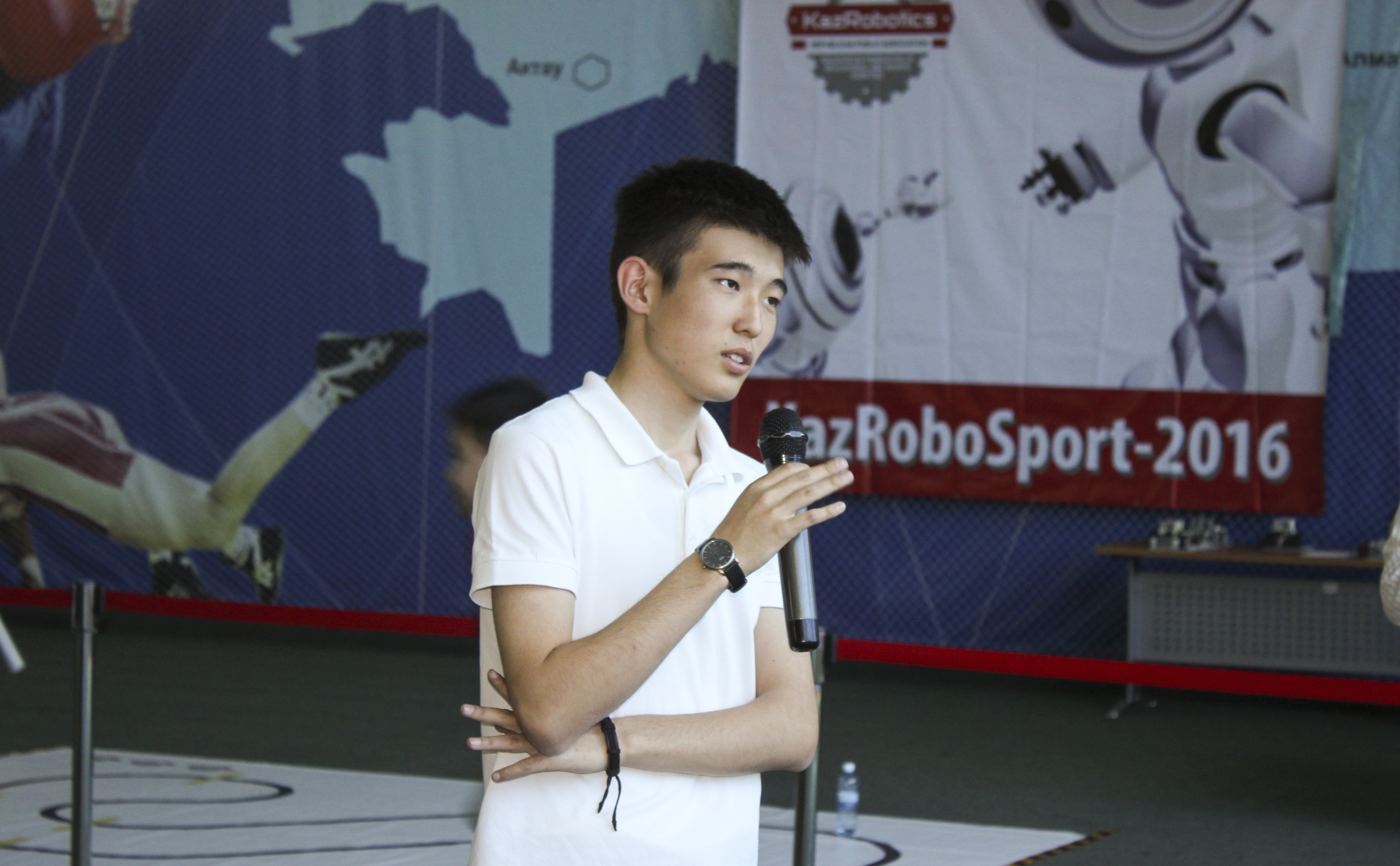 Setbacks frustrate any scientist, and the experience of creating three unsuccessful prototypes for a solar tracker certainly fazed 17-year-old Alibek from Atyrau, Kazakhstan. He says that with each version, his team, participants in a STEM Capstone club, just wanted to give up. Armed with growing technical knowledge, life skills training, and the support of IYF local staff, they persisted in applying what they were learning.
These clubs are one component of the Zangar initiative, a partnership between IYF and Chevron that supports youth learning and expands science, technology, engineering, and math (STEM) education in the country. The clubs include trans-disciplinary, out-of-school activities that use the engineering design process to engage students with real world problems and issues while integrating standards from the school curriculum.
From the very first meeting, Alibek showed his curiosity and had questions to ask about every lesson. When it came to forming groups and starting working on project, he became the leader of a team of five students. They started learning the basics of programming on an Arduino microcontroller. At the same time, they used their knowledge from school in physics, math, chemistry and biology. As they were applying what they were learning in STEM, they were developing complementary skills such as self-confidence and resilience through IYF's Passport to Success® training.
With each failed prototype, Alibek says it was very difficult to manage the team and find motivation. They all became upset and did not want to continue. However, failure showed them how exactly they needed to improve the prototype, and the life skills they were developing helped them have a healthy attitude to persist despite setbacks.
Alibek says that the most important thing Zangar afforded him was the opportunity to do everything in practice, not just theory. "The hands-on experience helped me overcome a fear of failure," he says.
On their fourth try, the team used four photo resistors, two servomotors, and an Arduino microcontroller. They took part in regional robotics championship organized by the Kazakhstan Federation of Educational and Sports Robotics, KazRobotics, and placed first. This victory gave them chance to participate at the national championship in the capital, Astana. Only two members of the team could go, and Alibek decided to stay in Atyrau and concentrate on his final exams.
After he finished 11th grade, Alibek continued to participate in Zangar's STEM programs. During STEM Capstone summer school, he volunteered and helped a new wave of participants. "My success in the regional championship ignited my desire to help others and share my experience," Alibek told me.
When he was volunteering, Alibek often used simple diodes to explain the basic principles of electronics. He realized that he could use the diodes and photo resistors to make an interesting project: a tool that could send and receive information using light from diodes. After starting working on the project he quickly realized that he needed a teammate. This time he paired up with his classmate Ruslan.
Alibek says it was easier to work on this second project, because he already knew what to do: he just had to follow the engineering design process steps. Within four months, Alibek and  Ruslan had finished this project and successfully participated in a regional science project competition, where they placed first. This year, they will participate at the national level.
Alibek's father, Zhanat, emphasized that it has been very important for Alibek to see the final result of all his efforts. At the same time, he pointed that the C programming language and 3-D design software used in projects are not taught in schools, but highly demanded in engineering. In his opinion, all of the skills and knowledge acquired in the process will be used in his son's future career.
Today, Alibek is preparing for his final exams and has decided on his career. He wants to study robotics and mechatronics. "I decided to choose this major thanks to Zangar," he says. "Otherwise I would have chosen something boring and within my comfort zone."
Nurzhan Amangossov is an IYF Program Manager in Kazakhstan.
Tags
stem education
robotics
mechatronics
capstone club
ict
engineering