Students in Nashville Thrive When They Build These Skills
Read All Posts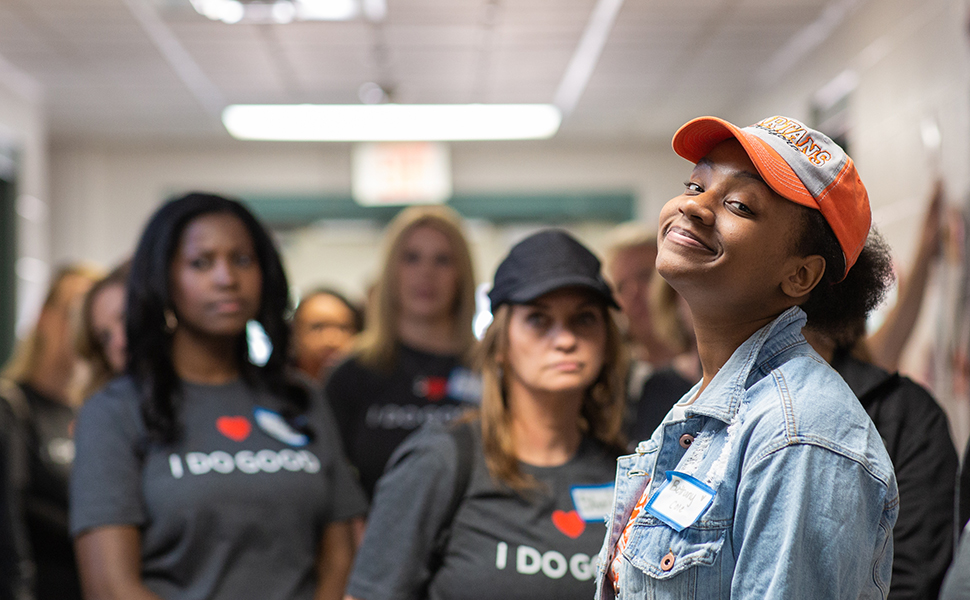 In mid-September, Bethany Cole, a poised and confident 18-year-old, shared her goal of becoming an immunologist with a rapt audience of over 11,000 Rodan + Fields consultants, mostly women, at the company's annual convention in Nashville, Tennessee. Another 40,000 people watched online. Not long ago, that kind of public speaking would have been unthinkable for her.
"I used to ball up my emotions and not talk to anyone about how I felt," says Bethany. After losing her mother when she was 7 years old, she has battled with anger, an eating disorder, low self-esteem, and bullying. Her journey to the Nashville convention center shows just how much young people can benefit from supportive adults and the tools with which to manage difficult emotions. 
Earlier this year, Bethany participated in Passport to Success® (PTS) life skills classes at her high school through Do Good: Nashville, a three-year initiative of IYF and Rodan + Fields Prescription for Change Foundation. PTS classes prepare young people for work and life with skills such as self-confidence, communication, and teamwork. "The IYF classes taught me how to talk to people and different ways of dealing with my anger and other emotions," Bethany says. 
Bethany is one of more than 300 high school students in Nashville to participate in the program in 2018 and 2019. Staff from the Martha O'Bryan Center (MOBC), IYF's local implementing partner, delivered the classes to freshman and seniors during the school day. Training in IYF's PTS curriculum enabled MOBC to expand its services, while strengthening team members' skills in group facilitation and interactive teaching. MOBC staff also provided guidance counseling and encouragement to students after school. 
"We want to prepare young people for what's next in life," says Kent Miller, MOBC's Chief Program Officer. "PTS specifically develops the skills needed for employment, career readiness, and college readiness." 
The classes proved essential as Bethany geared up for college interviews. "By going to the IYF classes, I began to feel more confident in myself and my abilities," she says. Her persistence paid off, with Bethany now enrolled at Belmont University on a full scholarship. 
Several months prior to the convention, Bethany also interacted with Rodan + Fields sales consultants, who joined Do Good: Nashville participants for a day of service. Sharing stories of perseverance, the students and adult volunteers refurbished an out-of-commission classroom.
"While educational systems prioritize academic achievement, too often overlooked are young people's emotional needs," says IYF Program Director Shannon McGarry. "Programs like Do Good: Nashville provide the wrap-around services that underserved students need to not just graduate, but thrive. By building the capacity of youth-serving organizations, IYF seeks to build sustainable solutions over the long-term." 
As for Bethany, after earning a degree in molecular biology at Belmont, she plans to pursue a medical degree. "I want to research treatments that average people can afford," says Bethany, with a self-assured smile, "and one day win a Nobel Prize."