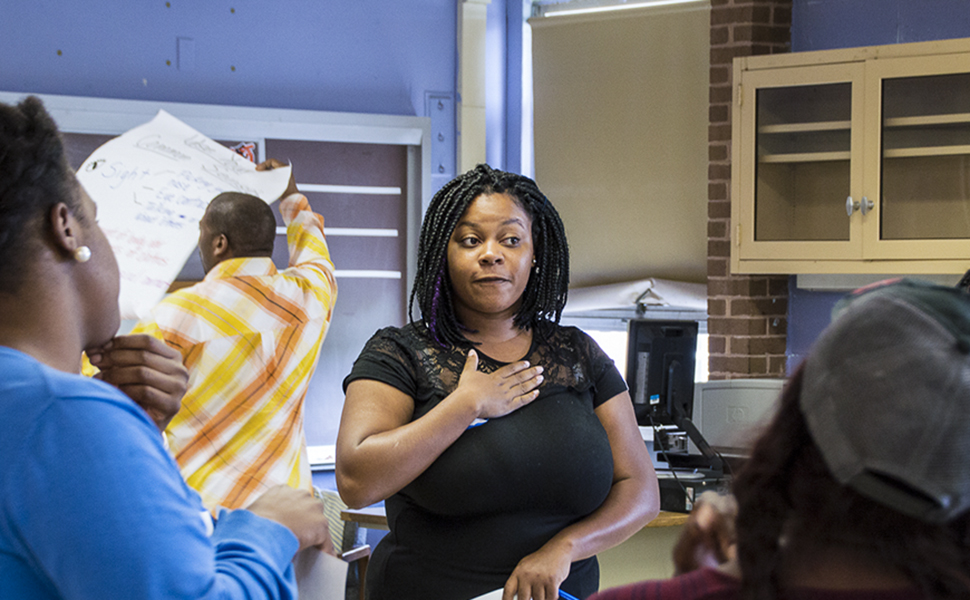 On June 20, a sunny Tuesday, 10 Passport to Success® trainers spent the day at the Family League of Baltimore offices with three IYF Master PTS Trainers. During the school year, these men and women are Baltimore City Public School teachers and administrators, but during the summer they work as supervisors for Baltimore Summer Skill-Builders (BSSB), a YouthWorks (YW) program that couples on-the-job experience with PTS work readiness training. 
Many of them grew up in Baltimore, and several even got their first employment experience through YouthWorks. They know firsthand that simple workplace practices like dressing appropriately, being punctual, and saying good morning to colleagues may not be obvious to high school freshman, sophomores, and juniors, and core work readiness skills—like teamwork, self-management, and problem solving—which employers demand, are not necessarily acquired at school or home.  
"For many of these kids," said Katrina Poston, a trainer from Harlem Park Elementary/Middle School, "this might be their only opportunity to learn these skills." 
Poston and fellow trainers supervise their young employees at an assigned job site, one of 20 participating Baltimore City Community Schools. For the first half of the workday, they deliver PTS lessons such as Searching for a Job, Personal Leadership and the Workplace, Time Management, and Being a Good Team Player.
Tanika Conner, a trainer stationed at Arlington Elementary/Middle School, explained that for the second half of the day, participants "clean and help with school upkeep—waxing floors, stripping paint, organizing supplies—and do projects in the community. It's hard work," she added, "and helps build strong work ethic."
Poston, Conner, and the other returning trainers concurred that their confidence levels are much higher this summer than they were last summer, and experience has given them insight into what it takes to be successful YW supervisors and PTS trainers.
Tyra Gaither, from James McHenry Elementary/Middle School, noted that it's important to strike a balance between being sensitive to the realities of young people's lives, while still providing them with real-world job experience. "Sometimes I just want to hug them," she reflected, recalling a young man she supervised last year whose home life made arriving on time a challenge. "But that's not what an employer would do." Poston and Conner agreed, adding that connecting with youth is also critical. Poston recommended sharing personal stories to be relatable, while Conner said she tries to work side-by-side with trainees to build trust.
All the returning trainers agreed success requires them to develop and practice the same life skills they hope to impart to their students – skills like effective communication, adaptability, creative thinking, and conflict management. "We have to model it for them," Conner concluded.
With support from the Mayor's Office of Employment Development, Family League, Baltimore City Public Schools, and IYF, approximately 450 Baltimore youth—ages 14 to 15—will benefit from Baltimore Summer Skill-Builders. They'll not only receive on-the-job and PTS life skills training—they'll see it in action. 
Matthew Hobson is IYF's Web Writer.