UN Youth Assembly Previews Global Youth Wellbeing Index Findings
Read All Posts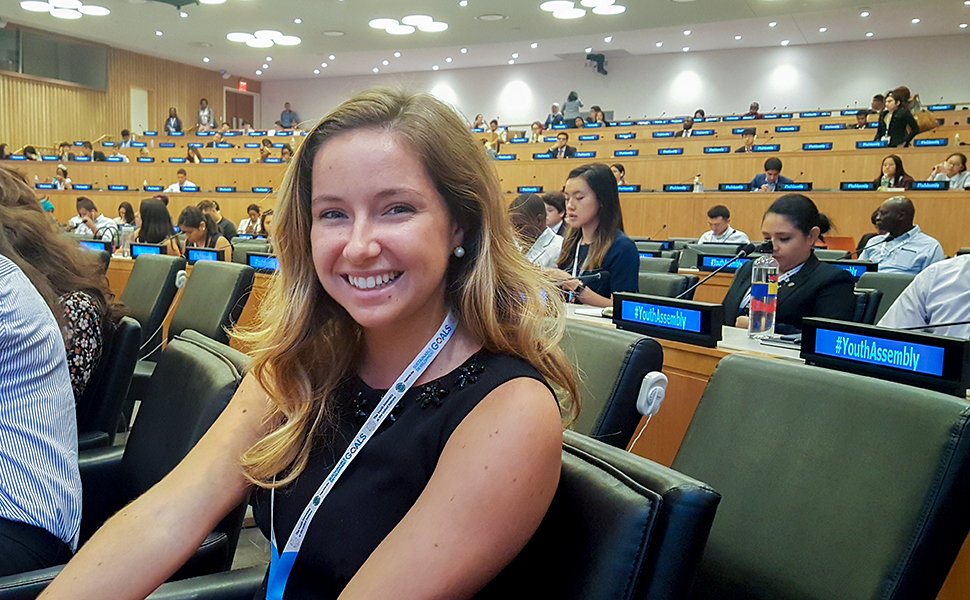 Research concerning youth issues needs to be shared first and foremost with youth audiences for their input and use. In this spirit, IYF and Hilton previewed the 2017 Global Youth Wellbeing Index Executive Summary at the 2017 UN Youth Assembly on August 11 for more than 350 youth delegates from around the world. This audience of dynamic and conscientious 16- to 28-year-olds agreed with key Index findings, particularly those around gender equality and mental health, and raised some interesting questions of their own.
The 2017 Global Youth Wellbeing Index, commissioned by Hilton and produced by IYF, assesses young people's access—or often lack of access—to opportunities in seven domains. Covering five regions, the countries included in the Index are home to almost 70 percent of the world's youth. With an emphasis on listening to and amplifying young people's perspectives, the Index features data from our 2016 survey of thousands of young men and women in addition to objective data indicators.
At the UN Youth Assembly, Daniella Foster, Hilton's Senior Director for Corporate Responsibility, introduced the report and underscored the crucial role young people will play in meeting the Sustainable Development Goals. IYF President and Chief Operating Officer (COO) Susan Reichle highlighted the top findings from the Index and urged the audience to "use the data to make real change as part of their advocacy efforts in their home countries." When she shared that Index data indicates that 89 percent of young survey respondents believe in gender equality, the delegates erupted in cheers.
After the panel, I had the opportunity to interview some of the delegates on their reactions to the Index findings. For Madeleine Kausel, a student at McGill University in Canada, one that hit home was the pressing need for young people to have access to better mental health care. "Mental health care is so important for students in university, and there's very little support for it." She added, "Students across Canada are starting to lobby their schools for better support. Mental health problems are pervasive across socioeconomic and educational levels."
A rising junior, Madeleine is interested in corporate responsibility work and believes that the private sector has the power to do "an enormous amount of good by incorporating social investments into business strategy, not relegated to the side as traditional philanthropy." After the event, she approached Foster, from Hilton, for career advice. "Having strong life skills—being a problem solver and a team player—are critical in today's economy," Foster told her. "The ability to adapt to change, effectively communicate, and work across functions and sectors is an asset for young people."
Rachel McCave, a delegate from the United States, identified with the Index economic opportunity finding that young people are optimistic about their financial futures. Seventy-four percent of youth surveyed across Index countries believe that they will be able to get the kind of job that they want, and 59 percent think that their standard of living will be higher than that of their parents.
The child of immigrants, Rachel shared with me that "immigrants assume that their children's standard of living will be better than theirs. That's part of the reason they move to new countries." She also wondered about the impact of cultural change on mental health, adding, "If you feel like your cultural identity is under attack, then how does that impact youth wellbeing?"
Rachel is interested in a foreign service career and asked for advice from IYF's President and COO, who transitioned to IYF in 2017 after 25 years at USAID. Reichle shared, "While it's not without challenges, public service careers can offer young people the opportunity to see the world and to change it."
To learn more about Index and its top 10 findings, read the 2017 Global Youth Wellbeing Index Executive Summary.
Lara Henneman is Manager, Corporate Programs, and one of the Index authors.