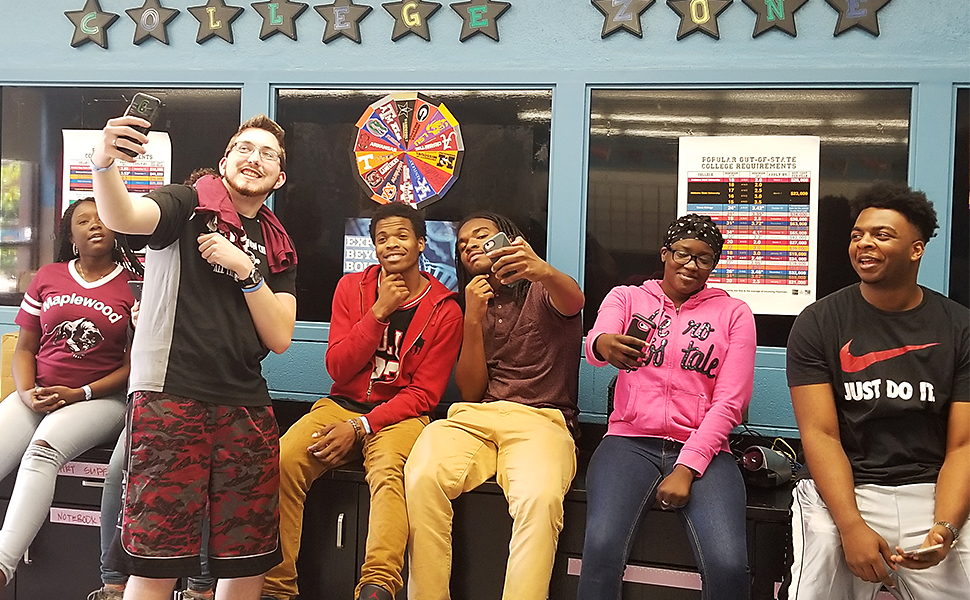 In the International Youth Day 2018 dialogue around safe spaces, it's important to remember both the immense potential and potential dangers of one space we all share: the internet. In my role as IYF's Director of Product Development, I explore new digital ways of reaching, educating, and activating young people to improve their lives and communities. IYF as an organization strives to meet young people where they are, and one of the main places they go is online.
In nearly every country, people ages 18 to 36 are more likely than older adults to use the internet. They're using it for everything from banking to dating to accessing and providing services in the sharing economy. This year, IYF has done focus groups with young people about their online habits and career goals in diverse places, from Guadalajara to Bangalore. We've sat with young women and men, sharing sweets and ideas about the opportunities and risks presented by internet usage and social media. One of our opening questions in these discussions is "What do you use your phone for?" The answer 9 times out of 10? Everything. But invariably, that connectivity also comes with concerns about security, data privacy, and authenticity.   
Considering the positive and negative, let's take a look at some aspects of both sides:
Social media connects and divides us. Every generation uses social media to connect with friends and family. Not surprisingly, the top social networks from our focus groups are Facebook, Instagram, Twitter, and Snapchat. Still, from Nashville to New Delhi, we've heard a growing mistrust of these platforms. Damien, a young man from the Bronx, shared that now he mostly uses Facebook. However, "It won't be for too long, because the information isn't trustworthy," he said. "I don't trust Facebook with my info, or the information I read on there." Kiara from Nashville noted that geotags on photos, such as those Snapchat requires for using a filter, can put young women in physical danger by providing strangers specific details about their location. Young people are savvy consumers, and they're wary of their personal information turning into a business commodity, a headline, an invitation, or an obstacle that will prevent them from getting a job in the future.
Civic engagement can begin online. For today's young people, activism often starts online. You can learn about an issue, sign a petition, and contact your political leaders without leaving home, leading some to term this generation "armchair activists" or "slacktivists." You can also use it as a safe space to connect to like-minded individuals and find demonstrations and meetings IRL (that's in real life). While controversial in countries that include the United States and Russia, encrypted communications services like Signal and Telegram provide valuable protection for youth activists from Mexico to Chechnya. Young leaders also know the limits of online engagement. "Social media is an efficient way to keep supporters updated and reach out to new people," YouthActionNet® Laureate Global Fellow Leonardo Parraga in Colombia told IYF. "But real action happens on the ground, with face-to-face interactions that allow people to relate."
E-learning is just part of everyday life. Nearly every person we've spoken with has engaged in online learning, from watching how-to videos on YouTube, to practicing English skills on smartphone apps, to engaging in formal online course work in a learning marketplace like Coursera or Udemy. Interestingly, many don't even think about this as "e-learning"—it's just how they learn new things, find the answers to questions, and see what others are saying and doing. Plainly, it's just existence in a digital world. In our IYF focus groups, we've heard stories of young people watching a YouTube video on the side of road in the middle of the night to learn how to change a tire, googling famous Indian fashion designers to find out about their career paths, and taking business classes online to learn how to market a product. That's not to say that education outside of the classroom is more valuable than in the classroom; more than half of the youth we have surveyed indicated that they "prefer to have a teacher guiding their learning."
At IYF, we'll keep listening, and work together with young people to create safe online opportunities for expression, engagement and education—365 days a year.