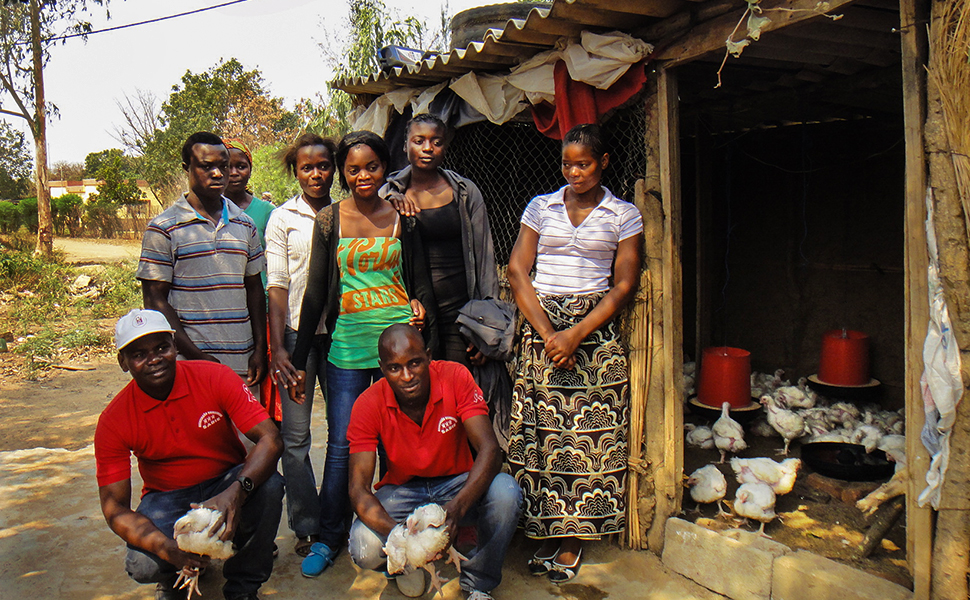 With formal jobs and steady wage employment eluding most young Africans, the vast majority depend on flexibility, long hours, and hard work to secure multiple sources of income. New research from The MasterCard Foundation on mixed livelihoods—the combination of informal sector employment, self-employment, and agriculture-based activities—offers insight into the economic realities of young men and women in Sub-Saharan Africa.
The Foundation released Invisible Lives: Understanding Youth Livelihoods in Ghana and Uganda at the second Young Africa Works Summit, held February 16 and 17 in Kigali, Rwanda. Both the summit and the report showcased new ideas on how young people can transform and capitalize on the agricultural sector in Africa and meaningful ways organizations can directly involve youth in their work.
For Invisible Lives, young researchers visited participants every two weeks over the course of a year to ask a set of questions about livelihood and financial activities. During each session, researchers also collected answers about different themes and trends from each of the 246 participants. The results give both an in-depth and long-sighted view into the work and life of the participants. Researchers gained skills and work experience, while the respondents felt more comfortable talking with someone their own age who understood community issues. The MasterCard Foundation has used a similar peer-to-peer approach with their Youth Think Tank.
The report emphasizes themes that we often see in our work with young people. Looking at three of their five top takeaways identified from the research, we see corresponding lessons:
"Young people have diverse livelihoods." We must ensure that skills are diverse and transferable. The researchers found that 100 percent of the participants in Uganda and almost 97 percent of participants in Ghana were engaged in mixed livelihoods. IYF has worked to reflect and react to this reality under our partnership with The MasterCard Foundation for Via: Pathways to Work. This initiative combines entrepreneurship, technical skills, and job readiness training. A key component is the development of life skills such as making priorities, reliability, and teamwork, which allow young people to be successful in any type of livelihood.
"Agriculture is central to rural young people's livelihoods." We need to showcase the potential of agriculture as a business and improve access to finance. Nearly all of the participants engaged in crops, horticulture, or livestock, but the income they earned was small. The transformation of small-scale household approach to an income-generating business can have significant implications on earnings. In Morocco, IYF is exploring the use of a market systems approach to expand youth-led agri-businesses in a way that can reach scale and be profitable. In Mozambique, Via initiative local partner Gabinete de Apoio e Consultoria a Pequenas Indústrias (GAPI), provides saving and credit groups that teach young people how to save money, which then prepares them for micro-loans.
"Both formal and informal wage employment is rare and sporadic, or elusive." We can counteract this unpredictability by including financial literacy skills. With a range of work comes a range of income and expenses, and the authors of the report believe that financial literacy and business development skills enable young people to manage their portfolios better. Our own experience has shown similar needs; for example, in Senegal, we found it critical to provide this type of training after research showed the difficulties young people faced in the agricultural sector.
While this in-depth study of the lives of young people in Uganda and Ghana may be relatively small, it furthers the collective understanding of the reality on the ground for youth engaged in mixed livelihoods. As our CEO Bill Reese has written, youth-inclusive economic growth in Africa mixes governments with business, life skills with hands-on training, and entrepreneurship with employment, all crucial assets in a diverse-income market.
To learn more, read Invisible Lives: Understanding Youth Livelihoods in Ghana and Uganda or The MasterCard Foundation blog post Five Takeaways from New Research.
Tags
the mastercard foundation
mixed livelihoods
agribusiness
agriculture
financial literacy
access to finance