The Value of Skill-Building & Education, with Katie Fallon of Hilton
Read All Posts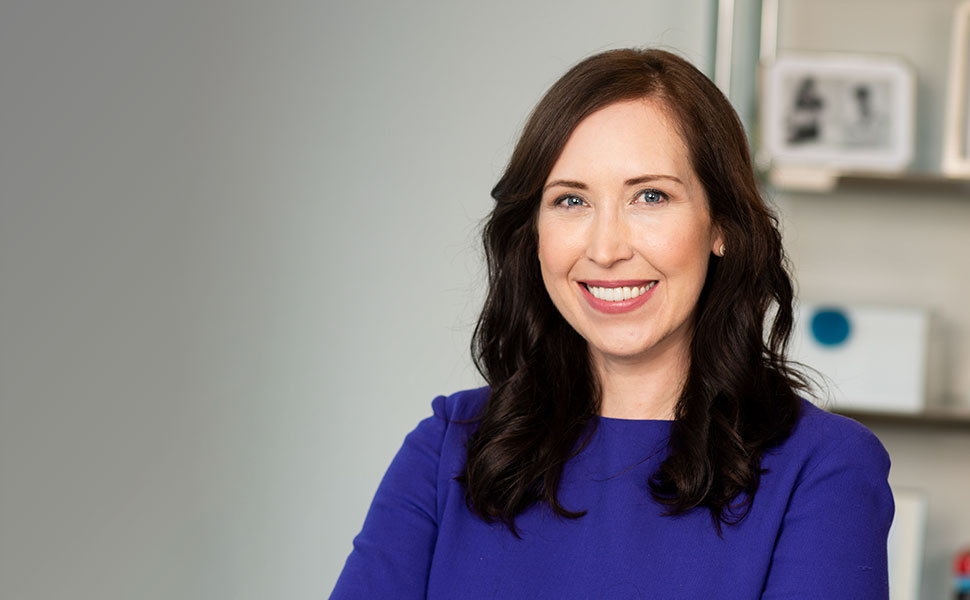 Katie Fallon, Executive Vice President and Global Head of Corporate Affairs at Hilton, joined IYF's board of directors in 2019. Here she answers questions about her experience and hopes for her tenure as a board member, plus the theme for International Youth Day 2019, education.
What skills have helped you excel in your career—from your earliest job, to the West Wing, to your position with Hilton—and where did you learn or develop these skills?
Consensus building and problem-solving are two skills that have served me well throughout my career and have been especially useful in my current role as head of Corporate Affairs at Hilton, where much of my work revolves around engaging and influencing diverse constituencies and stakeholders. Serving as President Obama's chief liaison to Congress taught me that even when it feels like you're at an impasse, there is always a way forward. You have to be willing to have the difficult conversations and to invest early in building relationships so people know where you're coming from and trust you when working through issues. 
In a changing world, the way we think about education needs to evolve to meet new needs and contexts—what do you think is important to consider in this regard?
In some ways, people have greater access to education and learning than at any other time in history. But there's also a growing disconnect between job seekers and the skills companies need—globally we're facing the worst unemployment crisis in history. It's a challenge that the travel and tourism industry can play a major role in tackling, and that's why, at Hilton, we committed to double our investment in youth opportunity programs in countries with the lowest youth wellbeing as part of our 2030 Goals. We've partnered with organizations like International Youth Foundation since 2012 to provide soft skills training and workforce readiness training to more than 20,000 youth and to learn more about the challenges they are facing. We're also proud to have opened doors for more than 900,000 young people since 2014, creating more economic and social mobility for youth around the world. 
What skill sets are important in the hospitality sector, and how can these skills help young people excel in work and life more generally?
It sounds obvious, but at its core, hospitality is all about understanding people, and soft skills go a long way in our industry. We like to say that we're a business of people serving people because no matter what role you are in, the success of our company depends on our ability to anticipate and understand people's needs and then to deliver on those needs with excellent service. I think that idea of service and commitment to learning about others extends beyond the hospitality industry and can serve young people well no matter what career path they choose. 
Thinking about digital learning, why are short mobile courses such as ePTS—​which builds necessary life skills like communication and teamwork—useful for young people worldwide?
There is an information gap with respect to the hospitality industry. Young people have limited exposure to the nature and extent of meaningful careers in hospitality. Mobile courses are one way we can strengthen the workforce by providing the resources employees need to succeed in their current roles and gain exposure to career opportunities offered in our industry. As part of our continuing commitment to opening doors of opportunity for youth, we are partnering with IYF to bring the Passport to Success® (PTS) curriculum to an innovative mobile format. We are excited to pilot the technology as part of Hilton's Big Five initiative in Africa and to offer it as open source material that will empower more young people to unlock opportunities in travel and tourism. 
What do you hope to accomplish during your tenure on the IYF board?
There's a lot of momentum—from youth and across the industry—to ensure travel and tourism is a force for economic, social and environmental good. I want to harness that momentum and enthusiasm to deepen our industry's responsible growth agenda, especially when it comes to youth employment and opportunity creation. Together we can ensure that as our industry grows, it does so sustainably and in a way that contributes positively to the communities on which we depend.