We Came Together to Protest Gender-Based Violence in Mexico
Read All Posts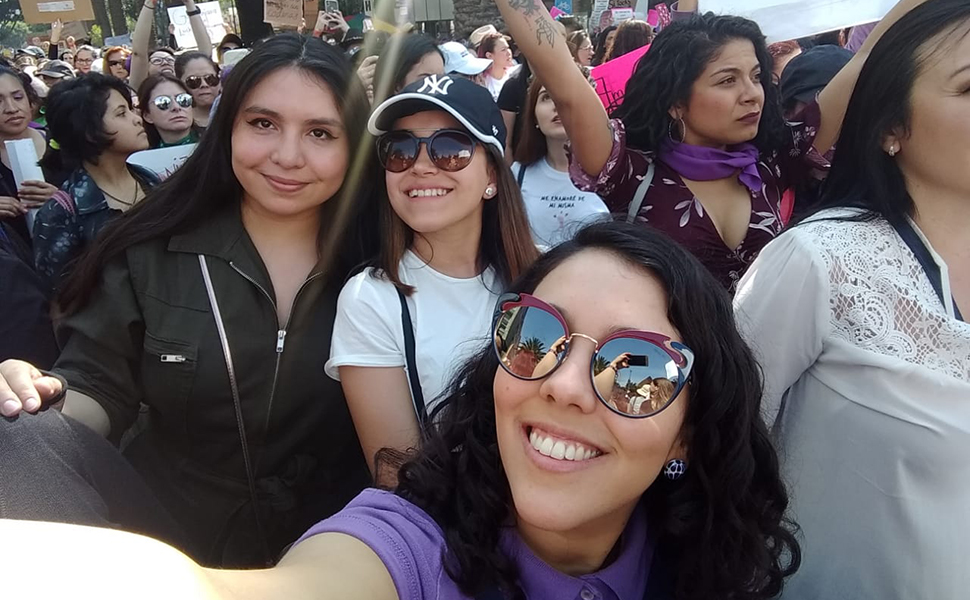 IYF Program Coordinators Ana Sigala, Nicole Zamorano, and Maria Ezquivelzeta participated in the main protest in Mexico City. 
On March 9, more than 80 thousand women across 60 cities took to the streets of Mexico to protest violence against women. Among them were several staff from IYF's Mexico office, including Program Officer Judith Hermosillo Lozano. She shares her personal experience participating in this historic march.
It's hard to describe the collective protection that you feel at a march—the power of initiating a chant and knowing that dozens of voices will answer you, the peace of smiling at strangers, of embracing, of aspiring to a world where we can all be the version of women we want to be.
I marched holding my mother's hand. My sisters and their friends were all around us. In front of us was a woman with her two little girls. We looked at her and smiled. We put on our handkerchiefs, we put on our glasses. Our mother hugged us. Our dad accompanied us, respecting the space. He asked if we needed water, if we wanted to rest, how we felt. We worried about our mom because we thought she might get scared. But you know what? She was brave.
A march is a repository of stories and faces. It is a model of the type of relationships we can create between us—ones of respect, of courage. Not of silence. At a march like this one, there are those who have been fighting for years, putting their bodies into it, others of us who are just learning. Maybe next time, next year, you will be there, too. You will be able to understand. You will know that those who walk beside you are mothers, teachers, grandmothers, doctors, teenagers, women with and without an education, women with privileges and without them, women who channel their fears and anger to drive the movement.
This is the march. It's not a handful of women scratching and beating men. The march is thousands of faces looking at each other while they sing, smiling at each other as they pass a Mexican flag respectfully through their hands. The march is taking over public space, organizing, reminding us that the collective is always much more powerful than the individual.
The march tells us that, yes, another world is possible.
Judith Hermosillo Lozano is Program Officer in IYF's Mexico office. 
Tags
civic engagement
gender equality
gender-based violence
social change