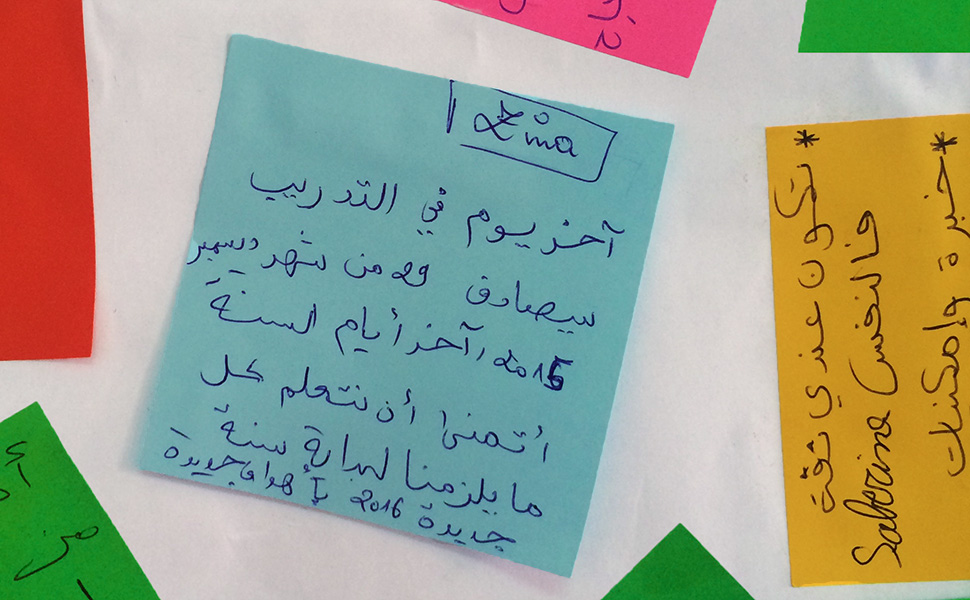 "She grew up in poverty, just like me!"
"She faced a lot of personal challenges when she was younger, just like me!"
"She had to believe in herself even when she had no one to believe in her, just like me!"
Not exactly the topic of discussion you'd expect to hear youth discuss at a correctional facility, yet a group of young women participating in a life skills workshop continue to list all the things that they have in common with one of the world's most successful media moguls. We are in the western Algerian city of Oran, attending a Passport to Success® (PTS) workshop organized by IYF and local implementing partner Association Santé Sidi El-Houari (SDH).
While PTS is usually used to help young job seekers develop positive life and work-readiness competencies, here this group of young women is using the curriculum to develop skills that can help them regain confidence in themselves and rebuild their lives. The class includes women as young as 15 who have a history of drug abuse or involvement with gangs or who have who fled their homes and feel they don't belong anywhere. The PTS training is the first personal development programming the facility is offering.
Today's lesson is "Developing a Life Plan," which is proving to be very appropriate for these young women, who had almost lost all hope in a second chance at life. The participants go through a series of interactive activities to learn about the different stages of setting goals and developing a plan to achieve them, and then they regroup and discuss the challenges and the best ways to overcome them.
"We keep bringing up Oprah because everyone knows how successful she is, but she is also someone who faced a lot of obstacles both personally and professionally," says one of the participants. "Through this workshop we're learning to not make excuses but to make a plan, and the world is full of examples of people who were able to overcome adversities and rebuild their lives," she adds.
This training is part of the IDMAJ initiative in Algeria, which aims to expand opportunities for young Algerians in employment, entrepreneurship, and civic engagement. Through four implementing partners, IDMAJ has reached 800 youth in disadvantaged communities in remote parts of the country, including the underserved highlands and Saharan regions. Now, within this correctional facility in Oran, IYF is able to reach vulnerable youth who are usually unable to re-integrate in society or the job market because the stigma they face and their inability to access training such as PTS.
Sitting here with these young women and hearing about their plans, the setting becomes less relevant, and I feel as if we're in a school or college classroom where people discuss life goals. The day wraps up with an activity where everyone writes her goal on sticky note that will remain on display until the end of the course.    
The sticky notes read "I want to become a trainer and inspire other youth," "I hope I will successfully complete this training and get my certificate," and "I hope to be successful in life."
After the class breaks, I talk to Zina, the SDH PTS trainer who lives nearby and had the idea of approaching the facility about offering the training. "I would walk by all the time, and I was curious what kind of support these women were getting," she says.
Zina remains hopeful about the future of her students, as she calls them. "They are very resilient, and with this training they have gained a lot of confidence." As she points to the sticky notes, she reads her own: "Our last day of training coincides with New Year's Eve. I'm confident we have all learned a lot for a great start of the new year!"  
Linda Wafi is Program Manager, Maghreb & West Africa.