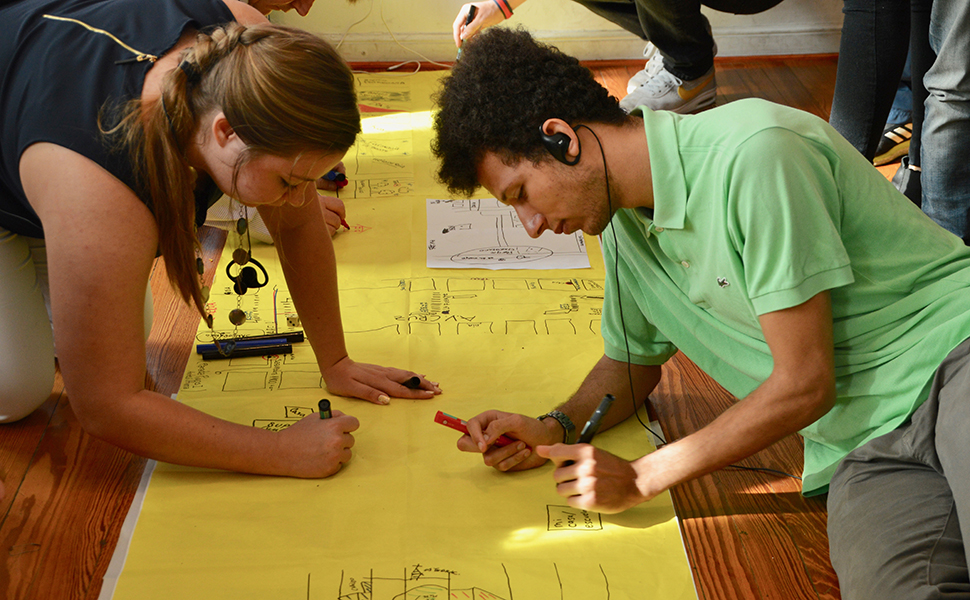 Omaha, Nebraska, is a long way from Buenos Aires, Argentina, but for two former foster youth who traveled from America's heartland to Latin America's third largest city, the trip revealed just how much they share in common with their distant peers.
Michayla Stawniak, 19, and Khalil Jordan, 20, flew to the Argentine capital as part of a (Re)Connecting Youth learning exchange. It brought together the Nebraska Children and Families Foundation (NCFF), which supports the state's most vulnerable young people to achieve their potential, and Doncel, a civil society organization that helps youth in state-managed care in Argentina transition to independent living. Launched in 2016, (Re)Connecting Youth: Exchanging Global Lessons is a two-year IYF initiative supported by the Robert Wood Johnson Foundation.
Accompanying the two young leaders were Jason Feldhaus, Vice President of NCFF's Connected Youth Initiative (CYI); Sara Riffel, CYI Associate Vice President; Lincoln Arneal, NCFF Director of Youth Leadership and Engagement; Leslie Gross, Senior Associate for the Annie E. Casey Foundation's Jim Casey Youth Opportunities Initiative, and Sixto Cancel, Founder and CEO of Think of Us.
The Nebraska team set out to learn about Doncel's youth engagement strategy and specifically its Guia Egreso (or E-Guide). This group of care leavers—​young adults who have left the state-managed system—​advises Doncel, provides training to their peers, conducts research into the needs of care leavers, and advocates for the rights of youth. Exchange participants recognized differences between the countries; for example, in Argentina, youth in care tend to live in residential facilities, or group homes, while U.S. youth tend to live in foster families. However, they also noted similar forces driving young people from their birth families: poverty, neglect, substance abuse, and violence. One of the biggest challenges foster youth face, according to young leaders on both sides of the exchange, lies in overcoming isolation and building enduring human connections.
Over five days, the Americans got to know E-Guide members as they held briefings and hosted a support group for youth poised to transition to independent living. Informally, each shared experiences with the help of a translator, while drinking mate, a traditional tea, or sampling empanadas. The warmth and hospitality of their Latin American counterparts was not lost on the visiting delegation, who savored a meal of grilled meats at an E-Guide member's home, combined with a lively evening of reggaetón dance. Both Michayla and Khalil were struck by how easily they connected with Doncel's youth protagonists, and the power of youth-led interventions to create lasting change.
"What I enjoyed was seeing how things work compared to at home," said Michayla, a sophomore at the University of Nebraska-Omaha, where she mentors foster youth entering the university. "I like how E-Guide members help youth who are aging out of the system. It would be great if we could implement a similar mentor system." Khalil agreed, saying "You guys do a great job as a team. You challenge each other; you challenge the status quo."
A highlight of the group's visit was a meeting at the Argentine Congress with congressional aides and E-Guide members who helped spearhead landmark legislation in 2017 that provides youth who exit care at the mandatory age of 18 with emotional and financial support until they turn 21. "My biggest pride is helping youth and having them feel supported," said E-Guide Coordinator Jesica Esprobieri. A care leaver herself, Jesica played a key role in advocating for the new law. "The E-Guide is a group of peers who support each other and other youth. My dream is that it will be replicated in other cities and countries to improve the lives of young people, to prevent youth from feeling alone."
The E-Guide's mission to champion youth rights and support their peers made a strong impression on Sixto Cancel, a former foster youth who now heads a U.S.-based technology initiative designed to connect foster youth to both human and technical resources. He summed up his experience with E-Guide members as one of 'radical human connection.' "Young people in foster care experience disconnection," he said. "The magic sauce here is someone to help you, who you can rely on. You can't avoid the importance of human connection."
In June, four representatives from Doncel, including E-Guide members, will travel to Omaha for the second half of the learning exchange. Both groups will continue to define areas of common interest, while determining how best to collaborate and potentially adapt aspects of Doncel's youth engagement strategy.