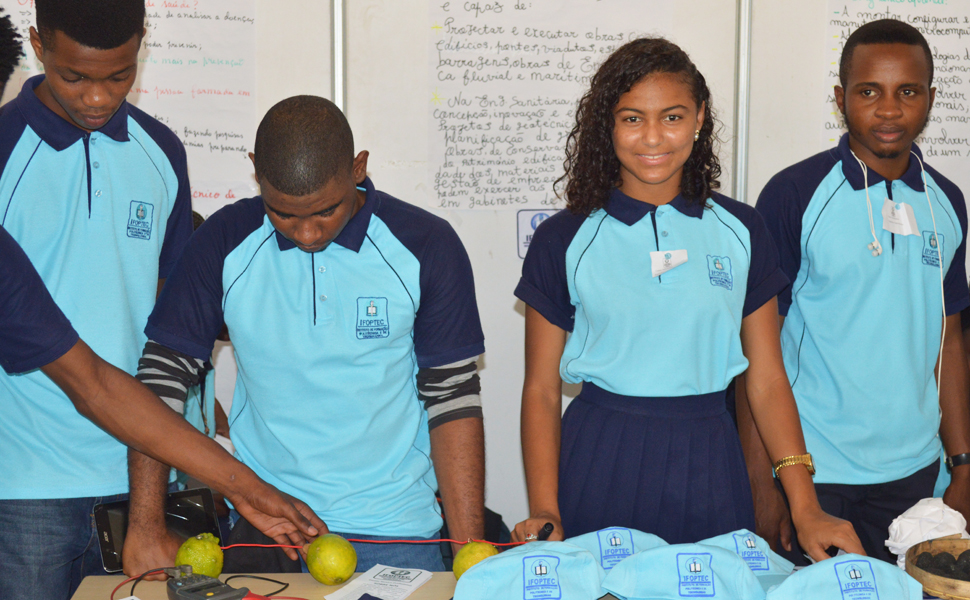 In Mozambique, as in other parts of the world, young women and men are eager for employment opportunities that will help them support themselves while making larger contributions to their families, communities, and society. Unfortunately, a lack of work readiness skills, professional development support, and career guidance can limit their prospects.
To address this issue, IYF partnered with Mozal to launch the Escolhas initiative. Meaning "choices" in Portuguese, Escolhas prepares students in Mozambique's secondary and technical schools to succeed in the workforce by offering a combination of life skills, using IYF's Passport to Success® (PTS) curriculum; entrepreneurship training; and career guidance. Participants leave with skills relevant for job openings and self-employment.
In early May, students, employers, educators, community role models, and Raimundo Maico Diomba—the Governor of Maputo Province—gathered at a high school outside Mozambique's capital city for an Escolhas-sponsored career fair. The mood was both celebratory and serious.
Students waved their cell phones back and forth as Justino Ubakka, a famous Mozambican singer, energized the crowd with a performance, but they also sat attentively as Deolinda Ngulela, a Mozambican basketball player, told them, "Don't devalue your education. Don't underestimate the lessons that are given here." Students learned about education and job opportunities from employers present at the event and met individually with career guidance counselors. They also received certificates celebrating and documenting their completion of the program.
Judging by student reactions, Escolhas is having a profound impact. According to Sténia Tomo, a secondary student, the life skills one develops as part of Escolhas are critically important. "Our teachers and parents can't teach us everything," she explained, "and we don't always want to listen to them. PTS helps us to complement this [education] in our daily lives."
Helena Jorge, another student present at the event, agreed. "PTS teaches us how to live, to enter the world of employability, how to attend a job interview, and how to write a curriculum vitae. We become different not only at school, but at home too," said Helena. "PTS is transformation."
To learn more about Escolhas and the career fair, watch the video below.
Jessica Batterton is Program Coordinator, Sub-Saharan Africa.