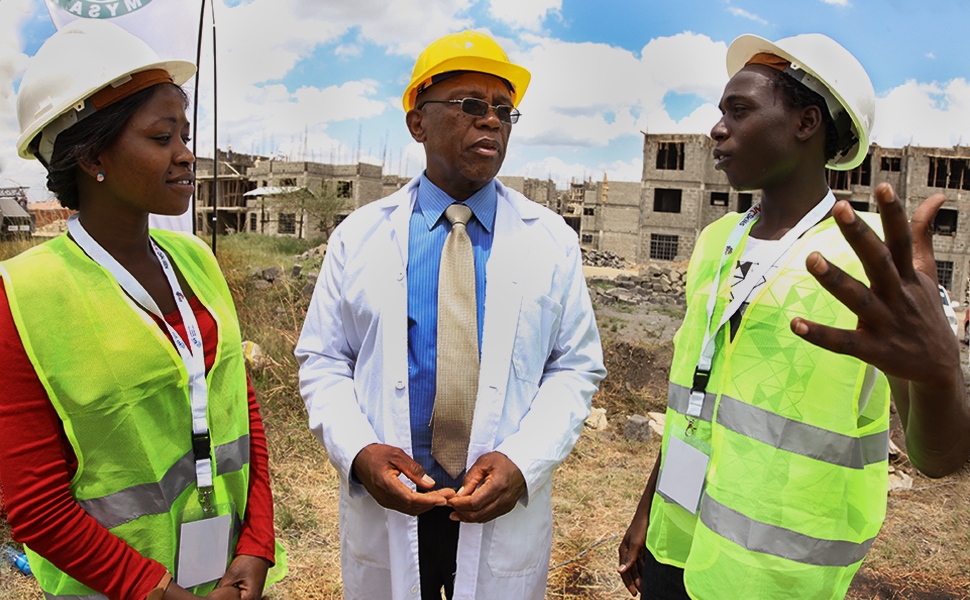 The rapid growth of Kenya's construction sector has left site managers struggling to fill positions. While it's hard for them to find workers with the right technical skills, it's even more challenging to identify qualified candidates who work well in teams, can problem-solve, and understand safety protocols. One initiative is preparing local young men and women with the full skill set that meets employer needs and can propel them to success.
Sport for Kenya Youth Employment (SKYE), a project funded by Barclays Bank and implemented in partnership with Mathare Youth Sports Association and Arc Skills, prepares young women and men with work readiness and technical skills relevant to the construction sector. Linnet, Joseph, Pamela, and Tom are just a few of the participants who learned life skills such as teamwork and time management through IYF's Passport to Success® curriculum, followed by training in a specific trade like masonry.
"In most cases, you get an experienced mason with very good technical skills but a very bad attitude," explains Harrison Warui, a site manager at Jayshiv Builders Limited. "However, you have to persevere because all sites have a tight timeline, and, more so, skilled masons are not easy to come by."
Warui is currently supervising four graduates from SKYE, whom he values for having a well-rounded combination of technical and soft skills. He says he feels honored to have young employees who are role models and who have been of great assistance in helping to solve the endless conflicts that arise in a construction site. He says life skills like theirs help ensure a team can complete a site according to the timeline. Mr. Warui's observations are indicative of the employment market in Kenya and what IYF finds globally. 
"These four young men start work immediately when they get to the site. The rest of the workers wait until 7:30 a.m., when the supervisor arrives," says Warui. "They also discourage gossip and incitements that might occur in the site and are quite independent. After we are through with this site, I am ready to move with these four workers to our next site."
Another site manager echoes his sentiments. Robert Kenyoru employs two young women and four young men who graduated from SKYE, and he highlights their full understanding of the importance of workplace protocols. "Most of the workers on this site are forced to wear helmets, reflector jackets and safety boots, but these youth are quite keen and understand the importance of their personal safety," he says.
SKYE youth completed a Competency Based Education and Training (CBET) directly relevant to the requirements of the construction industry, and many have risen in the ranks within a short timeframe. Graduates who secured placements in the construction sector as helper masons have often been recognized through promotions, more responsibility, and salary increases within the first few months.
Well equipped and well rounded, young SKYE graduates are a great resource in changing the culture and improving the level of professionalism in Kenya's construction industry.
Elizabeth Wanja is Project Manager, SKYE.