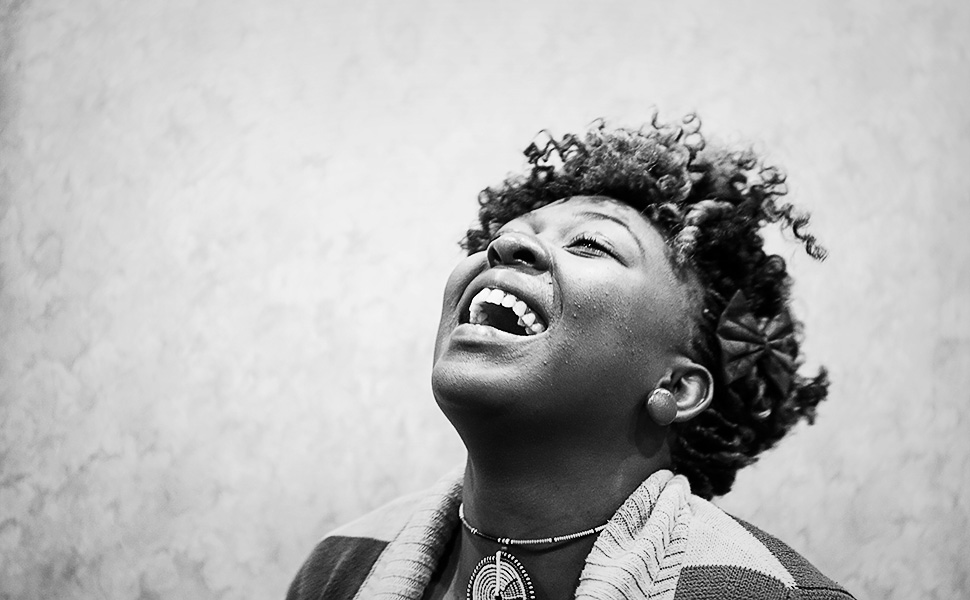 When I first heard Nafula speak about her work, I was struck by the confidence, conviction, and authority of her words. As someone who feels more comfortable expressing herself with a pen and paper than in front of a crowd, I was in awe of her ability to powerfully advocate for gender equality—connecting emotions with data and linking personal experiences with the everyday reality of millions.
My team at YouthActionNet® selected Nafula Wafula as a 2015 Laureate Global Fellow for her work in empowering youth to fight gender-based violence in Kenya, a country where one in four  women ages 15 to 19 reports losing her virginity by force. "We work to change mentalities, behaviors, and policies," says Nafula, founder of SEMA, meaning "speak out" in Swahili.
SEMA has trained more than 5,000 youth from secondary schools and universities to fight gender-based violence. These mobilizers, as SEMA calls them, are equipped to host informative workshops and events, and they also staff 'gender desks' in communities ranging from slums to universities, where victims can report abuse and get the help they need. 
As I spent the training week alongside Nafula and 19 other change-makers, I had the chance to better understand the origin of her ineffable conviction. I learned there was a time when she did not feel as hopeful or strong. 
"As a young woman, I had grown to embrace two emotions above any other: fear and shame." 
Nafula bravely shared that she is a survivor of gender-based violence herself, and has navigated an arduous journey to become a woman with the strength to empower others. She says she decided to rebel and break cultural taboos that discourage dialogue on these issues.
The confidence Nafula transmits is the physical manifestation of the responsibility she has taken on to empower other survivors whose voices have been silenced. Every time she speaks about her work, she knows the stakes are high, as if each opportunity is a chance to protect one more person from gender-based violence. And it is. 
"If I want to see a world where girls are speaking out, where women are respected and not abused, then I have to be that change," she explains in a leadership lessons interview. "That's what keeps me going." 
For Nafula, and thousands of other young people leading social change ventures around the world, being a social entrepreneur is not a career; it's a way of life. From speaking up against gender stereotypes in everyday conversation to seeking out opportunities to incorporate men and boys in the fight against gender-based violence, Nafula is an advocate from the moment her feet hit the floor each morning. For example, I wasn't surprised when I saw her Facebook post celebrating how she convinced a national newspaper to formally apologize and publish her response after they distributed a story condoning sexual violence.
But her success doesn't mean there aren't still moments of doubt.
"Each morning, I look in the mirror, and I remind myself, Don't apologize for being strong." 
This is a message Nafula shares often in her workshops—not because she has mastered it herself, but because she hopes that the more women she can get to repeat it, the less and less it will need to be said. 
Today, on International Women's Day, we are called to raise awareness about the inequality faced by half the world's population—whether that's a pay gap, respect gap, or gap in health and safety. But as a team member of an initiative that has supported hundreds of young female leaders over the past 15 years, I also feel compelled to take this day to celebrate the innovative steps our youth have already taken to shape a more just future. 
I am fortunate to have the opportunity to learn and grow alongside strong women leaders supported by YouthActionNet, like Nafula, Queen, Carolina, and Peggy. Each has taught me something new about what it means to stand up for your beliefs, pursue your passions, and help others along the way. By sharing their stories, I hope to increase awareness for how each of us—regardless of gender—has a role to play in creating a world where we all see potential when looking in the mirror.
Lisa Jones is a Program Manager for IYF's YouthActionNet initiative.
Photo by Leonardo Párraga, 2015 Laureate Global Fellow
Tags
gender-based violence
gender bias
gender
international womens day
women leaders
young women
youth voices
2015 yan laureate global fellows