Work Readiness Skills & Gender Equality in the Dominican Republic
Read All Posts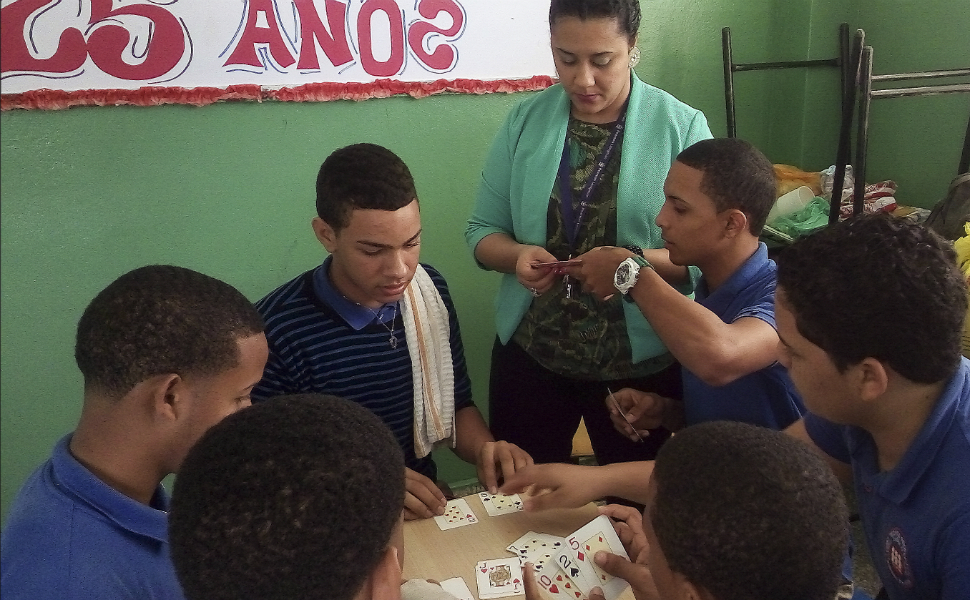 Sofia Mañón was worried about a group of her students. In their last year of school, 14 young men in a furniture design, construction, and assembly class were exhibiting high-risk behavior and attitudes she feared could jeopardize their future employment prospects. Mañón, a psychologist and counselor at the Fé y Alegría Cardenal Sancha technical school in Santo Domingo, Dominican Republic, turned to Passport to Success® (PTS), IYF's work readiness skills training, to offer the group a better way forward.
The young men accepted her invitation to take part, because, it turned out, they were concerned they wouldn't have the skills necessary for seeking and obtaining jobs after graduation. Mañón, these young men, and their school are participating in New Employment Opportunities (NEO), led by IYF and the Multilateral Investment Fund of the Inter-American Development Bank.
In the Dominican Republic, as in the nine other countries in Latin America and the Caribbean where NEO has active alliances, public, private, and civil sectors are combining efforts to achieve a better and broader integration of youth to the labor market. Research shows that work readiness skills like the ones PTS teaches are critical: they not only help young people secure gainful employment, but also prepare them to lead healthy, productive lives. Each school in the Dominican Republic participating in NEO has its own implementation plan and schedule, and Mañón's sessions with these young men mark the first time her school has offered PTS training.
"While the lessons regarding interviewing skills and first impressions were important for my students," Mañón, who lead the afterschool PTS training as an extracurricular activity for the young men, says "they felt that the lessons regarding personal competencies impacted them the most."
In fact, since the boys began participating in PTS, Mañón has noticed a difference in the classroom. The young men are more motivated to complete homework assignments, she reports, and they have begun asking questions for clarification when they are given instructions.
One lesson that Mañón found especially important focused on gender roles and stereotypes. In the Dominican Republic, and throughout many Latin American societies, pervasive gender norms (commonly called machismo) exist that establish men as superior to women. "Boys tend to exclude girls from participating in certain activities, telling them that they are 'not for girls.'" Mañón explains. "I feel it is important to break the machista system in this country, and that should start with educating young people [about gender equality]."
Even though these norms are deeply engrained, Mañón says she began to see a change after integrating the PTS gender roles and stereotypes lesson. "The students learned to let their guard down, and they began considering the limitations women face when seeking employment," Sofia reports. "This lesson left them hungry for more information on how they can work to create a safer environment for their female counterparts to thrive."
As a counselor and educator, Mañón feels that PTS has impacted her as well. "PTS has helped me measure how many of the skills I teach I personally put into practice," she says. "I realize how important it is for me to not only practice what I preach, but to also continually improve on those practices so that my students can see a connection between who I am and what I teach." She appreciates the focus that PTS gives to interpersonal skills in an environment that tends to focus on intellectual subjects. She says it gives her the opportunity to relate to her students on a personal level.
Looking to the future, Mañón hopes her school will integrate PTS lessons throughout all four years of secondary school, so that they can truly measure how students develop from the time they enter until the time they graduate. In the meantime, word has spread throughout the school about PTS. Students are lining up at her door asking, "Can I participate next?"
Patricia Davila is Program Coordinator, Latin America and the Caribbean.