Young Entrepreneur in Indonesia Does Good to Do Good Business
Read All Posts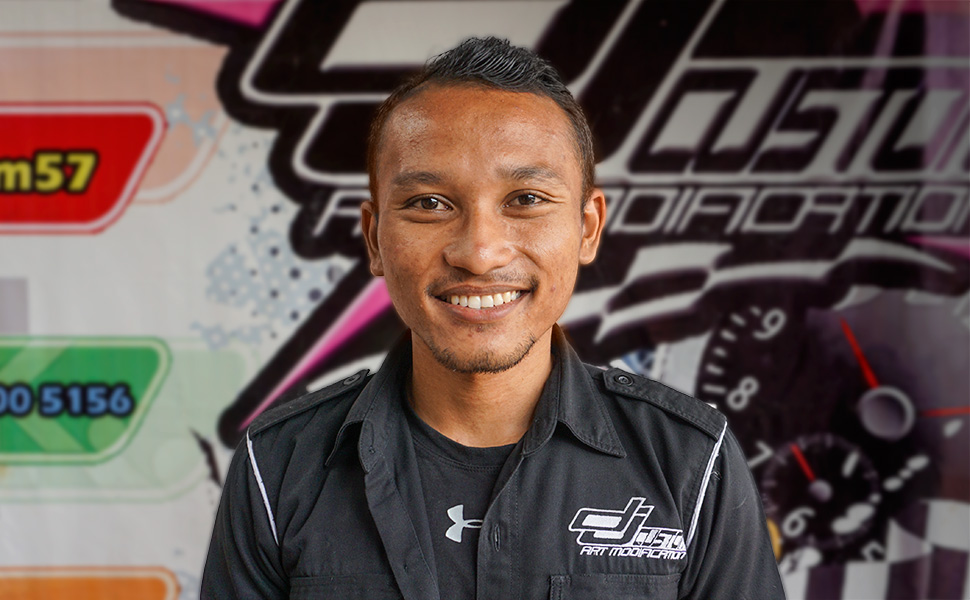 I am talking human resources with Deddy Dermawanto in the young business owner's office in Bekasi, a densely populated suburb of Jakarta, Indonesia. In here, away from the city's noise and traffic, the walls are covered in certificates; a few awards stand on a shelf in the corner. Deddy, a successful past participant in IYF's Young Entrepreneurs Start-Up (YES) initiative, points out a few. The one he is most proud of dates from 2013, when he was a finalist in the category of most creative business by a college student.
Right outside the office, workers are molding, sanding, and painting custom-designed fiberglass parts for the brightly colored motorcycles that have won Deddy's business, DJ Custom Modification Workshop, such recognition. With the surging popularity of motorcycles as a means of navigating this congested city swiftly and in style, the workshop has grown quickly from a one-man operation run out of Deddy's home to a fully staffed business fulfilling orders booked up to 45 days in advance.
As we talk, a worker ducks into the office to grab a piece of safety equipment. We got on the topic of human resources because, in addition to an unquenchable market demand, Deddy's vision and the way he values his employees clearly contribute to his success. "I tell my staff, 'You are professionals, not just laborers at a garage,'" he says. "'I want people to appreciate your work.'"
"I try to see myself as a farmer, not a hunter," he adds. Rather than searching for employees who already fit a certain profile, he brings in people he decides have potential and provides training to cultivate their skills on the job. "My friends in Jakarta who run the same type of business have the same human resource challenges, so I decided that building up my human resource pool will give me an advantage."
Deddy himself knows the value of being on a path of professional growth. A few years ago, after leaving high school early to earn money, he found himself stuck working dead-end jobs. He decided to go back to school and soon got work at an auto body modification workshop, where he discovered his craft. In his free time he worked on his own motorcycle, eventually taking orders and hiring people to help him keep up with business. When his garage grew to a staff of eight, he realized he needed to think about business management strategy.
He enrolled in a local college, where he joined the YES initiative, a partnership between IYF, Indonesia Business Links, and J.P. Morgan. Participating connected him with other young entrepreneurs and provided life skills training and workshops on business development. As a business owner looking to expand and strengthen his operations, he says, "YES gave me a social benefit perspective. I started training and hiring people who are unemployed or out of school."  
So, what's next for Deddy? He is working with local community leaders to create a new auto body modification course at the local vocational training center. "My goal is to provide opportunities to the people around me, income for our families, and to share this process and journey with them," he tells me.
And to improve his human resource pipeline, I ask? He shrugs, saying, "I have to do good for other people in order to do good business. When I help people, they will support my business, and the good will come back to me."
Tags
entrepreneurship
young entrepreneur
social enterprise
underserved youth
youth leadership
youth creating jobs