Young Leaders Connect in Fight Against Gender-Based Violence
Read All Posts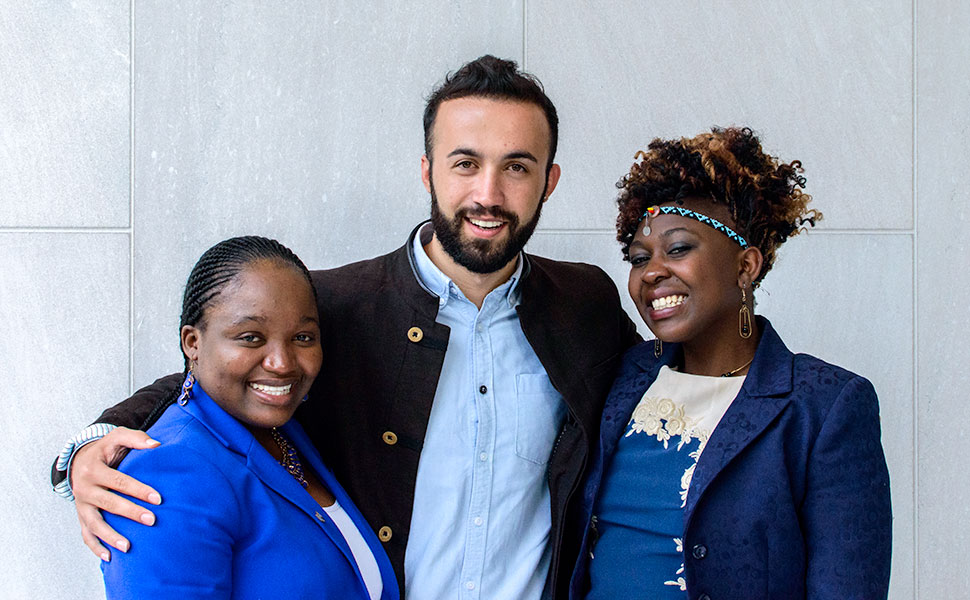 The three don't seem like they met only days before. The way Ayaz, Nafula, and Queen are quick to hug and tease one another, I'd think these young leaders were longtime friends. But, really, they only just found one another when they reached Washington, DC, for the week-long YouthActionNet® Laureate Global Fellows retreat.
Ayaz Hassan, Nafula Wafula, and Queen Kgeresi got along immediately not only because they'd found in YouthActionNet a community of passionate and dynamic young people, but also because these three are working to combat the same multifaceted global problem: gender-based violence (GBV). Each is drawing from his or her own knowledge, skills, and background to empower women with renewed dignity, confidence, and options.
In an estimate that's conservative compared to some national polls, the United Nations reports that, on average globally, 1 in 3 women experiences physical or sexual violence in her lifetime. This frightening and deplorable statistic is compounded by the fact that less than 40 percent of women who experience violence seek any form of help.
In response to local need in Iraq, Ayaz started Asuda's Gender-Based Violence Prevention and Women's Protection Project, which works to protect the personal rights of women from Kurd and Syrian refugee communities. Within Strategic Applications International in Kenya, Nafula founded SEMA, whose strategy includes pairing high school students with university student mentors, facilitating development of an app for reporting GBV, and training thousands of youth about GBV and gender quality. In Botswana, Queen drew on her own background as a counselor to create The Dream Hub, which has reached hundreds of women with psychological support, counseling, and job skills training.
Even for the two young women from Sub-Saharan Africa, more than 2,000 miles normally lie between them. Despite geographic distance and cultural differences, Ayaz, Nafula, and Queen share the same passion—and, more frequently than not, confront very similar and inexcusable challenges.
When Ayaz mentions a mural project, Nafula chimes in and excitedly describes something similar her organization is working on, called Talking Walls. Before commissioning local young artists, they consult with youth in slums to choose relevant subject matter. "For example, they pointed out that there are no street lights, so when girls go out at night to use the toilet, they're getting attacked," says Nafula, describing the inspiration for one mural.
It's Ayaz's turn to interject. Leaning forward in his seat, with a hand reaching across the table to Nafula, he says, "It's like I'm talking! We have the same problem."
As the conversation goes on, each briefly offers the story of his or her personal encounter with GBV, experiences that at different points they've hidden from those closest to them. Queen says she told her parents within the last few years. Nafula explains that her family had only very recently learned of her attack because she had told her sister, who told her parents. Ayaz says he has never discussed his childhood assault with his parents, even though he describes them as open-minded and accepting. "You are so ashamed," says Queen, "you want to believe that it didn't happen."
Hearing their experiences, I ask how they think they were able to move forward and reach their leadership positions. Queen says that, for her, a mentor at her university and a psychologist helped her heal. In contrast, Nafula says she did only a few days of mandatory counseling. "My work is my therapy," she says, as Ayaz nods in understanding.
With their personal strength and individual skillsets, these three are uniquely equipped to support others for whom gender-based violence has been a tragic reality. While it's unsettling and frustrating to know that the same crimes are perpetrated and the same challenges persist across continents, young leaders like Ayaz, Nafula, and Queen offer hope for change. And knowing that they've found one another makes me even more hopeful.
Kim R. McCormick is IYF's Editorial Manager.
Tags
gender-based violence
gender
refugees
counseling
iraq
kenya
botswana