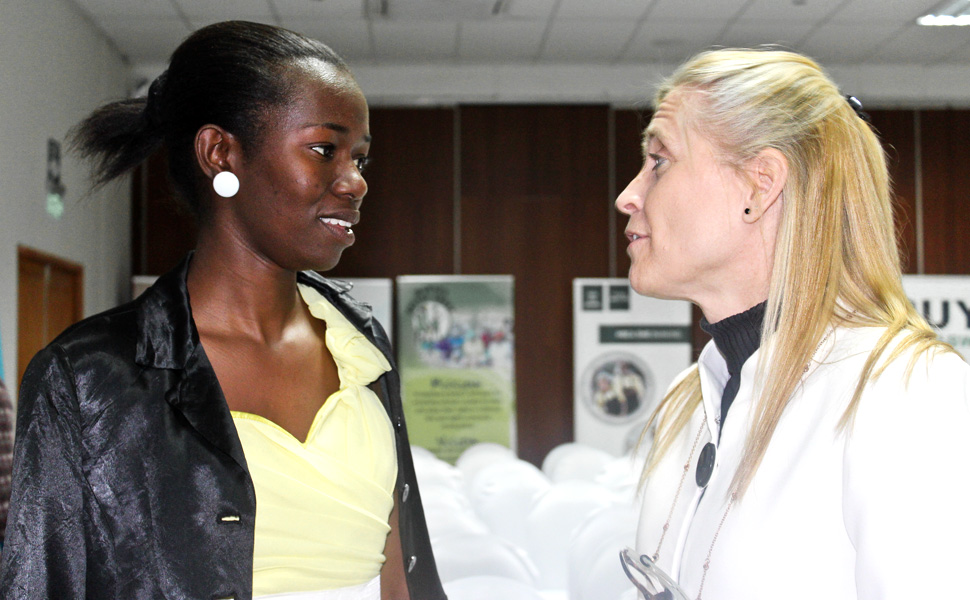 Connecting youth—and particularly young women—to opportunities was the driving message behind the recent launch of Phase II of Zimbabwe:Works, a US$8 million initiative to improve the economic prospects for 22,500 young Zimbabweans over the next three years.
Zimbabwe:Works is an initiative of the International Youth Foundation (IYF) and supported by the UK's Department for International Development (DFID), the US Agency for International Development (USAID), and the Embassy of Sweden, in partnership with Zimbabwe's Ministry of Small and Medium Enterprises and Cooperative Development.
Presenters at the packed event held in Harare were nearly all women leaders of influential institutions. Said Annabel Gerry, Head of DFID Zimbabwe, in addressing the audience of 300, "Women and girls are over represented in low-skilled, low-productivity, low-paid occupations. This project is going to provide young Zimbabweans, and women in particular, with skills and economic opportunity for themselves and the nation at large."
Maria Selin, Head of Development Cooperation and Deputy Head of Mission at the Embassy of Sweden in Harare, affirmed that women's economic empowerment was a priority for Sweden in Zimbabwe given the link between gender equality and poverty reduction.
And USAID/Zimbabwe Mission Director, Stephanie Funk, noted how USAID/Zimbabwe is positioned to work within this new alliance to support young people in building a stronger and more equitable economy.
Phase II of Zimbabwe:Works builds on the success of its first phase carried out from 2012-2014. With US$4.5 million in funding from USAID, Phase I engaged 10 local training and service providers and benefited more than 8,600 young people. Phase II will provide technical, vocational, and entrepreneurship skills training to youth in 11 urban and rural districts of the country.
During the launch event, Lucia Mandengenda, Country Director for IYF Zimbabwe, reinforced that the nation's unemployment data reflects a youth and gendered dimension with approximately 21.2% of women between the ages of 15 and 24 being unemployed compared to 11.7% of young men of the same age. At the same time, she pointed to statistics underscoring that—despite their exclusion from the mainstream economy—Zimbabwe's women make significant contributions to national GDP and are key drivers of economic growth.
With youth comprising approximately 67% of Zimbabwe's unemployed, Matthew Breman, IYF Regional Director for Africa, talked about how the program will work with the public, private, and NGO sectors to address economic challenges facing young Zimbabweans.
Twenty-six-year-old Angela Shumba, a beneficiary of the initiative's first phase who now works as a public relations and development specialist, inspired the audience with her accomplishments and reflections. "It gives me hope to see so many powerful women in one room who are very articulate and passionate about ensuring that young people gain life skills, employment, and entrepreneurship opportunities within such harsh economic conditions," she said.
The event culminated with the signing of a Memorandum of Understanding between the International Youth Foundation and Ministry of Small and Medium Enterprises and Cooperative Development.