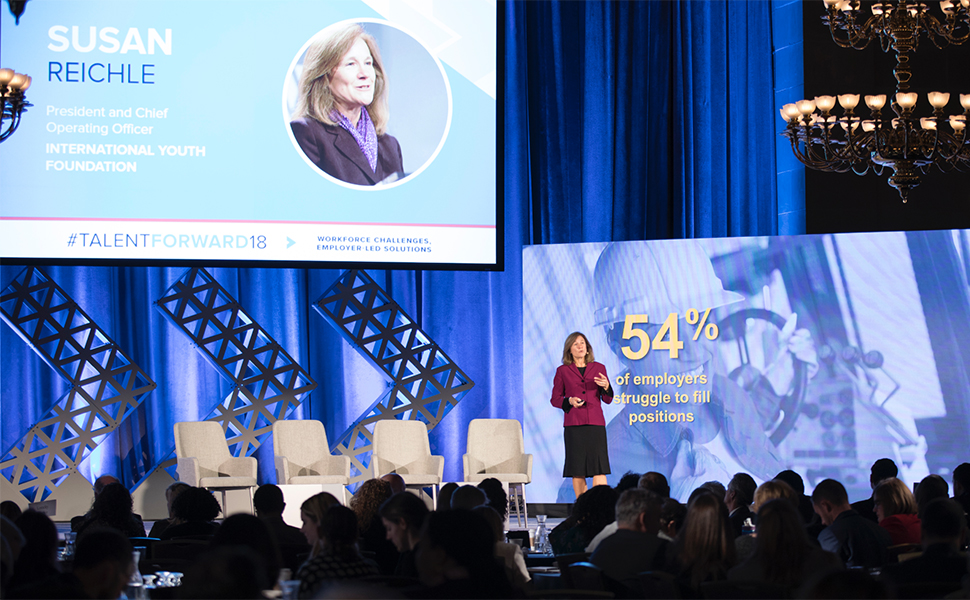 How can the American workforce keep its edge in an increasingly competitive global labor market? What skills will young people need as they transition from education to employment? Why is the U.S. private sector—from big corporations to family-owned businesses—so important in addressing the domestic and global unemployment crisis?
On October 30, the U.S. Chamber of Commerce Foundation held Talent Forward 2018, a national workforce conference, to explore these and other pressing questions. Panelists and speakers from across industries and sectors—including IYF's Susan Reichle—shared insights and recommendations. Among many important points, here are three takeaways:
Nonprofits and the private sector are on the same team. Nonprofit organizations can provide skills training and career guidance, but the private sector—from multinational corporations to locally-owned businesses—creates jobs and knows firsthand what skills are in demand. "No single organization can do it alone," Reichle said. "Meaningful change requires teamwork." Moreover, Reichle noted that the U.S. private sector and NGO communities are "the most innovative in the world," uniquely capable of making a positive global impact.
Life skills are timeless, transferable, and in demand. As Lisa Schumacher, Director of Educational Strategies at McDonald's Corporation, told the audience, "We want our employees to learn basic job readiness skills like how to work under pressure, get along with coworkers, and problem-solve in the moment." These are the very skills that young people will gain through Youth Opportunity, a McDonald's-IYF partnership utilizing our Passport to Success

®

(PTS) curriculum. "These skills will serve young people well in a first job and any future job," said Schumacher.
When employers invest in life skills training for employees, all boats rise. When young people gain work readiness skills, they are better equipped to secure and thrive in the jobs they want. Moreover, corporations and businesses also benefit from a workforce prepared to meet job demands and uphold the standards of brand excellence. Additionally, Susan Reichle explained, "When young people are equipped with the skills they need, their confidence and morale increase, and this often leads to improved retention rates." IYF partner Hilton has seen that result with PTS, as well as these skills leading to job promotions. Indeed, the value of workforce investment does not end with the employee, or even the employer—when young people are equipped for success, businesses flourish, and when businesses flourish, the social and economic conditions of communities—regional and global—are strengthened.
During her presentation, Reichle emphasized the optimism, enthusiasm, and potential inherent in the world's youth population. "Now is the time to invest in our shared future," she told the audience, "and that means investing in our youth."
To learn more, including accessing slide decks and watching select presentations, please go to the U.S. Chamber of Commerce Foundation webpage Talent Forward: Workforce Challenges, Employer-Led Solutions.
Tags
private sector
life skills
public-private partnership
investing in young people