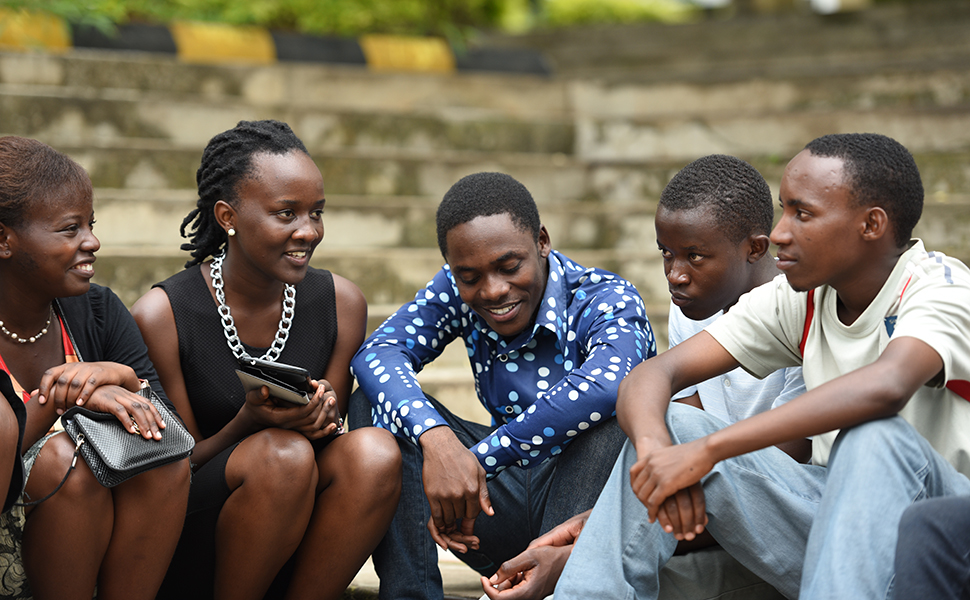 "I have observed first-hand the disempowerment that comes with youth unemployment," says Hilda Namakula, who was raised in the Kawempe slums in Uganda, where about 33 percent of educated youth are unemployed and 48 percent work only in casual labor. She still sees hope for her peers in East Africa: "We are energetic, we are innovative, we are restless, and we don't settle for less." This past year, Hilda joined 14 other youth leaders from Uganda, Tanzania, Rwanda, and Kenya to participate in The MasterCard Foundation's Youth Think Tank.
Youth Think Tank research is done by young people, with young people, and for young people. Since 2011 this research has investigated youth issues in East Africa, and their 2015-2016 report provided their most recent findings. The team conducted over 400 interviews to gain qualitative data about what youth are engaged in, what issues they face, and what the government and private sector are doing.
In this most recent report, Ann Miles, Director of Financial Inclusion and Youth Livelihoods at The MasterCard Foundation, says that peer-to-peer research "enables the Foundation and our partners to better incorporate both data and the voices of young people into the design of our programs to develop initiatives that are more relevant and impactful."  IYF Board Member Emeritus and YouthActionNet® Global Fellow Dina Buchbinder Auron expressed a similar view in an interview last year: "If you're committed to positive youth development, you need to hear from youth; their perspectives need to inform your efforts at the highest level of decision making." Hilda saw the problems of youth unemployment in her life, and the Youth Think Tank gave her the opportunity to quantify her knowledge through research, and come up with key findings based on that research. 
The report as a whole builds on key ideas in youth development. On a basic level, the findings show that youth in East Africa "want to start and grow businesses, secure employment, learn and apply new skills, contribute to their families and communities, and participate in the decisions that affect their lives." The researchers found barriers to those goals:
Rural youth have less access to economic opportunities, even though they are interested in agricultural entrepreneurship.
Young people in urban and rural areas were interested in becoming entrepreneurs, but lacked start-up capital, and faced bureaucracy and corruption.
Finally, there is a skills gap. Employers have not invested in long-term skills development and the formal education system does not offer the needed training.
At IYF's 2015 YouthMap Conference, Sub-Saharan African youth leaders discussed similar challenges (unemployment, lack of start-up capital, and the need for skills training) and similar opportunities (innovation hubs, entrepreneurship, and the potential of young leaders). Both the Youth Think Tank and the YouthMap reports emphasize skills training and social entrepreneurship as important factors in the empowerment of Sub-Saharan African youth.
Other young researchers involved with the Youth Think Tank reflected on personal growth they experienced through the research training provided by Restless Development and the skills needed to conduct research. They will become agents of change; they know the problems that face their community and are learning the tools and skills to help.  Richard Wanzala of Restless Development says it succinctly: "Empowered young people will empower East Africa."
The MasterCard Foundation is a partner for IYF's Via: Pathways to Work initiative. IYF is also excited to partner with The MasterCard Foundation and the Center for Strategic and International Studies for Devex's Focus On: Youth.
Photo courtesy of Jennifer Huxta for The MasterCard Foundation.