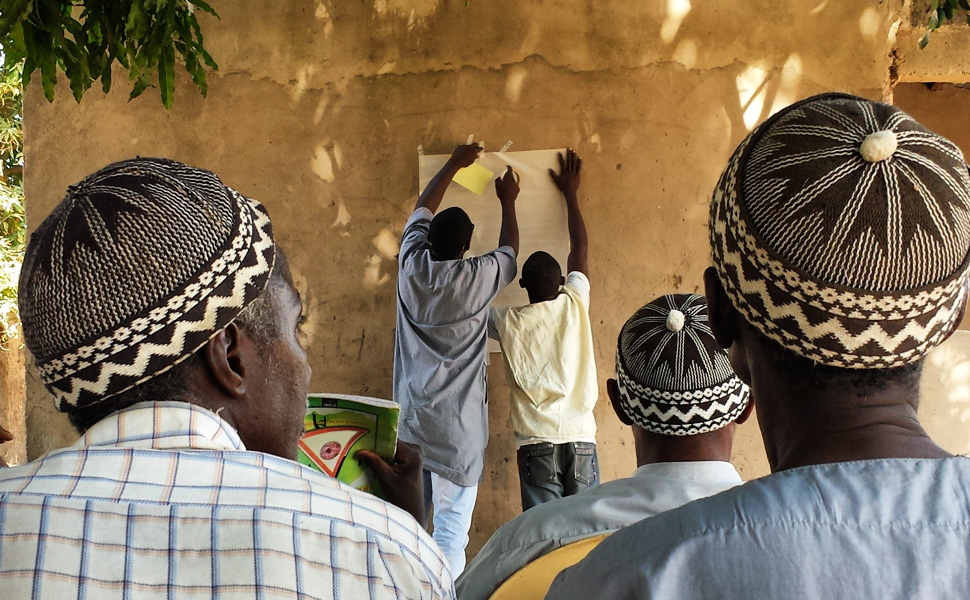 What does it mean to be a leader? Last week I was reminded that profound change does not start just from a high office or a news headline. It ripples out from thoughtful individuals who see the potential for a better future.
In the shade of many mango trees, we sat with young Senegalese men and women in towns and villages surrounding Kolda, Sédhiou, and Ziguinchor, as they talked openly about problems in their communities from hygiene and food security to teen pregnancy and gender-based violence—and the ways they are starting to push their community to change.
In the Casamance region of southern Senegal, natural resources are plentiful, but infrastructure is weak or absent. Most people live in rural communities where small-scale farming is the chief livelihood. Young people rarely finish school, and the traditional notion of a career path does not present itself in this region with a very small formal sector.
Yet the participants in the YouthMap Casamance initiative, like Fatou and Fatmata, are finding ways to take charge of their future and join their elders in thinking about the needs of the community. They are resolving long-standing feuds between their families and informing younger siblings about how to prevent sexually-transmitted infections and early pregnancy. And they're working together to start revenue-generating activities—clearing an overgrown palm grove so that it can be worked, pooling resources to build egg-producing chicken coops, and establishing a workshop to produce soap.
YM Casamance encourages young people to engage in their communities through two activities: Passport to Success® life skills training and a community service project. By practicing communication and conflict resolution, reflecting on needs in their area, and executing a project that brings value to them and the greater community, the program aims to help young people see themselves as agents of change and envision possibilities for their future.
And that is what we heard again and again. One young man told us, "I left school in 2011 and went to Dakar to look for work, but I couldn't find anything. I was frustrated, and eventually I came back to Bambaly. I had nothing to do, so I joined the YouthMap program. Now I know that there are things I can do here. I can go to the river and fish, or grow things to sell, to support my family."
Participants told us how the life skills training has helped them handle so many aspects of their lives differently, but to me, one of the most surprising things I heard, which was repeated from one community to the next, was from the adults. Parents who, in the past, had pulled their children from school to help support the family are encouraging them to stick with the life skills training, and some have even asked if they can attend themselves. "My son took PTS. Now when he asks if he can go out, I don't worry because I know that he knows himself and knows the right thing to do. We all have to let our children go, let them grow up, and thanks to this program I've seen changes in my son so that I can trust him to go out and take care of himself," said Mamadou Cissé, an imam in Sédhiou.
We always hear about how today's youth are the leaders of tomorrow, but the young men and women we met in Casamance aren't waiting until then. They are looking at challenges with fresh eyes and working together to improve conditions for themselves and those around them. Despite their youth and lack of status in their conservative communities, their elders are taking note and inspiration from their transformation. What does it mean to be a leader? If you ask Ndèye Fatou from Lindiane, she will tell you, "The change starts with me."
To learn more about this initiative, read the new report Equipping Rural Youth in Senegal to Be Active Citizens: The Case of YouthMap Casamance.
Kat Backof is Program Coordinator, Middle East & North Africa.
Tags
parent engagement
family
rural youth
reproductive health
young women
community engagement
civic engagement