Lohrfink Auditorium, Georgetown University, Washington, D.C.
On Thursday, October 11, 2018, the International Youth Foundation (IYF) and Georgetown University's Beeck Center for Social Impact + Innovation will spotlight the unique role of today's youth in advancing the 2030 Sustainable Development Goals. This half-day event will convene over 200 business and civil society leaders, university students, young social entrepreneurs, academics, and media representatives from more than 30 countries. Outstanding young social entrepreneurs from around the globe will engage participants through TED-style presentations about the challenges they face in scaling systemic change.
Today's youth are uniquely equipped to transform our society. Driven by the values of equity and justice, they are already leading change. Achieving the global goals requires a fundamental shift in human values, attitudes, and behaviors. Young people believe that inclusive societies are better societies. They recognize that all people, regardless of their gender, race, ethnicity, or economic standing, have inalienable rights that must be upheld. They understand that living in balance with nature is essential to the sustainability of our planet. They are already building new models and organizations to deliver on change. By pioneering social innovations, today's young social entrepreneurs are leading the way forward. But they can't do it alone. Join us for an action-oriented conversation about how to leverage and engage more youth as change-makers and create an ecosystem of support to maximize youth-led ventures working to build open, just, and equitable societies.
To learn more, including about breakout sessions, please consult the agenda.
Speakers include:
Sheldon Smith (Keynote)
Founder and Executive Director, The Dovetail Project 
Camille Bangug
GU Impacts Alumna, Millennium Fellowship Co-Director, Georgetown University
Mentor Dida
Senior Ashoka Intrapreneur
Cheryl Dorsey
President, Echoing Green
Katie Fallon
Senior Vice President and Global Head of Corporate Affairs, Hilton
Richard Graves
Chief Impact Officer and Co-founder, CleanChoice Energy; Founder, Solidaire
Sandra Herrera López
Director of Social Responsibility, Laureate International Universities
Jacqueline Lawrence
Founder, Mbeya Highlands FM Radio, Tanzania
​Parag Mehta
Executive Director and Senior Vice President, Mastercard Center for Inclusive Growth
Ambassador Sarah Mendelson
Professor of Public Policy, Heinz College, Carnegie Mellon University
Chris Milligan
Counselor to the Agency, United States Agency for International Development
Eddie Musa
Filmmaker, New Lens; CEO, MusaMajicTV
Christopher Neu
Chief Operating Officer, TechChange
Holly Wise
Associate Professor, Global Human Development; Director, Social Enterprise and Innovation Fellows Program, Georgetown University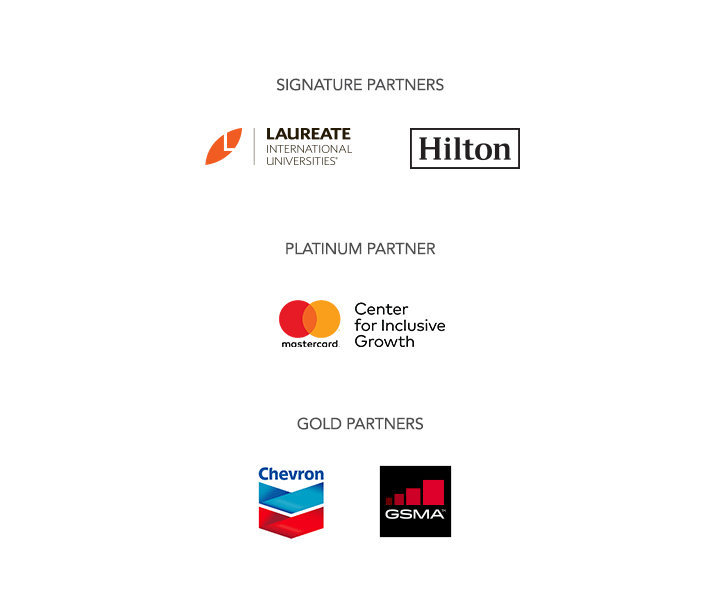 The hosts are committed to making this event accessible to all guests. Please contact Rafael Luz ([email protected]), Events Manager for the Beeck Center, with any special needs.