Youth Impact: Unleashing the Power of Youth to Deliver on Global Goals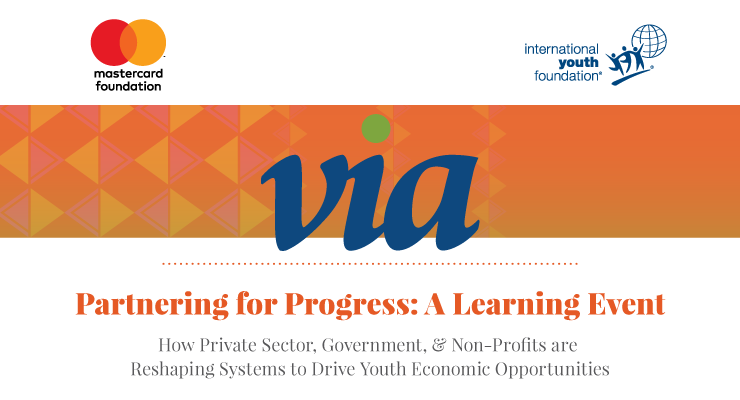 Via is a partnership between IYF and the Mastercard Foundation that improves economic opportunities for underserved youth in Mozambique and Tanzania by driving sustainable changes in the technical and vocational education and training (TVET) and entrepreneurship systems.
"Partnering for Progress" is a special event showcasing the innovative ways key stakeholders are using a systems change approach to develop effective partnerships for sustainably improved youth economic opportunities across Sub-Saharan Africa.
Monday, 25 March 2019
Centro Internacional de Conferências Joaquim Chissano
Maputo, Mozambique
During this one-day event participants will learn from, and engage with,
regional experts, leaders, youth, and practitioners who all play a role in the youth livelihoods ecosystem.
Speakers include:
MS. SUSAN REICHLE​
President & Chief Executive Officer, International Youth Foundation (IYF)
MR. KOFFI ASSOUAN
Program Manager, Mastercard Foundation
HE OSWALDO PETERSBURGO
Vice Minister of Labor, Employment
and Social Security, Republic of Mozambique
MR. MATTHEW BREMAN
Regional Director, Africa, IYF
RAJAB ABDALLAH
Via Graduate, Tanzania
MAURICIO BAPTISTA GUAMBE
Via Graduate, Mozambique
DEBORA BISEKO LUGOLA
Via Graduate, Tanzania
TOMAS MUNGUAMBE
Via Graduate, Mozambique
DR. JENNIFER ADAMS
Mission Director, USAID Mozambique
MS. UNAMI MPOFU
Senior Programme Officer, New Partnership for Africa's Development (NEPAD)
MS. ALEXANDRA STANEK
Associate Partner, Dalberg Associates
MS. ALICE GUGELEV (moderator)
CEO, Global Development Incubator Africa
Director, Global Development Incubator USA
MS. DAISY MANHICA
Talent Search Consultant, Flow Mozambique
MR. HAID MONDLANE
Human Capital Development Manager, Cimentos de Mozambique
MR. TIAGO COELHO
Co-Founder, UX Information Technologies
MS. ABNEUSA MANUEL
Founder, MozDevz
MR. JOEL TOMAS (moderator)
Capacity Strengthening Technical Advisor, IYF
MS. MARYANA ISKANDER
Chief Executive Officer, Harambee Youth Employment Accelerator
DR. ROSIE LUGG
Team Leader, JOBA Mozambique
DR. AGGREY MLIMUKA
Executive Director, Association of Tanzanian Employers
MR. DAUDO VALI (moderator)
General Director, DHL Mozambique
MS. IDA ALVARINHO
National Director Professional Qualifications, National Authority of Professional Education (ANEP), Mozambique
MR. DAVID MODIBA
Deputy Director, Curriculum Development and Support, South Africa Department of Higher Education (DHET)
MS. LAILA CHEMANE-CHILEMBA
Social Investment Manager, ANADARKO
MR. YOICHI HIRAMATSU
PAMEP 21 Team Leader, Japan International Cooperation Agency (JICA)
MS. MARLENE DE SOUSA (moderator)
Founder, Attitude
MS. FRANCESCA BRUSCHI
Public Policy Analyst, Italian Development Cooperation Agency
MS. SARA FAKIR
Executive Catalyst, IdeiaLab
MR. SOSTHENES SAMBUA
Executive Director, Tanzania Entrepreneurship and Competitiveness Centre (TECC)
MS. GERCIA SEQUEIRA (moderator)
Executive Director, Institute of Technology, Innovation, and Services (ITIS)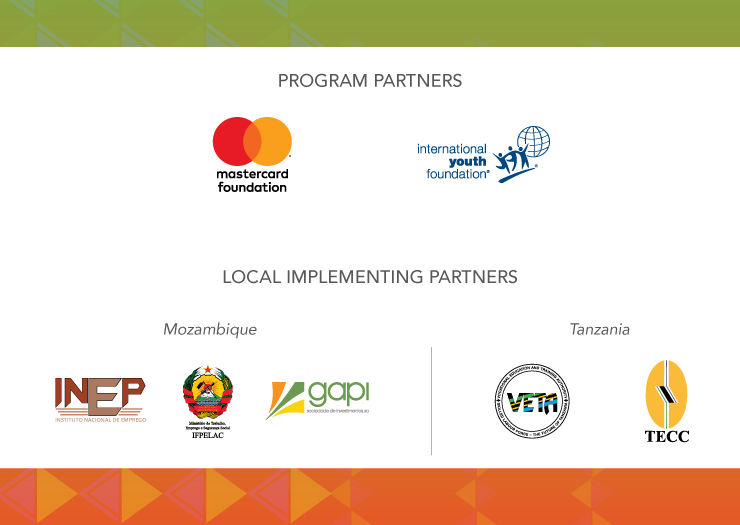 Contact Information
Please direct any inquiries to Kevin Easterly at [email protected].