Ayesha Tauseef
Founder, CHADAR
Australia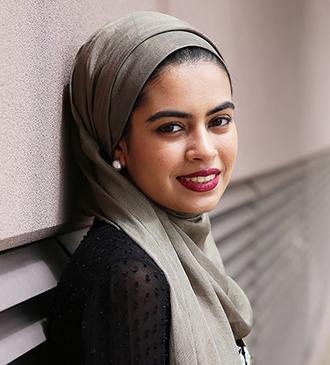 Ayesha has grown up in Pakistan, Saudi Arabia, and Australia. In this cross section of three different environments she developed her passion for gender equality after understanding the various issues that exist in each of these different societies. She graduated from the University of Queensland with a Bachelor of Arts majoring in International Relations and Political Science. While studying she founded the UQ Muslimah Society a university-based club that seeks to empower young Muslim women spiritually and intellectually. It aimed to challenge misleading stereotypes about Muslim women within and outside the Islamic community. 
Ayesha is an advocate for gender equality and was named Young Social Pioneer for 2018 and a Global Shaper with the World Economic Forum. She worked for Islamic Relief as their Community Engagement and Fundraising Officer. 
Ayesha is an influencer and a community leader. She uses her poetry as a tool to raise awareness about sensitive topics such as sexual harassment. Recently her poem Chadar went viral on Instagram which inspired her to work on creating a safe space online where victims can share their stories and challenge the discourse surrounding this issue. This new initiative CHADAR (Challenging Harassment and Abuse, Demanding Action and Respect) aims to have a global impact by becoming a healing safe space for victims and by acting as an education resource for the wider community.