Binayak Acharya
Founder, ThinkZone
India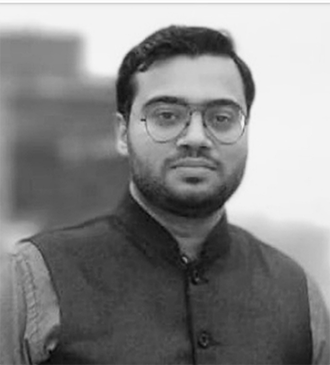 Impact area: Education; Sustainable Development Goal (SDG) 4
The Covid pandemic exposed a massive digital divide within India's education system, with many families unable to maximize remote learning opportunities due to lack of Internet access and appropriate technology.
The challenge posed an opportunity for Think Zone, a social enterprise, to expand its work in delivering low-tech solutions aimed at providing children from low-income communities with quality education.
With support from the Global Youth Resiliency Fund, ThinkZone scaled its home-based learning program in partnership with the state government of Odisha in eastern India. Activities focused on the Cuttack district, where ThinkZone provided quality learning opportunities to nearly 11,000 primary school students and their parents.
"Education is the foundation of a healthy and growth-oriented society," says ThinkZone founder Binayak Achara, "yet too many children are falling through the cracks." Binayak cites data from the National Education Policy showing that as 50 million primary school children in India have yet to attain basic mastery of literacy and numeracy. In the absence of such skills, further education, formal employment, and even civic participation are all but impossible, he adds. Binayak's passion for innovating technological solutions to ensure quality early education led him to launch ThinkZone in 2015.
Among those to benefit from the GYRF-supported activities were Soudamini and her daughter Anindita. During the pandemic, Anindita, now in Class 4, missed two years of in-person schooling. "I was apprehensive that I could support Anindita's learning when I was on-boarded to ThinkZone's home-based learning program," says Soudamini. "But the activities shared on my small phone were so simple and engaging that I started enjoying practicing with her."
In one exercise, Anindita was prompted to write down the names of all her family members and what they like to eat. "She made the list enthusiastically and I helped her correct her spelling," says Soudamini. Through the program, Soudamini received text messages and phone calls to help her understand the importance of developing foundational literacy and numeracy skills in children.  She and other program participants were given a toll-free number they call for coaching and clarity on assignments.
With support from local education authorities, Think Zone found that nearly 69% of parents were regularly doing activities with their children, with more than 2,300 parents calling the toll-free helpline each month.
Binayak says the grant helped ThinkZone strengthen its ties with the education department of Odisha, with discussions underway to expand other ThinkZone programs in the area. The program also benefited from increased visibility leading to national recognition by the Nasscom Foundation, which nurtures technological innovation to create a more inclusive India.
Take a moment to learn more about ThinkZone.