Jed Sayre
Founder, Piloting Village Food Resiliency and Security in Mindanao
Philippines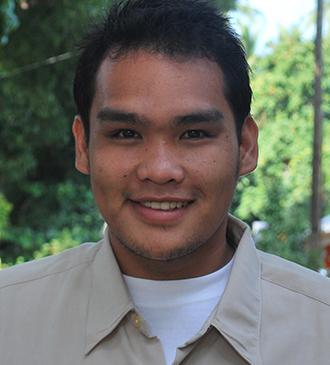 Impact area: Economic empowerment; Sustainable Development Goal (SDG) 8
Jed Sayre founded Piloting Village Food Resiliency and Security in 2021. This initiative focuses on the youth-led production, processing, and marketing of local farm products in order to add value, improve shelf-life, and promote nutritious foods available and affordable to all income strata. 
"During the pandemic, the hand-to-mouth existence of the poorest youth and their families has been made worse. Hunger, malnutrition, and general malaise are common. Ironically, while food is not always accessible there are instances when surplus in the farms is wasted due to broken food supply chain and the short shelf-life of crops. This project focuses on the production, processing, and marketing of nutritious food, using local crops and resources, and mobilizing young people to initiate and champion the initiative. In this way their capacities and opportunities are improved and youth vibrancy and well-being is increased. With the availability of food, improvement in incomes, and expanded opportunities, youth participants will become healthier and more resilient. If successful, we will serve as beacon and guide for other young people to emulate."
The Global Youth Resiliency Fund will help Jed and his team to achieve the following results:
200 youth equipped to produce high-valued crops thereby increasing their economic resource by 130% based on the baseline.
Form and equip a youth production and marketing cooperative to sustain this initiative beyond the project period.
Increase by 80 percent the knowledge, skills and attitudes of young people on the production, processing, and marketing of high-valued crops based on the baseline. Training will strictly follow Covid-19 health protocols.
Promote initiative via social media in order to engage additional youth to undertake similar initiatives.