Maryam Mohiuddin Ahmed
Founder, Social Innovation Lab
Pakistan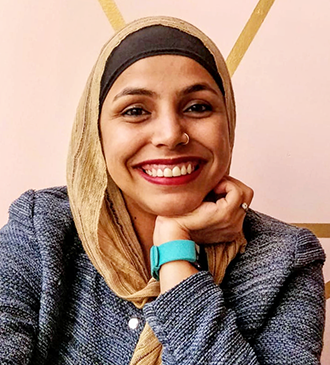 Impact area: Economic empowerment; Sustainable Development Goal (SDG) 8
Shahida Sharis lives in Karimabad, a picturesque community surrounded by snow-capped peaks in northern Pakistan. There she crafts high-quality embroidered bags, wallets, caps, and other goods. Like many women artisans operating in remote areas, Shahida had few opportunities to expand the market for her products and income-earning potential. That all changed in 2021 through the "Weaving Pathways" program.
Weaving Pathways is an initiative of the Social Innovation Lab (SIL) in Pakistan, which supports social innovators, providing a testing ground for novice entrepreneurs seeking to serve marginalized populations. With a grant from the Global Youth Resiliency Fund, SIL took Weaving Pathways to a new level, helping Pakistani artisans like Shahida—and Bolivian and Peruvian immigrant seamstresses in Brazil—to access global markets through digital platforms.
SIL founder Maryam Mohuiddin Ahmed describes the program's goal as "empowering women to build a better, more equitable interim and post-pandemic world for themselves, their families, communities, and economies." 
In all, 25 women artisans and seamstresses from Brazil and Pakistan were trained in the use of digital tools and platforms. Participants learned how to create digital content, establish a social media presence, and market their products online, while also enhancing their stitching, production, and design processes.
Through facilitating cross-cultural exchange, SIL enabled the women to share indigenous knowledge. One Brazilian participant started an embroidery club taking inspiration from her Pakistani peers who, in turn, adapted Bolivian designs into their embroidered patterns. "The exchange with Brazil was really helpful," said Kanwal Karim in Pakistan, "inspiring us with new ideas and innovations." Weaving Pathways also provided capacity building support through platforms such as WhatsApp.
A highlight of the program was an exhibition of the women's crafts at a makers' fair in Bradford, UK. More than 2,300 people attended the event, with 30 purchasing products. A short documentary telling the story of the project and women's lives was also on display.
To promote the women's products, SIL launched a digital marketing campaign, including social media ads, email marketing, and a blog post describing the project.
Maryam says the GYRF award helped SIL to strengthen relationships with like-minded partners in Brazil and the UK and helped scale the program.
As for Shahida, she's now creatively photographing her products and has established a presence on Instagram. She's nurtured connections with local designers and has new ideas for selling her products on digital platforms. SIL team members also helped Shahida to write grant proposals to scale her business.
Learn more about the Social Innovation Lab here.