Matías Ignacio Moya Alarcón
Founder, Fractal
Chile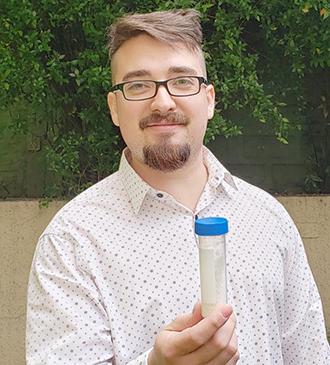 Impact area: Environment; Sustainable Development Goal (SDG) 13
Matías Ignacio Moya Alarcón founded Fractal in 2017. The organization works to expand the  limits of the established, implementing and rethinking widely used products such as paints, plastics and asphalt, giving them decontaminating properties that redefine their application and use.
"In Chile, air pollution affects 12 million people and causes around 11,000 deaths a year, which generates spending in the health sector of more than 670 million dollars. Although lockdown measures during the pandemic has given the planet a little breathing space in terms of emissions, this will by no means be a trend in the future. This funding will be used to implement Photio (a mixture of nano-materials which can be added and mixed directly into paints, concrete ,and asphalt) to provide an easy-to-use and low-cost tool that allows people, public institutions, and companies to be part of the solution to the problem of air pollution. In terms of decontamination capacity, this is equivalent to planting 200,000 trees. The implementation will be carried out by painting decontaminating murals with the support of muralists and the municipality and large-scale real estate projects with the support of construction and real estate companies in the most polluted communes of Chile.
The Global Youth Resiliency Fund will help Matías and team accomplish the following goals:
Paint more than 50,000 square meters with Photio throughout Chile.
Impact more than 1,000,000 people directly, generating decontamination areas in the city.
To learn more about Fractal click here.