Muhammed Kisirisa
Founder, Golden Boots Uganda
Uganda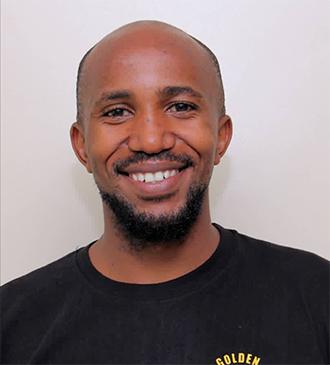 Impact area: Sport for development; Sustainable Development Goal (SDG) 3
An amateur soccer player, Muhammed (Mo) Kisirisa, founder of Golden Boots Uganda, was well-aware of the mental health benefits of physical exercise. To help meet the needs of marginalized youth in Kampala during the pandemic, he launched the "Our Sport 4 Mental Wellbeing and Covid 19 Recovery Project."
With support from the Global Youth Resiliency Fund, the project used the power of sports to reduce the mental health impact of the pandemic on 500 young refugees, youth with disabilities, and adolescent girls living in low-income areas. Mo, who grew up in a family of more than 20 children in Bwaise, the biggest slum area in Kampala, started playing soccer at the age of 11. In 2019, he founded Golden Boots to empower young people to build resilience and become change agents in their communities.
Promoted with the message Kuuma Obwongo Nga Buli Fit, or "Keep Brains Fit," the Our Sport 4 Mental Wellbeing project provided youth, ages 12 to 26, with access to basketball, boxing, soccer, and Zumba classes, along with peer mentorship. It also distributed mental health resources and hosted inspirational talks by people who had successfully navigated mental health challenges.
Among those to benefit was 17-year-old Namagga Harriet. One of the 650,000 Ugandan girls to give birth while schools were closed during the pandemic, Harriet was rejected by her family and peers. "During my pregnancy, I turned from being my mummy's sweetest girl to being the curse of the family," she says. The shame and loneliness she felt resulted in anxiety and depression.
Through the project, Harriet gained confidence and connection through serving as captain of her soccer team. She shares that her team was like a new family. "I had given up on life until the project allowed me to be a child again," she says. "When I played soccer, I felt alive."  She also benefited from conversations with peer mentors and talks by mental health experts. Harriet is now raising her baby with the help of her mother and soccer coach, who collects and delivers food for the family.
Golden Boots Uganda estimates that over 2,000 people benefited indirectly from the project, including coaches, community leaders, and household members who were entertained through sporting events.
The project exceeded Mo's expectations with coverage generated in local and national news media. Golden Boots was also one of six winners around the world chosen to participate in the 2022 Global Sports Week Social Booster, allowing Mo the chance to pitch the Our Sport 4 Mental Wellbeing project to potential partners and investors at the annual event held in Paris.
In addition to increased visibility abroad, Golden Boots benefited from enhanced credibility among local partners in development and sports, including the Uganda Boxing Federation. Mo credits the GYRF award with helping him to secure $27,800 in follow-on funding from the Sport Mental Health and Social Cohesion program.
Learn more about Golden Boots Uganda here.