Ambassador Spotlight: Rising to the Challenge with Maria Angela Lopez
Read All Posts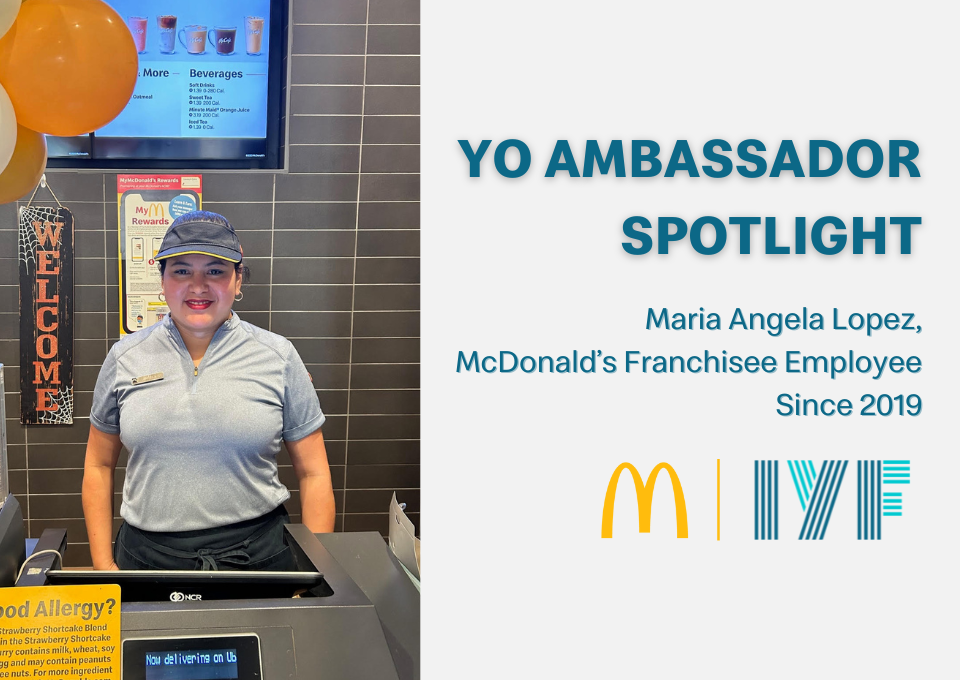 Since 2018, IYF and McDonald's have partnered together to improve employment opportunities and reduce barriers to employment among adolescents and young adults ages 16-24. The Youth Opportunity (YO) Ambassador program is a part of the YO Initiative with McDonald's, and Maria Angela Lopez (referred to as Angela throughout) is one of the current cohort's members and currently works at a McDonald's franchised restaurant. 
Angela stands out as an exceptional employee. She gives the warmest welcome to everyone who enters the restaurant, from her coworkers to the customers, and tackles every task with a smile and positive attitude. As a restaurant team member, Angela has developed teamwork, collaboration, and leadership skills, which have only become sharper through the YO Ambassador program. 
In Angela's own words, the YO Ambassador program has also taught her how to be a good coworker at her McDonald's brand restaurant and how to approach problems with patience when a customer is angry. She expresses this sentiment in her mother tongue below:
"Las habilidades que he aprendido del programa es como ser un buen compañero de trabajo y también he aprendido un poco cómo resolver un problema cuando un cliente está enojado y a tener paciencia". 
From the first moment Angela started working in the restaurant in 2019, she has used life skills to navigate unanticipated challenges professionally. In the early stages of her career, Angela was asked to take over a shift at the register when another colleague didn't show up. The odds were stacked against her as a new hire with limited English, but Angela fearlessly rose to the occasion. "I thought that if I didn't try [working at the register], then I wasn't going to do it ever," Angela recalled. The result? Angela learned to take orders on her own in her second language without any prior experience. "I was so proud of myself," she said of her first experience serving as a cashier. While many people might hesitate in a similar situation, Angela courageously welcomed the challenge with open arms. 
Angela's first time as a cashier was hardly her last. In fact, today she is one of the first faces you'll see when you step into her local McDonald's brand restaurant. Recognized for her exceptional customer service skills, eagerness to learn, and willingness to embrace new challenges, Angela stands out as an exemplary employee. Her commitment to the job goes far beyond arriving on time, focusing on her work, and juggling countless priorities. Instead, Angela's best qualities come naturally to her as someone who builds with care, empathy, and kindness. Her approach brings a familial element and vibrant energy to the kitchen.
On top of being a dedicated employee and powerful leader, Angela also impressively balances her roles as a mother of four, a student, and a YO Ambassador. With her flexible work schedule, Angela is able to simultaneously pursue her General Educational Development (GED) studies and support her family. Angela serves as an inspiration to the people around her, whether that be her own children, colleagues, or fellow YO Ambassadors. 
 
McDonald's and its franchisees are committed to fueling the success of employees like Angela. As McDonald's Chief Sustainability & Social Impact Officer Jenny McColloch puts it, "McDonald's created its YO Initiative to reduce barriers to employment for two million young people by 2025." Through the YO Ambassador program, Angela has learned to navigate professional environments, developed leadership skills, and harnessed the power of collaboration. "We want to ensure that youth are prepared for success in any career path they choose, whether it's working in a McDonald's restaurant or pursuing other opportunities," remarked McColloch. 
While life is filled with unpredictable twists and turns, Angela is committed to learning, adapting, and thinking quickly on her feet. She now inspires others to believe in themselves through her everyday interactions, whether that be at the register, at home with her children, in the classroom, or as a YO Ambassador.
Learn more about the Youth Opportunity pre-employment initiative and the partnership between IYF and McDonald's.