Finding Your Passion: A Former IT Trainee Now Trains His Peers
Read All Posts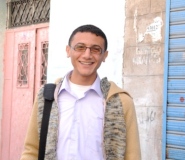 "I couldn't keep waiting for success, so I decided to walk toward it.'' This is how Malik in Zarqa, Jordan, starts his story. The 23-year-old didn't complete his secondary education, spending several years afterward "being careless," working at a shopping mall, and going to movies. "I wasn't thinking about my future," he adds.
Eventually, Malik started yearning for something more and applied to be part of the Youth:Work Jordan (YWJ) program in Zarqa. A five-year initiative of the US Agency for International Development (USAID), the International Youth Foundation (IYF), and the Jordanian Ministry of Social Development, YWJ seeks to create an enabling environment for disadvantaged youth through improving youth employability practices and policies, strengthening the capacity of youth-serving organizations, and engaging youth in developing their communities.
Once accepted into the program, which is being implemented in Zarqa by Khawla Bint El Azwar, a local community-based organization, Malik noticed he felt differently. "When I heard the good news, I started to feel like I was creating a destination for my life. My confidence grew."
Through the basic life skills training, Malik learned to manage stress and foster positive interpersonal relations, slowly recognizing his potential as a leader among his peers. Through the program, he volunteered to plant trees in the Prince Mohamed district and later painted walls at a school and helped to carry out a hygiene campaign.
It wasn't until he enrolled in the program's 22-day IT training that Malik realized his passion for computers. "From the moment I started the training, I wanted to be a trainer," he recalls. Through the course, he learned about various software programs (Excel, PowerPoint, Word) and how to carry out basic web page design.
After earning high marks, he was hired by an IT service provider to serve as a computer trainer and role model for other youth. Confident and content in his new role, Malik is now earning 180JDs (the equivalent of $253) per month.
The Jordan River Foundation is coordinating Youth:Work Jordan's activities in Zarqa.
Tags
life skills
volunteering
out of school youth
zarqa
community-based organization
information technology
role model
success story