IYF Pivots to Address the COVID-19 Pandemic, Announces Creation of "Global Youth Resiliency Fund"
Read All Posts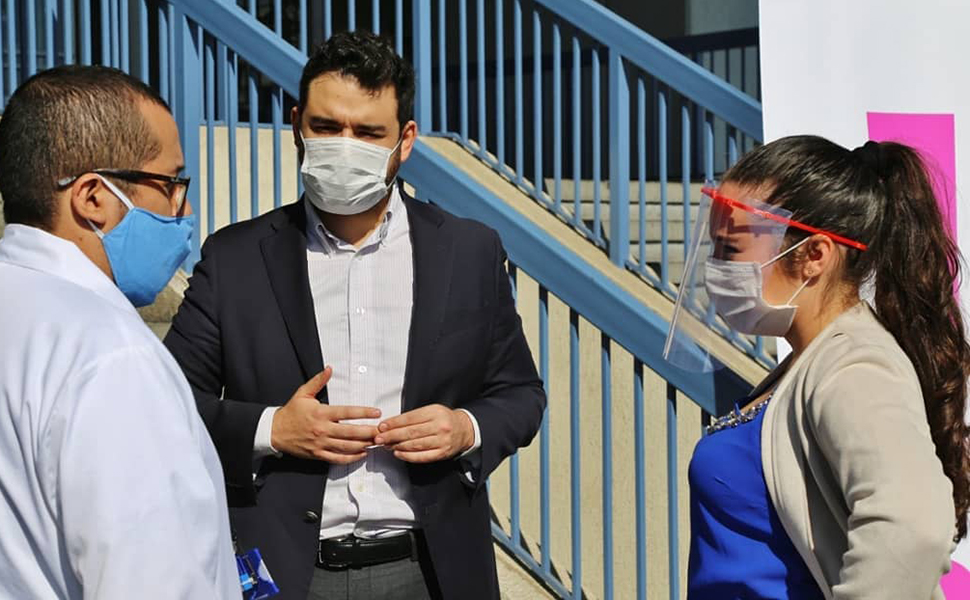 The International Youth Foundation (IYF) has announced the creation of a new fund to speed support to young entrepreneurs and community leaders who are taking on the COVID-19 crisis around the world. The Global Youth Resiliency Fund will put resources swiftly and securely in the hands of youth-led ventures—both social enterprises and nonprofits—delivering vital work in response to the pandemic. Designed to pool donors' contributions to multiply investment where it matters most–at the grassroots level—the fund will increase impact while streamlining processes and minimizing redundancies. In establishing the Global Youth Resiliency Fund, IYF is re-emphasizing its 30-year commitment to stand by, for, and with young people as they seek to create—and re-build, where necessary—a world they want to live in.
"The COVID-19 crisis is affecting the world in unprecedented ways," said IYF President & CEO Susan Reichle. "In addition to massive health and financial consequences, the pandemic has revealed deep structural defects in our social, educational, and political systems. But remarkably, in the face of this breakdown, we are suddenly witnessing a groundswell of resilience that is mitigating some of the challenges wrought by the virus. The engine propelling this movement is young people. They are exercising their agency, responding to emergent needs in their communities, and adapting to prepare for longer-term challenges. We created the Global Youth Resiliency Fund to recognize the leadership and innovation of these young people, and we invite donors to help us accelerate their grassroots efforts with much-needed financial support."
While IYF's Global Youth Resiliency Fund may be regionally or topically focused to align with funders' geographic or thematic interests, it will primarily support youth-led work in these areas:
Closing health and nutrition gaps: Youth-led organizations are providing badly needed access to food, healthcare, hygiene products, and basic mental health support in vulnerable communities.
Unlocking access to livelihoods: With economic gaps worsened by the pandemic, youth-led efforts continue to forge creative pathways to income. Approaches include pivoting to new business models, developing cost-effective methods to sustain farming communities, and utilizing e-commerce to bring local products to market.
Ensuring children can learn: With nine in 10 children now out of school worldwide–and while we await systemic responses to resuming formal education–youth-led organizations are promoting innovative ways to learn.
Expanding access to reliable information: The crisis has revealed how the lack of accessible, timely, and dependable information can heighten barriers from healthcare to voting. Youth-led solutions for information dissemination are activating a more engaged and democratic citizenry.
Protecting human rights: Youth-led organizations are defending the rights of the most disadvantaged who are exceptionally vulnerable in the face of the pandemic. The fund will support efforts to secure more equitable and just treatment for all.
Long before the coronavirus crisis painfully laid bare many long-standing social inequities, youth-led ventures have been tackling these challenges–from gender and racial inequality to the digital divide. Along with inherent values such as inclusivity, digital connectivity, and concern for transparency and justice, young people have the resourcefulness and vision to develop solutions tailored to local challenges. Young changemakers also have the nimbleness to pivot in innovative ways to respond to emergent needs in their communities.
Drawn from IYF's global network, these examples of youth-led ventures clearly demonstrate the flexibility and creativity of young people during the current crisis:
Capitalizing on its 30-year track record of granting directly to youth-led ventures worldwide, IYF will manage the Global Youth Resiliency Fund at all stages of operation—from selection of recipients to fund disbursements to oversight and reporting. Four key principles will guide the process:
Move funds to the front lines quickly: Small youth-led enterprises—among the hardest-hit financially in the crisis–need resources now. IYF will leverage its 30 years of experience in agile grantmaking to respond rapidly to the need in the field.
Streamline grantmaking processes: The Fund will simplify submission, notification, disbursement, and reporting requirements. IYF's existing grantmaking instruments will allow recipients to spend less time filling out applications or producing multiple funder reports and more time doing valuable work, while still complying with legal requirements.
Be flexible with trusted organizations: Selecting grantees from its network of more than 2,000 youth-led enterprises, IYF will ensure resources go to vetted recipients to meet communities' identified needs. This level of trust will allow for maximum flexibility to help ventures pivot to tackle challenges revealed by the crisis. IYF also will engage other networks of youth-led organizations to expand the pool of vetted fund candidates.
Learn and iterate rapidly: To tap into lessons learned in real time and accelerate course correction, IYF will organize bi-weekly virtual learning sessions for grant recipients to share successes and challenges.
"All over the world right now, corporations, foundations, and individual donors are seeking ways to address the COVID-19 crisis," said Susan Reichle. "IYF's Global Youth Resiliency Fund offers a unique opportunity to meet society's immediate needs by focusing resources where they are needed most: the grassroots level, where youth-led ventures are pivoting to address the immediate and secondary impacts of the crisis. At the same time, funders can feel confident that they are contributing to innovative solutions that will have a lasting impact on communities. Because as the COVID-19 crisis transitions to recovery—as the shape of our post-crisis world begins to come into view—it will be young people who will be leading society's transformation."
We invite individuals and organizations to join us as we speed resources to young people on the front lines of the pandemic. Please give generously. Your tax-deductible contribution will help us transform lives, together.

Please note: the Fund is currently soliciting funding partners and is not yet at the grantmaking stage. In addition, given various requirements and constraints, IYF will not issue an open call for applications to this Fund. The pool of applicants will be drawn from among IYF's 2000+ YouthActionNet® alumni and potentially other partner networks. If you are part of any selected partner network, you will receive more information when it becomes available.
For additional information about IYF's "Global Youth Resiliency Fund" or to discuss an institutional contribution, please contact Mary Burmeister.
Photo courtesy of Fundación Prótesis 3D​.
Tags
covid-19
youth-led social change