How Safe Spaces (and Ping-Pong) are Good for Your Mental Health
Read All Posts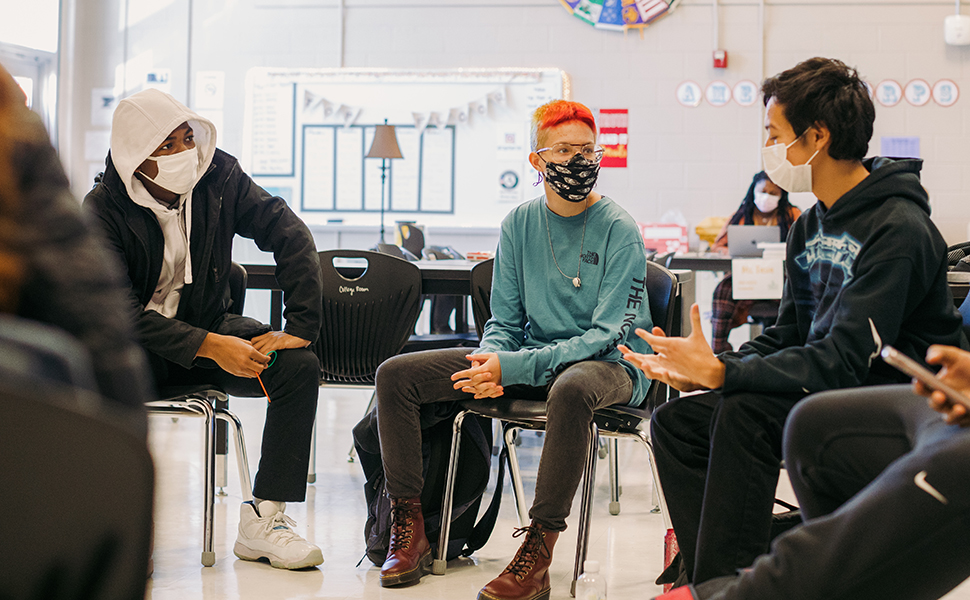 Sam C. (middle) and other students during a PTS lesson at Stratford High School in Nashville, Tennessee.
Especially since the pandemic, the world can be a stressful place. According to recent findings, there's been a 25 percent uptick in global anxiety and depression, with young people being among the most vulnerable. While there are no easy solutions, mental health professionals agree that having a safe space can make a big difference in improved mental wellbeing. A safe space can be virtual like an online discussion group, a text exchange with friends, or a weekly Zoom coffee klatch. A safe space can also be physical like a classroom, a soccer pitch, or a community rec center.
If you're a student at Stratford High School in East Nashville, Tennessee, a safe space happens to be a 5,000 square foot school bus garage converted into the Top Floor and Post-Secondary Success academic student union by the Martha O'Bryan Center (MOBC). 
"We tried to create a place where everyone feels that they matter and belong," explains Adam Yockey, MOBC's Senior Director of Academic Student Unions and Post-Secondary Initiatives "Some of our students can't count on a lot of things in their lives being consistent. We try to be that place for them—they know we'll be here, every day."
Participation is voluntary and students stop by the Top Floor "lounge" for a variety of reasons. Some come for weekly Passport to Success (PTS) life skills lessons delivered by MOBC team members as part of our Do Good Nashville partnership. Others come to work on college applications or to develop their resumes and interviewing skills. And many come because they know it's a safe space where they can decompress and be themselves—no judgment.
"School can be stressful," says Abrea K., a senior who plans to study business in college. "And you never know what students are going home to. But this is a safe space. I always feel comfortable coming here." Sam C., also a senior and co-leader of Stratford's Gay-Straight Alliance (GSA), agrees. "Mental health is a big issue for people of my generation," Sam explains. "But, sometimes, older people don't take our mental health seriously—they tell us to just 'figure it out.' But here, we talk about our mental health, why it's important and how we can improve it. It's a great support system. A lot of students don't have this kind of support." Baccari E., a freshman at Stratford, says the transition from middle school to high school has been stressful. He also worries about bullying. "It can be a real problem," he says, but he found the PTS lessons about resolving conflict to be useful. "[During the lesson], we're given real situations and learn how to react—like if a kid is bullying you, what do you do? We talk about the right thing to do."
A big part of why Top Floor is having such an impact in the lives of students comes down to MOBC team members like Marvin Muhammad (Program Coordinator) and Shelby Stone (College & Career Coordinator). With more than 18 years of combined experience working with young people at Stratford, Marvin and Shelby know how to cultivate an environment where young people feel supported and safe. "The key is being open and caring, and listening to students," Marvin explains. "You can learn a lot by giving them an ear, listening to what they're going through, and caring about what they say. A simple question like 'how's your day going?' can lead to some ground-breaking conversations."
Other times, it's not about serious conversations at all. "Just have fun with them," Shelby says. "Whether it's laughing at a TikTok video, playing a game of UNO, or just having a conversation about literally anything." She tells the story of Marvin's daily ping-pong matches with a student who's been having a tough year. "Every day, even if he's had a bad day, that student shows up for ping-pong with Mr. Marvin. And word spreads because students who graduate from Stratford often tell their younger siblings who are starting that they need to go see Ms. Shelby and Mr. Marvin."
With similar student unions at two other area high schools and one middle school, more than 700 young people this year in East Nashville will have access to academic, college prep, work and career, and social and emotional support.

Are there safe spaces like this for young people in your community? Share in the comments.
Learn more about the Do Good initiative and the great work being done by the Martha O'Bryan Center.
Tags
safe spaces