This is What It Looks Like to 'Do Good' in Nashville, Tennessee
Read All Posts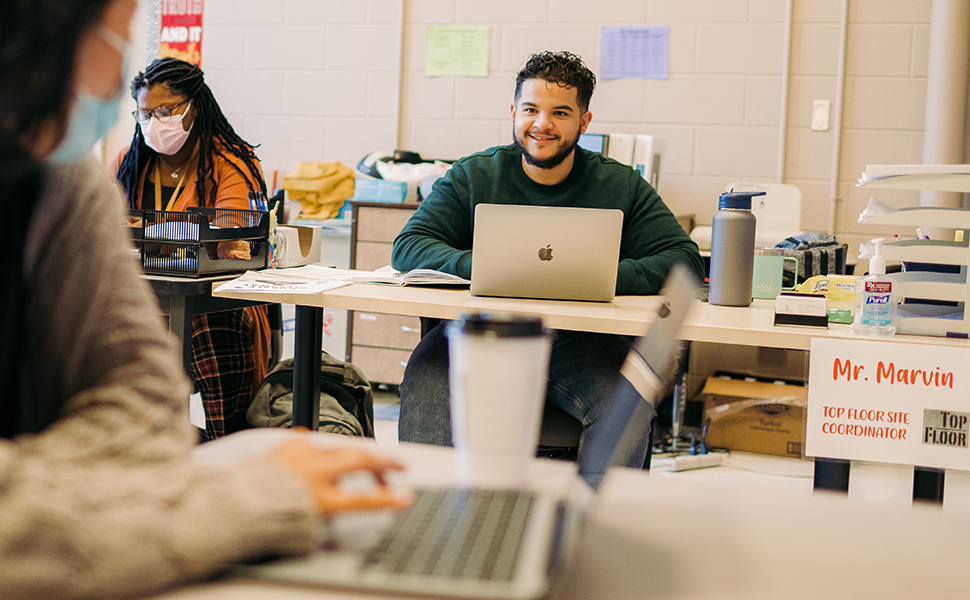 © 2021 Bryan Tarnowski
For 127 years, the Martha O'Bryan Center (MOBC) has been supporting households, students, and other individuals in Nashville, Tennessee with education and employment services. Since 1948, they've been headquartered in the James Cayce community, a historically under-served area of East Nashville. "We see education and employment working hand-in-hand to help folks lift themselves out of poverty," says Adam Yockey, Senior Director of Academic Student Unions and Post-Secondary Programs at MOBC.
As part of their youth-focused programming, MOBC runs four academic student unions (ASUs) at three area high schools and one middle school. The longest-running of these ASUs, Top Floor at Stratford High School, has been serving students since 2010. This year alone, 700 high school students will receive academic, professional, and personal support as they apply to college, hunt for jobs, plan for careers, and navigate the big transition from high school to life beyond. Through IYF's Do Good Nashville partnership with MOBC, these students will also build valuable life skills using IYF's Passport to Success curriculum.
"Our ultimate goal is that everyone who graduates from high school has a real plan and is prepared for whichever path they choose," Yockey explains. "We want them to be prepared for living wage jobs—not the dead ends jobs that are all up and down the thoroughfare just a mile from Stratford High School. That's the passion we have as an organization."
Below, meet two members of the Top Floor team who have a combined 18 years of experience serving the students of Stratford High School. 
Marvin Muhammad, Program Coordinator, Top Floor, MOBC
These students, I was once them—growing up in a tough neighborhood in Memphis, a single-parent home. I was the first male in my entire family, cousins and all, to graduate from college. I hope that sharing my experiences with our students will help them with their life choices. Sometimes, students who graduate come back years later to say they appreciate the program or that they've decided to go to college and need help applying. I love that. One of my colleagues here—George—was a student at Stratford High School and a Top Floor participant years ago, when I just started. Then he graduated, went to college, got his master's degree, and now he's my colleague on the Post-Secondary Success team. Things like this inspire me.
My role—which I've been in for ten years—is to coordinate afterschool activities at our Stratford site and build relationships with students, teachers, principals, and other stakeholders. For Top Floor, we utilize 5,000 square feet in the back of the school and several rooms where students can participate in clubs. The clubs are consistently scheduled so students know exactly when to show up. There's a yoga club where students can take a deep breath and chill. There's one called Girls Who Code that's run by Stratford's librarian and supported by a local partner, Pivot Technology. In the Bike Workshop club, students refurbish bikes, and at the end of the workshop, they get to take the bikes home. We also have an anime club, a dance club, an art club, and many others. The Recording Studio is a popular club. Last summer, students made an album focusing on some things that are going on in the community. The featured song was called "615," a Nashville area code. We talked a lot about marketing and industry professionals would come in to talk to students about the music industry. When we finished the album, students contacted a media relations person for the Tennessee Titans. We sent him "615" and a video we shot. He liked it so much, he invited students to a game and played the song and video up on the Jumbotron in front of 60,000 fans. We had a lot of fun that summer, and students learned that if they work hard, collaborate with others, anything's possible.
Shelby Stone, College & Career Coordinator, Top Floor, MOBC
My mother was a counselor at Stratford, years ago. I started at Stratford as an intern, then as an AmeriCorps service member—that's how I first learned about the Top Floor program. Immediately, I fell in love with these students and that's what's kept me here going on eight years—the relationships we're able to build. I love when alumni come back and tell us what's going on in their lives. We have a strong team here at Top Floor, a work culture that's built on trust. That trust carries down to our students, too. Students who graduate from Stratford often tell their younger siblings who are just starting here that they need to go see Ms. Shelby and Mr. Marvin. Word spreads. I love these full-circle moments.
I work with all Stratford's seniors to help them develop a plan for after graduation—whether it's college, career, or military. My goal is that every student who graduates from Stratford High School has a plan. It starts by talking to each student about their interests, goals, and aspirations. Then, we identify what next steps will make their goals a reality. For the students who are college-focused, we spend time with things like researching schools, exploring majors, working on essays, preparing for the ACT, and applying for scholarships and other financial aid. For students who are career-focused, we help them look at what they want to do after graduating and then connect them with programs or other places, or if they already have a job, we talk about whether it's what they want to do long term. For students who are military-focused, we help get them connected with a recruiter and provide resources to prepare them for the ASVAB." We also continue working with our students beyond graduation, connecting them with our Post-Secondary Success team, two of whom are also Passport to Success facilitators. As they facilitate PTS lessons for our Top Floor students, they start building those relationships early.
Learn more about Do Good Nashville, the Martha O'Bryan Center, and how student unions like Top Floor function as safe spaces where students can recharge.
Tags
safe spaces