How McDonald's, IYF, and Community-based Organizations Focus on Life Skills for Chicago's Youth
Read All Posts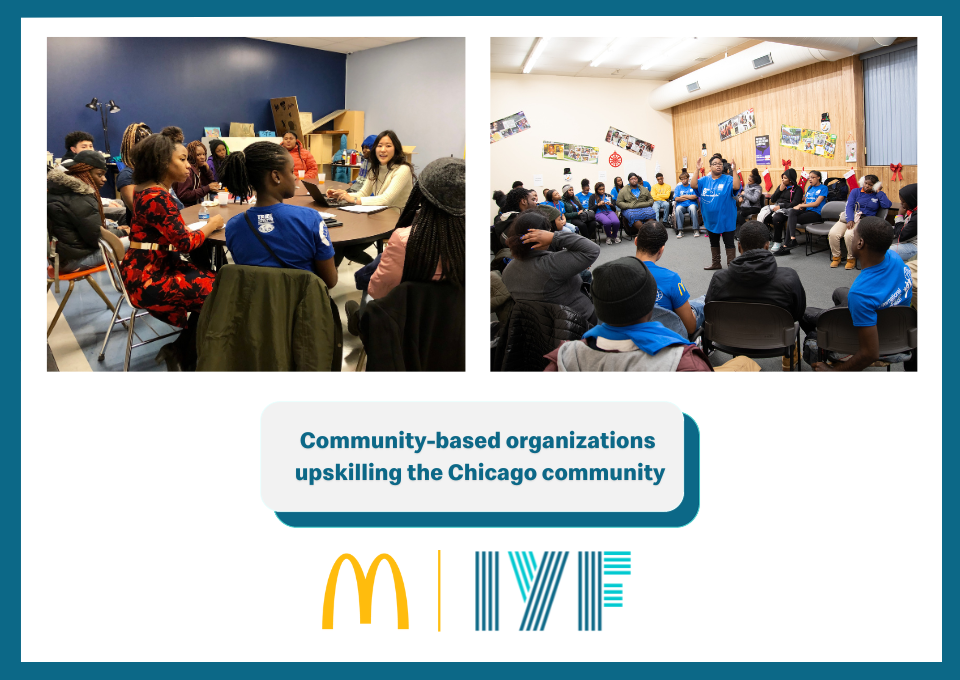 Essential life skills are crucial for success in the real world. Through a partnership with McDonald's, the Youth Opportunity (YO) Program has enabled IYF to collaborate with 10 local community-based organizations (CBOs) since 2018. Local community-based organizations ensure program participants have easier access to community resources, setting the program apart as young individuals adapt to life post-pandemic. Together, these organizations address these critical skills through pre-employment, work-readiness, and life skills training. More specifically, the YO initiative emphasizes job preparation, youth voice amplification, and community engagement. The success of the YO program in Chicago catalyzed its expansion to Washington, D.C. in 2019.  
The YO initiative prioritizes life skills and key competencies employers seek in entry-level employees. Participants delve into lessons on self-awareness, time management, effective communication, problem solving, leadership abilities, and conflict management. Through the YO initiative, IYF also invites CBO partners to nominate young people for a unique learning opportunity: the Youth Opportunity Ambassadors program. CBOs that have nominated YO Ambassadors include Skills for Chicagoland's Future, Phalanx Family Services, and ASPIRA of Illinois. 
Learn more about a few of these community-based organizations and what this cohort of YO Ambassadors has gained from working with them. 
Skills for Chicagoland's Future 
Since 2012, Skills for Chicagoland's Future (Skills) has placed more than 11,000 unemployed and under-employed individuals into quality jobs. Along with job placement, Skills also hosts career panels, hires supportive staff, and provides professional resources to strengthen employability. 
YO Ambassador Ebenezer Neequaye attributes his enhanced professional development to the resources from Skills. Additionally, Ebenezer mentions that offerings such as career panels from the YO Ambassadors with guests from McDonald's Corporation have taught him to better market himself while networking. Professional tools have armed Ebenezer with the necessary knowledge to find jobs and navigate corporate settings. "Skills provided me advice, interview prep, and full support through my [job] application process," he emphasized. 
Besides career panels and resources, the dedicated staff at Skills play a pivotal role in the success of the YO Ambassadors. Adam Claus, Talent Acquisition Lead at Skills, guided Ebenezer's job search by answering his questions and concerns along every step of the way. With Adam's support, Ebenezer landed a role as a Product Specialist in a financial services firm. As a first-generation college student, Ebenezer hopes to motivate and inspire his younger sister to power through her studies.  
Similar to Ebenezer, YO Ambassador Amiracle Johnson appreciated the support received from the encouraging employees at Skills. DeAnna Williams, Senior Talent Acquisition Lead, connected Amiracle to a role that best suited her skillset. "I have been pushed to do things I did not think I was capable of," Amiracle reflected on her experience. Amiracle now serves as an Apprentice at a professional services firm, where she can simultaneously strengthen her business acumen and pursue an associate degree. 
Established in 2003, Phalanx Family Services (Phalanx) is a not-for-profit organization dedicated to supporting economically disadvantaged youth and families. Their mission is to foster self-sufficiency through employment-centered programs, mentorship, advocacy, and workforce development solutions.  
By collaborating with IYF on the YO initiative, Phalanx receives capacity strengthening for staff who implement IYF's flagship curriculum, Passport to Success™ (PTS). This partnership empowers Phalanx staff to become trained PTS facilitators, enabling them to lead life skills training to hard-to-reach young people in Roseland and far southside communities, as well as nearby schools.  
YO Ambassadors consistently value Phalanx's training and development programs both personally and professionally. "[Phalanx] gave me a different outlook on how to treat and respond to other people in a better manner, and handle everyday life problems," shared Shaudae Carter. Such conflict resolution techniques are beneficial across various settings.  
Beyond enhanced communication skills acquired through Phalanx, YO Ambassadors Shaudae Carter and Mia Sain have also improved their confidence and job readiness. Both Ambassadors took part in Career Café, a class offered by Phalanx, where they created strong resumes and learned about best practices for employment. "I feel even more comfortable applying and getting positions now," Mia observed. The job hunt can be intimidating, but it becomes more manageable when candidates are equipped with the right skills. 
ASPIRA of Illinois was founded on the belief that young people need to understand and appreciate their culture to be successful. The organization encourages the development of young people's self-awareness and critical thinking skills through participatory, project-based programming.  
Much like IYF, ASPIRA of Illinois relies on the recommendations and voices of the youth when developing their programs. This shared vision makes the YO Ambassadors program an ideal opportunity for ASPIRA's participants, such as Tony Reyes. In addition to being a participant of ASPIRA Illinois, Tony has completed four terms as a YO Ambassador. Reflecting on his experience organizing a youth summit in the program, he stated, "I feel better equipped to succeed in school and work." 
These testimonials prove that certain knowledge cannot be acquired through rote memorization, study guides, and PowerPoints. The active learning approach adopted by IYF, McDonald's, and CBOs will leave a lasting impact on YO Ambassadors and the broader Chicago community well beyond the program's conclusion. 
Learn more about the Youth Opportunity pre-employment initiative and the partnership between IYF and McDonald's.