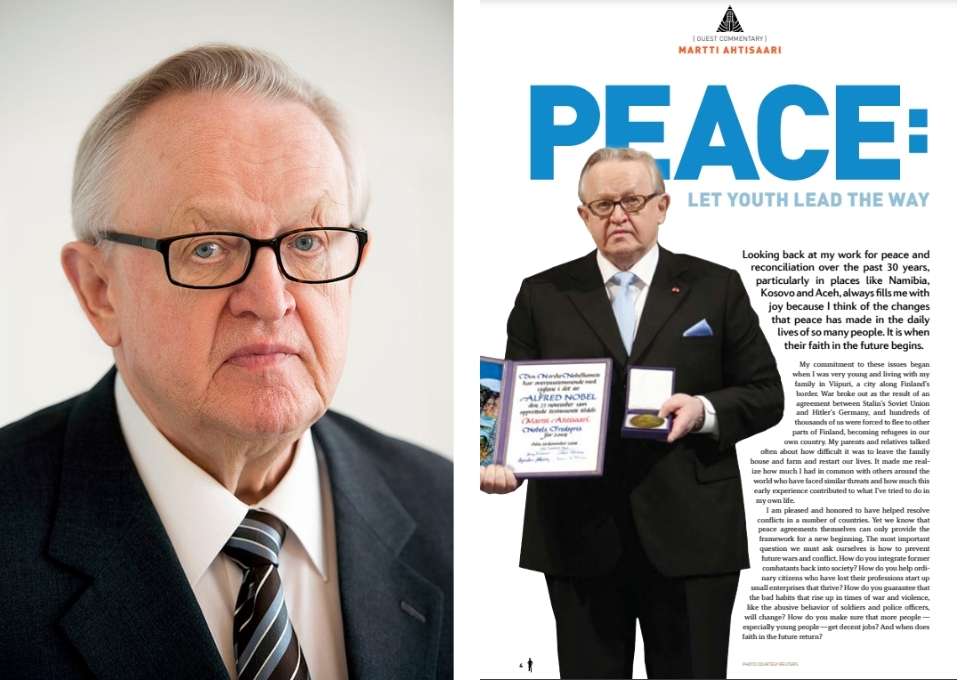 Source: Nordic Co-operation website (norden.org)
We'd like to pay tribute to former President of Finland, Martti Ahtisaari, who was champion of IYF's work and mission. He passed away on October 16, 2023. Ahtisaari, 2008 Nobel Peace Prize Laureate, will forever be remembered for his significant contributions to our organization and the world. 
Ahtisaari's impact on IYF was profound. In 2000, he played a pivotal role in establishing the Balkan Children and Youth Foundation (BCYF) with support from IYF to improve the conditions and prospects for young people throughout the Balkan region. As the Chairman of BCYF's board through 2008, he devoted his time, energy, and wisdom to the cause of empowering young people in the Balkans.  
Bill Reese, IYF board emeritus and former CEO of IYF, remembers Ahtisaari with these words: "Martti was such a kind and gracious soul. He and Maria Cattaui, former IYF board member and Secretary General of the International Chamber of Commerce, led our BCYF board for over a decade. He traveled to Africa, where he had served as an Ambassador, to advise IYF. He gave a wonderful speech in Washington, D.C., when IYF celebrated its 20th anniversary at the Council on Foreign Relations. His dedication extended beyond our organization, as he played a pivotal role in establishing the Finnish Children and Youth Foundation. For decades, he was a wise counsel to American, European, African, and Middle Eastern diplomats. And more than counsel, he was ready and willing to travel off to help settle some of the most complex and difficult conflicts around the world."  
IYF established the Martti Ahtisaari Peacebuilder Award in 2011 to honor Ahtisaari's distinguished career in public service and in promoting peace and development worldwide, recognizing a young leader who demonstrated outstanding leadership in the field of peacebuilding. As we celebrate his life and work, we invite you to read an article by Ahtisaari that appeared in the Spring 2009 edition of YOUth magazine. In this article, he discussed the profound significance of youth involvement in their communities. Ahtisaari's words continue to inspire us, "It is extremely important that this younger generation becomes active in civic life."