Learning From 28 Young Leaders What It Takes to Partner for Impact
Read All Posts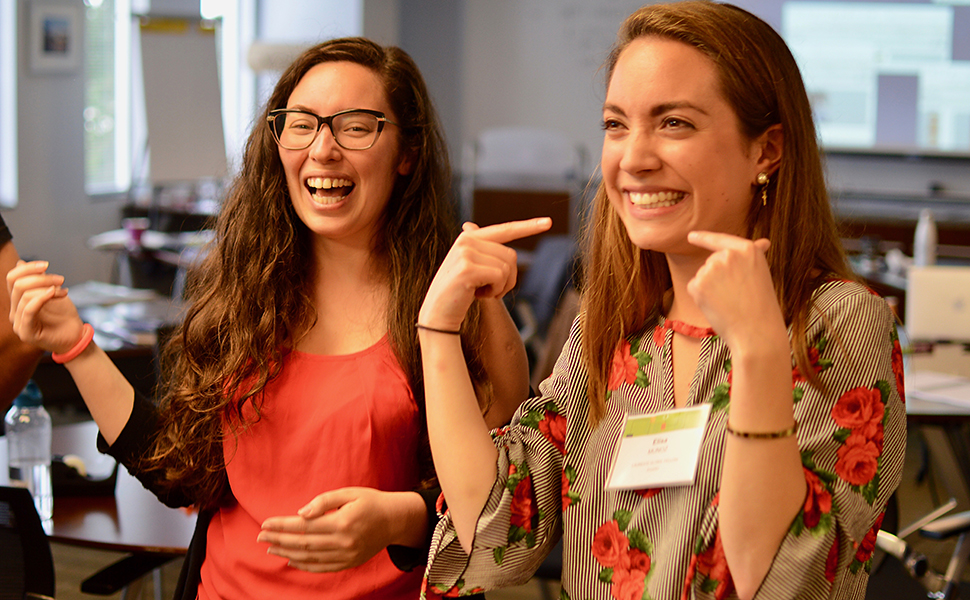 (Daniela Retamales, GYRF Awardee and founder of Fundación Prótesis 3D and Maria Elisa Muñoz YouthActionNet Fellow and founder of D'Cuero.)
At IYF, we know from experience the value of partnering with young people and youth-led organizations. In fact, we believe these partnerships are critical to achieving equitable, sustainable impact. We're certainly not the only organization in the international development space that believes this—USAID's recently refreshed youth policy includes an emphasis on youth-led programming—but, unfortunately, partnerships with young people and the organizations they lead are still rare. This means young leaders are frequently not plugged in during the design and implementation of programs for young people. Why?
For many in the development space, partnering with young people is uncharted territory. Some don't see the value, while others may not know where to start or how to do it well. Even at IYF, where our experience and expertise in engaging young people as partners is what we're known for, we're constantly learning new things about how to do it better. Not surprisingly, in many cases, the most valuable insights come from young leaders themselves.
This was certainly the case with the Global Youth Resiliency Fund (GYRF). Launched with support from the Conrad N. Hilton Foundation and Burberry, the GYRF put funds directly in the hands of 28 youth-led ventures; provided opportunities for capacity strengthening and network expansion; and amplified the stories, perspectives, and voices of our awardee partners. We learned much from these and other young leaders—from the initial stages of co-designing the GYRF, to focus group discussions, to the awardees' final reflections and report. They gave us a lot to think about, and now we're excited to share some key takeaways.
Engage young leaders in the design of your initiatives right from the start.

Moreover, ensure a youth-inclusive decision-making process throughout. Among other things, GYRF awardees provided critical feedback on the design of the fund's eligibility criteria, application solicitation and review process, and considerations around accessibility. Based on their feedback, we were able to refine and adjust the fund's design, making it more accessible to and beneficial for our target cohort.

Consider the ways funding, networks, and platforms can be catalytic.

Awardees received $10,000. For some, this represented a significant portion of their annual operating budget; for others, it was a smaller fraction. Regardless of venture size or stage, the ability to leverage their affiliation with a reputable international NGO and project communications products allowed awardees to connect with (and impress!) more potential funders, discuss future partnership possibilities, and in some cases secure additional funding with which to further their work.   

Loosen expectations around requirements that could prove exclusive for some young leaders

—like English language requirements, the use of technical jargon, or lengthy reports. Can you imagine writing a proposal in a foreign language, having it assessed by people who do not understand your culture, then spending a bunch of time on reporting instead of building your team or investing in your community? To heed this advice, we offered the full GYRF experience in both English and Spanish and required a simple, three-question final report which one awardee shared, "Was the first time a donor report was a meaningful reflection activity for [herself] and [her] team."

Utilize youth-driven capacity assessment strengthening approaches.

We asked awardees what they would like to receive training on and created a learning series based on their responses. We also provided annual subscriptions to a top online learning platform so they could access on-demand courses for themselves and their teams. The diversity of course enrollments—from Google analytics to email marketing to gamification for businesses—reflect the unique needs of each venture. 
Graphic: Responses from young leaders when asked about positive and negative experiences with capacity-strengthening activities 
Relax restrictions on what funding can cover—such as allowing organizations to use funding to cover overhead costs.

Trust and support youth partners to carry out the changes they want to make. GYRF awardees used their funding for a variety of purposes including retaining staff during the pandemic, pivoting usual operations to address unprecedented challenges, conducting valuable studies, reaching more people with services, and implementing urgent interventions.

Vet youth partners for the quality of their work, not how polished their communications products are.

We removed storytelling potential as one of our selection filters based on youth feedback that it pushed fund selection from community need and project merit to meeting donor needs. Instead, the IYF team incorporated storytelling into learning opportunities related to branding and donor cultivation and worked with interested awardees to elevate and promote their perspectives and stories using IYF platforms and network connections. 

Embrace the chance to pressure-test your own organizational processes—and be open to making changes.

With all the talk of building young people's capacity, we tend to underemphasize the importance of building our own organizational capacity for youth partnership. Issuing twenty-eight small grants required IYF to identify ways to streamline our internal procedures without increasing risk or liability, including revising our payment tracking and follow up process and due diligence templates.     
During the past two years—from the launch of the GYRF in 2020 to the submission of final reports in 2022—IYF has benefited enormously from the experience, expertise, and wisdom of 28 young leaders. Not only are they working to solve the world's toughest challenges, but they are also experts on navigating the tensions of an industry grappling with what it takes to decolonize development and promote more equitable partnerships. 
Doing youth partnership well requires listening to young people, aligning with their values, and being the partner they need at a given moment in time. To learn more, we invite you to check out our recently released Global Youth Resiliency Fund: Youth-led Solutions in Action, which is available in English and Spanish.
And we'd love to hear what you think—so let us know in the comments or on social media. 
Sarah Jonson is IYF's Technical Advisor, Youth Agency & Engagement.
Tags
youth led