Work at IYF
Our dedicated, diverse, and multi-talented staff includes young professionals, technical experts, and experienced professionals. You'll find opportunities to grow and reasons to stay: many employees have chosen to work at IYF for more than a decade. We're on an ambitious and rewarding mission, but we value work-life balance. Come work with regional and topical experts who also enjoy a good ping-pong match.
Job Benefits
IYF offers a generous benefits package that includes*:
30 days paid time off plus 12 paid holidays
Comprehensive health insurance for employees and eligible dependents
A parental leave policy that allows for paid time off after the birth or adoption of a child
Telecommuting and a flexible schedule
401K policy that exceeds industry standards
Additional insurance and other options
*These benefits are specific to the US. Other countries have benefits packages that reflect local labor laws and norms.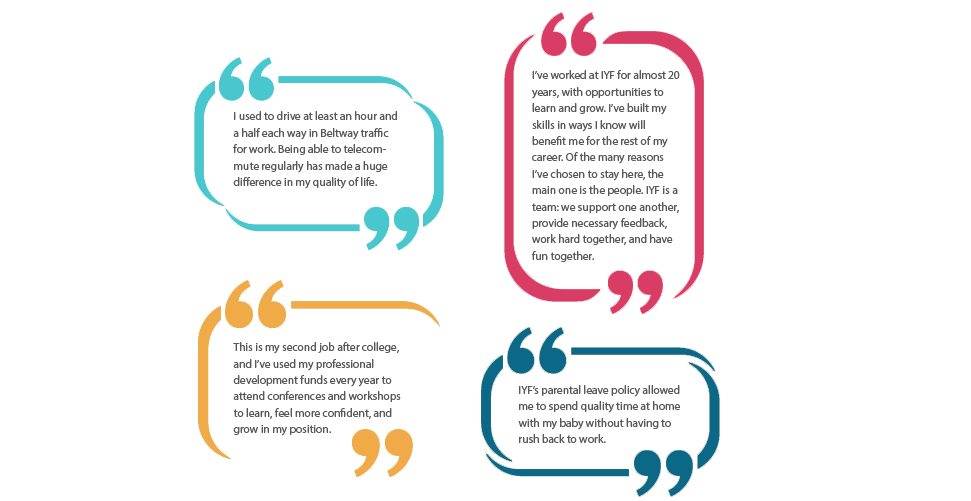 Current Job Openings
UNITED STATES
Senior Technical Writer
Senior Technical Advisor, Gender
MEXICO
Award Officer, Award Management Unit
COLOMBIA
No Current Openings
ETHIOPIA
No Current Openings
PALESTINE
No Current Openings
SOUTH AFRICA
No Current Openings
ZIMBABWE
No Current Openings

INTERNSHIPS
The intern program at IYF actively targets college students who identify as BIPOC and/or with another underrepresented or historically marginalized group. 
There are no current openings for internships. 

Request for Proposals
Consultoría para la producción de materiales audiovisuales como parte del cierre del proyecto Equip Youth México
Application Forms