Youth Engagement
When those most impacted by a challenge become part of solution-building, solutions are more likely to meet urgent needs in a sustainable way. In the context of youth development, projects and programs benefit from young people's involvement in all phases of the program cycle.
Young people possess the greatest understanding of their own needs and the creativity and energy to see old problems in new ways. Youth participation in program design and delivery can drive innovation, increase retention of program participants, lead to longer-lasting program outcomes, and positively impact surrounding systems.
Impactful youth engagement begins with the Positive Youth Development (PYD) philosophy that sees young people as assets rather than "problems to be solved." When we recognize that young people must be the primary drivers of their own development, with adults and systems playing a supporting role, we understand that anything done for youth without youth runs the risk of failure.
Not all youth engagement leads to positive outcomes. Hart's Ladder of Participation offers a useful framework for understanding that when young people are simply "invited to the table," their presence often becomes tokenistic or decorative. Effective youth engagement requires sufficient supports, opportunities, and services to ensure that young people from diverse backgrounds can participate meaningfully and equitably in decision-making processes and leadership roles.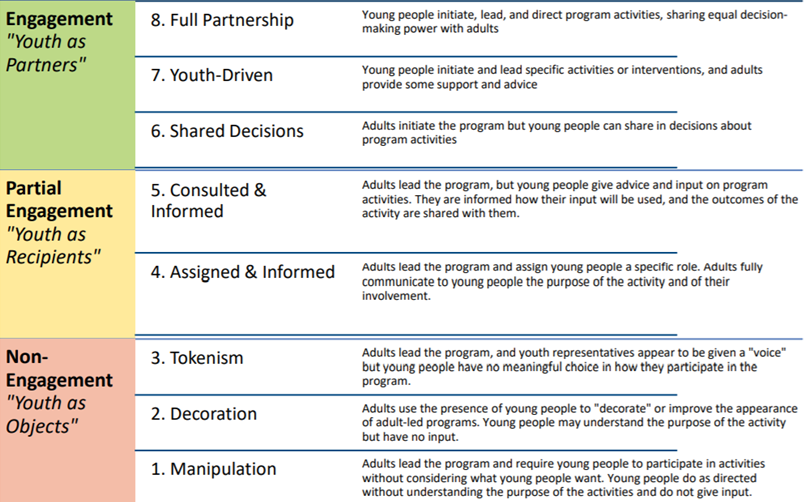 Hart's Ladder of Participation
How does IYF Engage Young People?
We integrate a variety of constantly evolving youth engagement strategies throughout our programming and operations. Some of these key strategies include:
Youth-oriented problem identification: We work to understand communities and systems by actively listening to young people's self-reported needs and surrounding constraints. We invite young people to participate in stakeholder mapping, surveys, and listening tours and use their input to guide our problem and solution identifying process.
Youth perspectives in program design, planning, and implementation: We collect input from target audiences using surveys, key informant interviews, and focus groups, as well as user testing for new products. In some programs, we establish Youth Advisory Committees to provide ongoing guidance and direction through multiple stages of the program life cycle. In preparation for Our Future, Our Voices, a global virtual summit organized by IYF, the event's Youth Advisory Committee shared in decision making related to content, participant experience, diversity and inclusion, and branding. 
Youth-driven communications: We create channels—both online and in person—for young people to drive conversations. Youth voices are front and center in our conferences and workshops, videos and webinars, blog posts and annual reports. In programs such as the global YouthActionNet initiative, Youth Speak in Tanzania, and Youth Opportunity in the US, we work directly with young people to elevate their stories as a central component of our programming.    
Youth-centered learning environments: We take the needs and perspectives of young people seriously in every curriculum we create, using pedagogical approaches that center on the learner. In our capacity strengthening of education systems and training of trainers, we highlight young people's assets and emphasize the creation of safe spaces where youth may learn from each other while developing healthy relationships with supportive adults. In West Texas, members of the Pecos High School Student Council helped develop a youth leadership camp by identifying priority content, participating in a pilot and providing feedback, and ultimately creating the name: Supporting Others and Rising (SOAR) Leadership Camp.
Download IYF's Youth Engagement Technical Brief.