How a Social Entrepreneur in Honduras is Creating Fashion With a Conscience
Read All Posts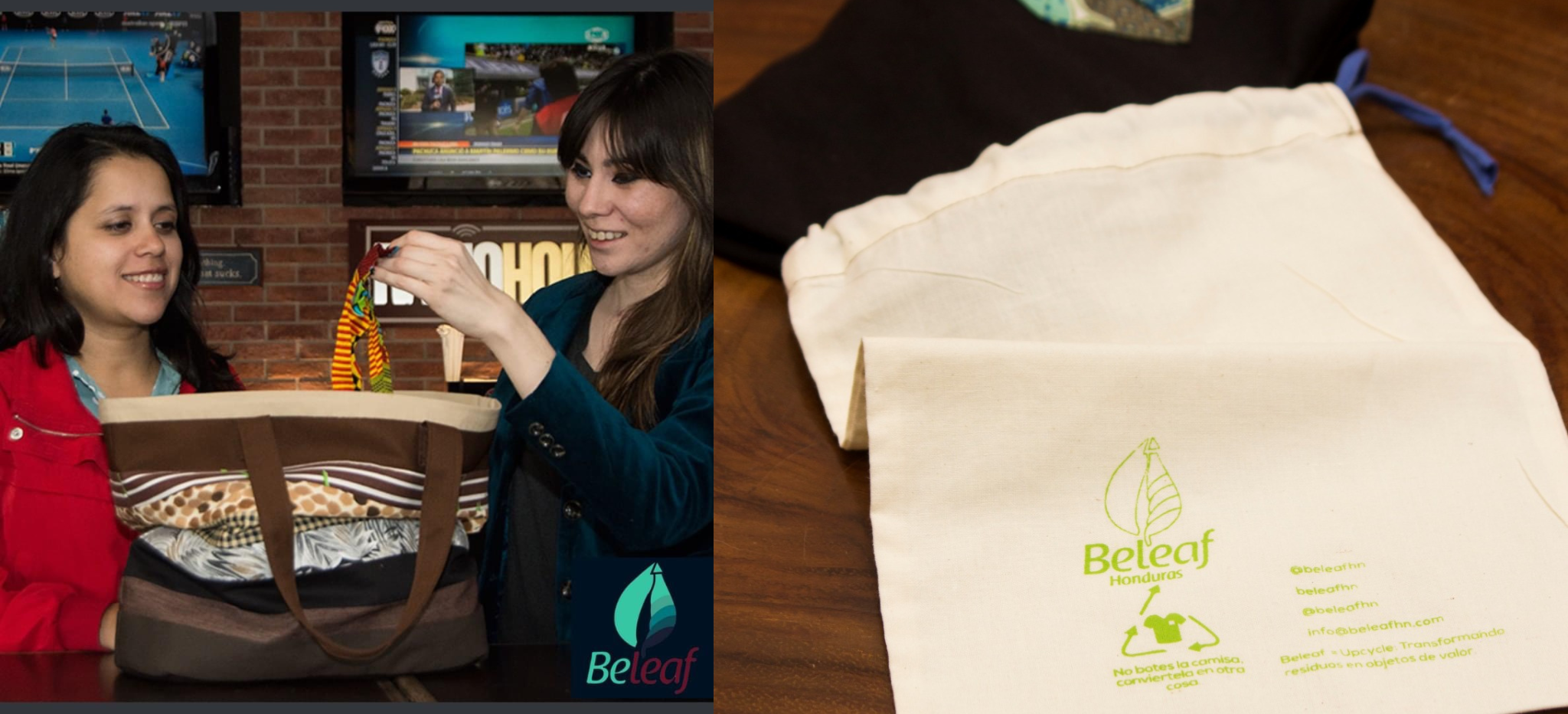 Cinthya Andino—the newest member of IYF's Board of Directors—is a young social entrepreneur, architect, construction manager, and the co-founder of Beleaf, an eco-friendly company in Honduras that "upcycles" leftover fabric and textile waste to create new, fashionable clothing such as t-shirts, tote bags, and hoodies. When she started the company in 2016, it was a time when environmental care issues were not a top concern for industries such as fashion. Moreover, the upcycling approach was not well known by many Hondurans. 
In 2018, Cinthya was a Fellow of IYF's Youth Action Net program. As part of the program, Cinthya received support and mentorship from companies that she is now doing business with—for example, supplying them with staff uniforms made through the process of upcycling. Coming full circle with her recent appointment to IYF's board, Cinthya brings experience as a nationally and internationally recognized social entrepreneur, a passion for female empowerment, a concern for the environment, and the desire to support young people in Central and South America. "In countries like Honduras, Guatemala, or Costa Rica," Cinthya says, "there are young people who have so much initiative and are so eager to do things. I would like to contribute to supporting them, just as I was supported." Below, she shares her experiences, insights, and words of advice.   
1. How and why did you decide to create BeLeaf? 
It all started here in Honduras where it is very common for grandmothers and great-grandmothers to have their own sewing machines. My grandmother was one of them. It came about when my cousin and I (we were 34 and 27 years old) found the leftover scraps of fabric that my grandmother had kept. It was fabric from 20 - 30 years of sewing! My cousin and I were impressed by how, despite the age, the fabric was still in good condition.
Before deciding to become an architect, I wanted to be a fashion designer, but there wasn't a career path in Honduras for fashion design. So, I opted to study architecture and technical design. At the time, my cousin was working as an environmental engineer. We had talked before about how the fashion industry is one of the most polluting industries in the world. And, we had discussed the idea of starting a business together. So, we founded BeLeaf.
I'm so glad I chose this path. BeLeaf merges my interest in fashion and technical design while focusing on environmental care, which is the core value at BeLeaf. 
2. What was the journey like after you started the company?
Today, the concept of upcycling is well-understood in Honduras, but it wasn't at the time we founded BeLeaf. We were pioneers, the first company in the country to establish itself 100% under this concept. All the material we use is surplus fabric from designers, seamstresses, and other parts of the maquila industry. At first, it was difficult to introduce the concept of upcycling to people. Customers came in, looked at our products, and thought it was just a shirt, or just a hoodie, or just a tote bag. Each collection and garment we make is unique, and this is what our customers were attracted to. But we always explained the concept behind the brand and what upcycling is. One of our key objectives became introducing the concept of upcycling and creating awareness about the consumption habits of the Honduran population. It was a long journey, but worth it because we were creating synergy between product, education, and consumer habits. Our customers came to like our products even more because they understood and embraced the concept of fashion with a conscience.
Today, the Honduran community understands upcycling and recognizes the BeLeaf brand. Since 2016, we've saved approximately 3,000 pounds of textile waste from going to the landfill, but the most important thing is to be contributing a grain of sand to improve the planet for future generations by creating awareness in the population. Because climate change is happening!
3. What are you passionate about, what inspires you in your work as an entrepreneur and in life?
Creativity, and doing new things every day, that is my engine! I consider myself to be a person whose mind works a thousand miles an hour. I am always thinking of new things. I love finding creative ways to turn an idea into something tangible that expresses what I have in my head. It's not just fashion design that I'm passionate about, it's making something good that helps to solve a problem—like climate change and other environmental care issues. I am also inspired by the feeling and passion I see in young people. The perspectives of young people, their determination, and their impetus to follow their dreams. They give 100% and nothing stops them—that attitude reminds me that nothing is impossible and that, if you set your mind to it, anything can be accomplished even if it takes time.
4. What do young people in Honduras say about environmental care—is it important?
Young people in Honduras care about the environment—the care of parks and outdoor recreation sites is a real standout issue.  Although Honduras is a country with a lot of natural wealth, this is not reflected in our cities. There are few parks and not many places where one can really enjoy the outdoors. Young people are looking to get out of the city. They want less concrete. They want more nature, more trees and fresh air. This thought is something I have shared with many peers in the construction industry lately: young people are paying attention, they care about the environment, and they want to see more infrastructure.
5. We recognized International Women's Day earlier this month. What advice do you have for young women who are planning for their futures?
It is important not to be stereotyped by the roles imposed by society, especially in Latin American societies, where at a certain age a woman is expected to have children, be married, etc., etc., etc. We must not let ourselves be limited by stereotypes; in fact, the incentive must be to break stereotypes, to remove barriers. If an opportunity presents itself, you must take the reins. It is vital to break down those barriers that have been created through the generations.
Women have unique creativity and are very versatile. Women can do it all. There are more and more women working in industries and sectors that previously did not take them into account—like construction, for example. We ourselves are the ones who set the limits—it is a matter of learning, little by little, to break down those social barriers, and move forward. The sky is the limit!
Jania Argüelles is IYF's Communications Manager for Latin America & the Caribbean (LAC).